April 8, 2021
How Is Apple's iOS 14 IDFA Update Likely to Impact Advertisers?
Apple's iOS 14.5 update is going to change how advertisers target and track users.  Let's look at how it will impact advertising platforms.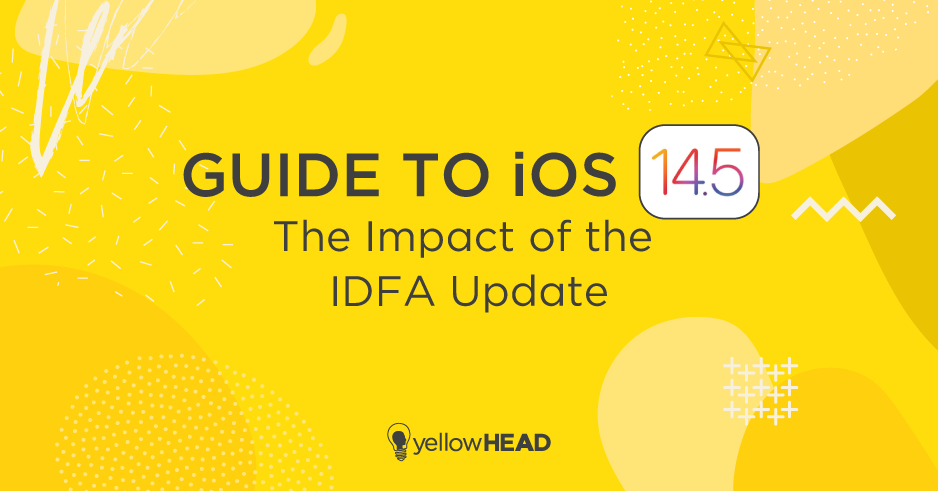 The Gist:
The introduction of Apple's iOS 14.5 IDFA Update will prevent advertising networks like Facebook from collecting targeting data about user acquisition campaigns from Apple users unless a user explicitly gives them tracking permission.
This is going to drastically affect the efficiency of ad creatives and prevent companies from successful A/B testing on iOS users.
Advertisers will have a hard time collecting quantifiable, relevant data from their campaigns.
Facebook vehemently opposed Apple's policy change, though the company has changed its tunes as of late, believing that because of its market position, this change might be more suitable for them.
Gaming execs and adtech businesses may need to adopt alternate user acquisition techniques. User acquisition teams will have to revise their OKRs and prepare for this change, otherwise they risk losing thousands on inefficient and poorly targeted ad spending.
The latest iOS 14 update is likely going to change more than just a few things for advertisers. Above all, it is expected to add a Tracking Permission Prompt on an app basis. Apple's Tim Cook has spoken out time and again about the commercialization of data.
Unlike most other businesses, Apple charges a premium because they do not want to make money off of your data. They value user privacy and place their confidence in their ecosystem and their devices. Privacy management is expected to undergo a complete overhaul with iOS 14.5.
Essentially, what this means is that apps on iOS 14 will require user permission before they can collect or share data. This is Apple's major move to give users more control over how their data is shared. It's providing users with the option of choosing not to sign up for any tracking or ad targeting. Eventually, the company will roll this out to its entire product lineup.
The App Tracking Transparency feature will allow users to opt out of app tracking. As the update rolls out, users will see prompts from Apple asking them if they want to share information with apps like Facebook. If they don't, the platform will prevent third-party apps from collecting data.
This change, coupled with the privacy nutrition labels introduced last year, is expected to bring down the percentage of people who share their IDFA with advertisers. This shows the data tracked by different apps in the iOS store. This is likely to deter users from allowing apps to track them as well.
Jump to a section…
What Is IDFA? A Deep Dive into Apple IDFA
IDFA tracking is a common tool used by advertisers to target users. IDFA stands for "Identifier for Advertisers". Think of it as an Apple ad ID assigned by the company. These are essentially unique identifiers assigned to each mobile device. Advertisers use these identifiers in order to target relevant ads for customers.
Companies use IDFAs to track the effectiveness of their ad campaigns on mobile devices. It is the only method available to advertisers to track and push ads based on a user's preferences.
Think of an IDFA as a cookie, except it works on a device level, and is not just limited to browsers. Advertisers receive a notification whenever a user takes action, such as clicking on an ad or interacting with them in different apps.
Every Apple device that is shipped comes with a discrete IDFA. iOS 14 is going to kill this with the next beta release of its new update.
Since each Apple device has a unique ID, advertisers are able to obtain more accurate information. However, a user is capable of resetting the IDFA, provided that they know about it.
Companies like Facebook, however, have sidestepped this multiple times by obtaining extensively detailed information about user activities, including IMEIs of iPhone handsets as well.
The company released a report, entitled "A Day in the Life of Your Data," in which they stated that every app on average has at least six trackers. These trackers collect information, analyze it, aggregate it, and then actively monetize it.
The buck does not stop with just Apple IDFA changes. The company is also going to introduce a "nutrition label" for different apps. Every user will be able to see the information that different apps are tracking, and app developers will be required to publish information about how they utilize this information.
The entire adtech sector is abuzz with the changes that Apple is introducing, and companies like Facebook are already looking at different ways by which they can improve the effectiveness of their ad campaigns. There's little doubt that targeting audiences is going to become much more difficult with this.
The iOS 14 update will change the way things work. Whenever you download and install a new app, you will receive a notification that shows how the app is going to use your tracked data. Then, you will receive a prompt to opt in or deny. You can also change sharing depending on each app.
As a result of the changes to iOS 14, Facebook ads are obviously going to take a big hit.
How Apple IDFA Changes Affect Facebook
Facebook's business model relies heavily on third-party advertising. With each year that passes, the company has been generating more and more revenue through its advertising, so a change is obviously not in their best interests.
As you can see, Facebook ads contribute heavily to their overall revenue, and it has only been rising over the years. Needless to say, the company wants to keep things as they are. With the release of iOS 14, Facebook ads are going to fundamentally change for advertisers.
Here are a few major ways by which the latest iOS update is going to affect Facebook ads.
1. Changes to Campaign Optimization
When iOS 14.5 rolls around the corner, the company is going to cap the number of conversion events per domain. This cap is set at eight-pixel conversion events for each domain. Advertisers will have to prioritize the top eight events in order of importance.
Essentially, advertisers will face difficulties with campaign targeting and optimization, primarily if they don't have enough pointers about their target audiences. More importantly, the audience pool is going to decrease as adoption rate for iOS 14.5 continues to increase.
2. Changes to iOS Conversion Tracking
Changes are also expected for iOS conversion tracking. The SkAdNetwork API, which was released in 2018, is now going to have a major impact on how advertisers use Facebook ads on Apple's platform.
For instance, event data is now restricted to only nine campaigns. Only five ad sets can be tracked for each campaign on a discrete account. After installation, event reporting will not be instantaneous; it will take at least three days before data is available.
3. Changes to Measurement
Advertisers can expect a rise in dark social traffic. Data from iOS 14.5 devices is going to be delayed by three days due to the PCM protocol, which does not release data instantly. As the amount of data is limited, clients will not receive comprehensive information released to signups or conversions.
How to Prepare for the Change
There are several ways to prepare for the upcoming change. Here are a few suggestions to help you out.
Use Facebook's Conversion API with Facebook Pixel
The Facebook Conversion API, along with Facebook Pixel, is a viable solution to this. This is a rework of the Server Side API released by Facebook, allowing users to create custom events and then passing them on to Facebook for server-side attribution.
Information is passed directly to Facebook, thus bypassing the browser and ultimately the barriers in place by iOS 14.5. The iOS 14 update affects information passing from browsers and does not affect tracking on the server side.
Facebook, on the other hand, recommends that you verify the domain as soon as you can. This will allow you to track 8 configured events in Events Manager.
This will mitigate the chances of conflicts between multiple ad accounts or Business Managers over who owns the event configuration.
Prioritize Your Campaigns
If your company is using more than 8 events, it might be time to prioritize and come up with a strategy that allows you to move ahead with fewer campaigns.
You can make manual adjustments in Events Manager. You can also use the Comparing Windows feature to compare and see how your conversions stack against each other in different attributions.
The Impact of iOS 14.5 on Google Ads
Google makes billions of dollars from ad spend alone. The tech behemoth has built a tremendous network of services and many consider it to be the largest ad network online. According to data from October 2020, Google accounted for 90% of the desktop search traffic around the globe.
Advertising is the major moneymaker for Google, generating more than 181.69 billion dollars in 2020 alone. Most of their money comes from search advertising. As you can see below, their advertising revenue has risen drastically over the years. From 2019 to 2020, Google's advertising revenue rose by more than 12 billion dollars.
Unlike Facebook, Google has been a bit muted with its response to the upcoming iOS 14 update. That's primarily because the company has not been as heavily impacted by the policies as Facebook. They have a much more diverse ad network so they aren't as heavily dependent on iOS ad targeting as compared to Facebook. The iOS 14 impact on Google ads is likely to be as follows.
1. Fluctuation in Performance
Ad campaigns on iOS are likely to be affected as data access is delayed. Slight fluctuations in performance and delivery of campaigns focusing on Discovery and Google Display are expected. You can expect a decline in performance and data loss.
Google Universal App Campaigns, which primarily target iOS and its users, is likely to be affected by the upcoming iOS 14 update.
2. Reduced Retargeting Audience
It is probable that a dip in the size of retargeting audiences is expected. As the update is adopted by more and more people, overall customer match rates are also expected to fall.
How Has Google Responded?
Instead of giving a vocal response like Facebook, Google announced that they will be making changes to the way modeled conversion metrics are calculated. The company has also begun to offer model conversion events that factor cross-device conversions.
While it seems like a small change to give back control to the user on whether apps or websites can track them, the effects are likely to be massive in the long run. The reason why platforms like Google and Facebook have seen success is because they have been able to track user behavior across multiple channels, and without any restraint.
If users start opting out of this tracking (as they are very likely to), advertisers won't be able to track their interests. Ultimately, they won't be able to show you any relevant ads, and as a result, a major dip in conversion rates is likely to occur. Some advertisers already anticipate that cost per lead is likely to rise as a result of these changes.
The Impact on Assisted Metrics
Display networks and other platforms that utilize user behavior off-site in order to show relevant ads, such as Facebook ads targeting, are bracing for a major impact from the latest iOS update. Facebook is only able to show you relevant ads because they are able to track your behavior off-site through app integrations and cookies.
Assisted metrics are likely to be heavily impacted, along with other conventional metrics like cost per lead, conversions, and conversion rate. Assisted Conversions and Assisted Revenue are two common metrics that help advertisers understand the effectiveness of their advertising campaigns.
The Importance of Paid User Acquisition
Paid user acquisition is going to increase even more in the upcoming months, as more and more companies realize the importance of maximizing their campaign performance. Agencies like yellowHEAD have their own User Acquisition models that maximize returns on ad spend while increasing user engagement.
yellowHEAD offers fully managed services including content and creative production that is powered by data-driven marketing. Our team carries out in-depth performance analysis, giving you access to all relevant data. We also have a customizable dashboard that makes it easy for advertisers to track metrics from multiple accounts and platforms.
This makes it easy for our experts to spot trends and highlight opportunities that our partners could take advantage of to maximize their ROI. Our team works closely with partners to come up with ad creatives using our AI-powered creative analysis and ideation technology, Alison.
Using precision targeting, the company makes it easy for businesses to show relevant ads to customers that matter, driving conversion rates. With iOS making it more difficult for people to track user behavior, more and more advertisers have to think outside the box to come up with innovative ways to track user behavior and come up with campaigns that are relevant to your audience.
Checklist
To prepare for the upcoming update, we have created a simple checklist that you can follow:
Set up the Facebook Conversion API with Facebook Pixel
Narrow your Facebook campaigns to the top 8 events if possible
Update Google Mobile Ads (GMA) SDK
Set up Apple's SKAdNetwork and enable it
Update the Interactive Media Ads SDK
Update the Facebook SDK
Create a new ad account on Facebook that's primarily for running app install ad campaigns on iOS 14
Don't panic – the effects of the update are not known yet. No reason to panic until you know how it impacts your audience network.
BACK TO BLOG
NEXT ARTICLE