September 24, 2019
Google Discover – Introducing Google's Mobile Feed
If you own a website and access Google Search Console regularly, you've probably come across the Google "Discover" tab. If not, it's time to get acquainted with this feature.
When Did Google Discover Start? [Bye Bye Google+]
Not many people know about Discover (or don't know they're actually using it).
It evolved in December, 2016 as "Google Feed" and has gone through some changes since then.
In September 2018, it got the name "Discover" with a fresh new look, a focus on evergreen content and more customization options.
What is Google Discover?
So, what is Google Discover? It's a mobile feed that shows you content based on previous searches, meaning you get article suggestions based on what Google thinks you would like.
For instance, if you regularly search for cake recipes, Google Discover will most likely suggest food or recipe sites before you even searched for them.
If you searched for a recap of "A Star is Born", you might get the following trailer in your feed without actually searching for it: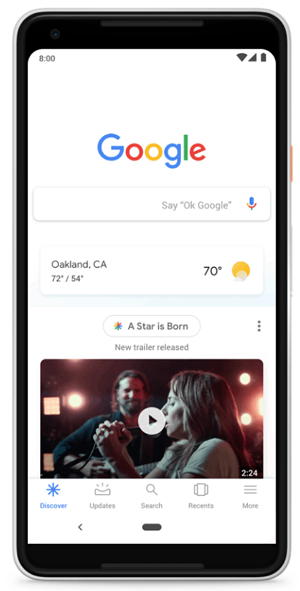 Image credit: Google 
How do I get Google Discover?
Google Discover can be accessed on your mobile via:
Via Android/iPhone browsers – the google.com home page (available in select countries)
Via Pixel, Nexus or Google play devices – simply swipe right from the home screen
How to customize what you see in Discover
Even though Google will display content based on your past interests, it may not always be what your'e looking for. Go to the Google App and press on "…more", then "Discover" to change your preferences. You can customize if Discover should include weather updates, commute notifications, local travel suggestions, and other topics such as T.V.  shows, musicians, actors, etc.
See more from Google on how to customize what you find in Discover.

Image credit: Google 
How to turn off Google Discover
If you're not interested in seeing these default results in your browser, you can turn off Google Discover by accessing the "…more" section in your browser or Google App, then "Discover", then tap the "Discover" toggle button.
What is the Discover report in Google Search Console?
Back in April, 2019, Google added the Discover report to Google Search Console. The purpose – to help site owners better understand which content appears in the feed, and how much traffic it's actually bringing the site. This is actually a great way to understand which content is most interesting for a user that is simply scrolling through random results. Thus, encouraging site owners to focus on creating content in a similar way to drive more traffic.
The Discover performance report shows a list of URLs, clicks, impressions, CTR and where the traffic came from (country) over a certain time frame.
Google core updates may impact the Discover feed
Core updates are basically changes made in the Google search algorithm which consequently affects rankings. The latest official June Google Core Update, for instance, was focused on content.
Google indicated in one of the latest Webmaster blog posts on Core Updates that, "these core updates may also affect Google Discover." This is where SEO comes into the picture – learn to optimize your content to increase visibility, not only in organic SERPs but also Discover.
So, what is there to know? The focus should be on content!
Here are a few tips on how to optimize content for Discover:
Provide your readers with relevant, trustworthy and interesting content
Follow Google E-A-T (Expertise, Authoritativeness and Trustworthiness) guidelines
Create content that's worth sharing (would you send it via a text message or share on social media?)
Create content that will stand out from the crowd of so many other websites – both evergreen and news articles
Add high-quality images (at least 1,200px wide) and videos to your content
The official Google support page couldn't have described it any better:
"…there aren't any methods for boosting the ranking of your pages other than posting content that you think users will find interesting." 
 For more info on Google Discover or other related topics, don't hesitate to contact our SEO team!
BACK TO BLOG
NEXT ARTICLE