May 28, 2020
Search, and you shall find: Google Play adds new FILTERS & related keywords to your search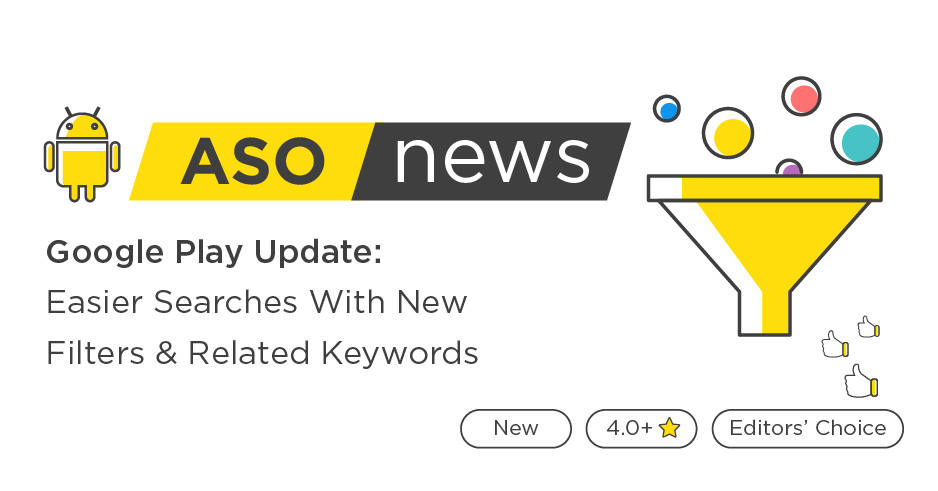 We've all been there before. You visit Google Play in search of a particular app or game. You might even use the partial or full title in your search but you still have trouble finding it or, worse, you accidentally download a different app.
As part of its ongoing efforts to enhance user experience and personalize the Google Play Store, Google continues to introduce new search features that make it even easier for users to locate the apps they're looking for.
Let's examine the full chain of events that led us here:
In the beginning, there were tags…
It all started with the introduction of category tags back in August 2019. Developers were able to choose up to 5 tags from a list that best describes their app. It wasn't really clear how Google intended to use these tags, but shortly after, the tags started to appear on the app page under the short description.
The next major change on the road to seamless searching arrived in April 2020, when Google made some of the tags visible in the search results. For games, Google also added tags you can't select from the list, such as "offline" and "single player".
It's clear now that the objective of the category tags was to help Google display together apps that share the same content/functionality.
Now, Google has rolled out two new changes that are sure to remove even more barriers between users and their desired apps.
1. Search filters
A beta version of a new filtering option has been spotted. We haven't found it since, so perhaps it was being A/B tested by Google. If the new filter is rolled out, it will be a game-changer for searches. Users will be able to refine their searches according to three new criteria:
New – New apps related to your search.
This new filter is a double-edged sword. On the one hand, it represents a huge opportunity for up-and-coming apps that have yet to achieve brand recognition. We know how difficult it can be for new apps to obtain organic downloads. They often have to settle for long-tail keywords with less traffic in order to gain visibility. This new filter will surely help new apps increase volume and velocity of downloads, which, in turn, affect organic keyword rankings as well.
On the other hand, when Google no longer considers you "New", you will be eliminated entirely from this filter. So, the question remains: how long does Google consider an app "New" for?
Rating 4.0+ – Apps with a 4.0 rating or higher.
This makes it more important than ever to offer a quality product, fix bugs, and respond to users' complaints. The implication of this filter is severe! Now, no matter how well you optimize your app's metadata, you will still be eliminated if you do not have a high enough overall rating.
Editors' choice – Apps that were handpicked by Google Play editors.
Apps with a compelling store listing have always enjoyed the privilege of appearing in this curated section with the additional "Editors' Choice" badge. These apps can now also appear in searches with this unique filter and enjoy even more downloads.
2. Related keywords
Some searches will now generate a list of keywords that appear at the top of the page. This list can include up to 15 keywords that complement the search query. Around 3 of these keywords can be traced to those offered by the autocomplete suggestions in the search box.
ASO practitioners should definitely research lists that are related to the app they are optimizing for. You might also want to build new keyword strategies around these keywords. It appears Google is showing apps that include these related keywords in their app title, category tags, and search ad taglines.
BEFORE:
AFTER:
What we're trying to say is…
The implications of Google's new search features on ASO practices are huge! For example, with regard to ratings, if the overall rating has always impacted keyword rankings and conversion, now it can have an altogether excluding factor in searches. The filter will favor apps with an overall ranking of 4.0 or higher but may reduce download volume for those that are below the ranking threshold, no matter how optimized their metadata is. Developers should make sure that they are listening to their user base and meeting their needs in order to maintain at least a 4.0 rating.
Regarding the related keywords that appear for certain searches, working these into the app's descriptions might help with visibility. Also, it is possible that selecting tags that match these related keywords can help the app come up as a similar app when users tap on them. This can significantly boost organic-browse traffic for the app.
Google Play is aiming to improve the user experience by creating easier ways for them to find the apps they need.
BACK TO BLOG
NEXT ARTICLE