June 2, 2021
Your Ultimate Guide to Influencer Marketing in 2021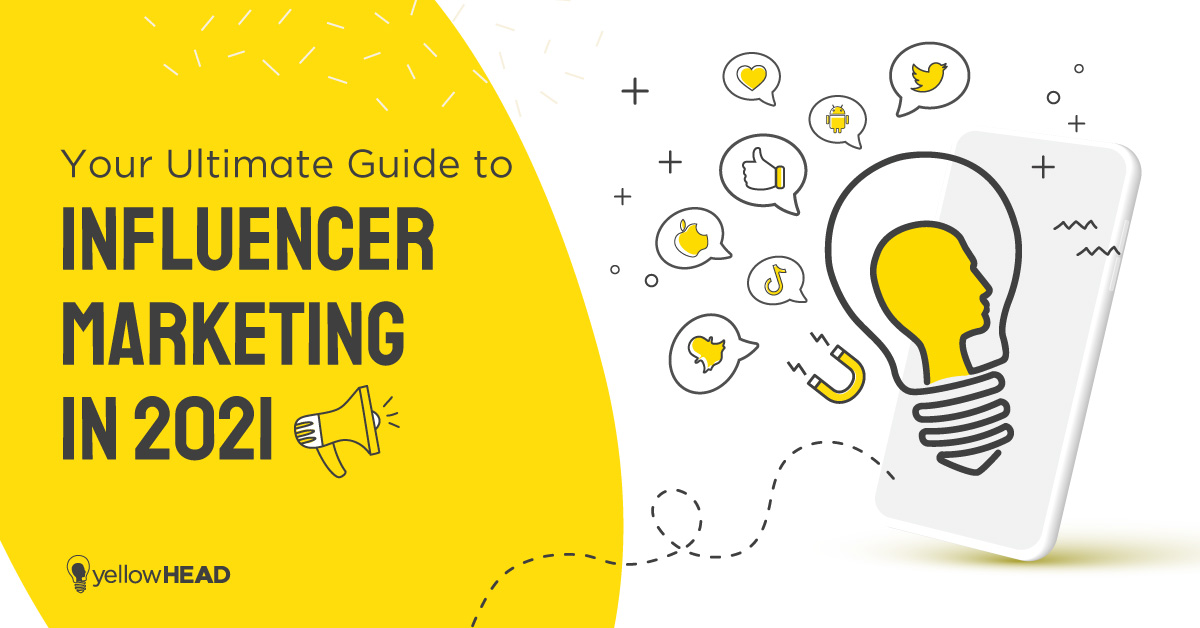 The rise of social media paved the way to a whole new way of marketing. Companies can now create a brand presence on social media and hire people who already have a sizeable following to promote their services and products.
A decade ago, the influencer marketing landscape was ruled by celebrities and visionary bloggers who knew how to leverage their following. If done correctly, this form of marketing could result in a windfall of traffic for your website and increased interest from several platforms.
It's an excellent way to boost profits and generate maximum returns from your marketing budget. But how do you create a successful influencer marketing strategy?
There are a number of factors that you need to consider (discussed further below), which will no doubt determine the success of your marketing campaigns. But, before we get started, it's important to understand the basics.
Jump to a section…
What is Influencer Marketing?
Why is Influencer Marketing so Popular?
How to Create Your Influencer Marketing Strategy
3 Amazing Influencer Marketing Examples
The Bottom Line
What is Influencer Marketing?
Celebrity endorsements have been around for eons. If you turn on your TV and watch a few ads, you'll see celebrities raving about different products. It's pretty common and it's simply designed to tap into your psyche. If a familiar face says they like something, it's worth a shot.
This type of marketing simply combines celebrity endorsements with a content-driven campaign. It is, in essence, a collaboration between a brand and an influencer, also known as online celebrities.
In the simplest of terms, an internet influencer is someone who has "influence" over their audience and can sway their buying decisions by using their platform, their knowledge, and the connection that they build over time.
In order to be an influencer, that person must have a sizeable following within a particular niche. Most influencers actively engage with their audience to grow their following and keep in touch on a consistent basis.
An influencer doesn't always have to be a person, per se. If you search on Instagram, you will come across some exceptionally well-dressed pets, which, given the size of their following, most definitely fall under this category.
Influencers regularly post content, including videos, photos, reviews, and blogs, on social media platforms like YouTube, Facebook, Instagram, and Twitter. The aim is simply to engage with their audience and establish their authority within a specific niche.
For instance, a tech blogger who regularly posts reviews about different gadgets can be considered a "tech influencer".
Influencer marketing is simply a collaborative marketing strategy in which brands identify influencers in relevant niches to promote their products. They can promote campaigns, services, or products.
In return for a fee, the influencers promote the company's products, often featuring them in their regular content. The brand could "sponsor" a post, or the influencer could weave their product into their script or content in a natural manner.
Why is Influencer Marketing so Popular?
The numbers don't lie. If you take a look at the influencer marketing statistics, you will realize just why this marketing trend is on the rise. More importantly, it's only expected to grow further. Here are some stats that prove why you need to get into it right away.
Market Size Hits $10 Billion
The need for new content was felt all around the globe when people were cooped up in their houses as a result of the COVID-19 pandemic.
The estimated market size has ballooned over the past few years. In 2016, when influencer marketing was just getting started, it was around $1.7B. Fast forward to 2020, and it grew to $9.7B. The industry could smash through to reach a market size of almost $14 billion this year.
In five years, that's a 471% increase.
The Rise of TikTok
TikTok is the most downloaded app on the App Store right now. With over a billion monthly active users, it has given rise to a whole new generation of influencers. What started off as a niche video sharing app has quickly grown into one of the most popular social networking apps.
A hub for fashionable youngsters and people who simply like to make video content, TikTok is not an app that you should leave out from your marketing strategy. According to one study, the engagement rates on TikTok for influencers is much higher (7.7% average) than all other major platforms.
TikTok influencer marketing is also incredibly affordable. It's much cheaper to collaborate with a TikTok influencer than with one on Instagram. Since it is a growing platform, the engagement rates are higher, and as a result, you get more bang for your buck!
A Shift Towards Micro and Nano Influencers
According to Linqia, more than 77% marketers believe that micro influencers are going to play a much bigger role in furthering digital marketing than major celebrities. In fact, the demand for nano influencers is now much higher than celebrities. A nano influencer is someone with a small following, usually 5-10K.
Companies are able to get a significantly better ROI with nano influencers because they engage more often with their small following, and as a result, are more "influential".
The 'Gram
Instagram is used by more than one billion people in a month. It is the sixth-most visited website and it plays a central role in influencer marketing. While it's incredibly popular in the US, Instagram's use is also rising sharply in different parts of the world.
Before the pandemic hit, eMarketer had estimated a 5.2% growth in Western Europe. In 2020, eMarketer revised their estimate twice. By the end of 2020, there were more than 132 million active users. That's almost 20 million more users in under a year.
That's not all.
On average, an Instagram user spent almost 30 minutes on the platform in 2020. In 2019, this was around 25 minutes. In comparison, users on Facebook only spent 1.4 more minutes per day in 2020 when compared with 2019.
Instagram is the platform of choice for most influencers, and it's one of the most important channels for social media influencer marketing.
The benefits of influencer marketing are there for all to see. It is an excellent way of promoting your brand through a familiar face that people actively follow and emulate. A brand influencer will be much more candid with their reviews, and people will pay more attention than to conventional advertisements.
How to Create Your Influencer Marketing Strategy
As a modern business owner, you simply can't afford to ignore influencer marketing for promoting your products or services. If you build a robust influencer marketing strategy and use the right influencer marketing platforms, you could generate maximum returns from your marketing budget.
If this is your first time entering the influencer arena, it's imperative that you assert your goals. Here are some important tips to help you create a sound influencer strategy.
1. Set Your OKRs
Many brands are apprehensive about their first-time investment in influencer marketing because they don't know if it's going to be effective or not.
A common mistake that many businesses make is that they simply do not invest enough money to generate any significant returns from this marketing channel. Another major mistake that businesses make is that they do not underline their objectives and key results before getting started.
Like with any other marketing plan, you need to define what you want to get out of it before you get started. You need to define your goals and underline the metrics that you will use to track their performance.
Some examples of common marketing objectives include:
Increasing follower count and engagement to boost brand awareness
Increasing conversions and generating more leads
Penetrating new markets
Increasing online/offline sales
Building hype for a new product or service launch
2. Select an Appropriate Influencer Marketing Campaign
There are multiple kinds of influencer marketing campaigns, so it's important to choose the right one. Before you get started, you need to define the kind of campaign you wish to work on.
You can either hire an influencer to promote your product or service, which is arguably the most common method, or you can inspire an influencer by showcasing your work and highlighting your positive impact. If the influencer feels that your message needs to get out there, they might be willing to help.
In most cases, however, influencer marketing is a mixture of both. To truly promote your product, an influencer must get behind it, and this is only possible when they feel that it offers some value. Remember, they are good influencers, not good actors.
There are several strategies that you can choose from, such as:
Guest posts: you can write content and post it as a guest on the influencer's website or blog.
Sponsored posts: you can sponsor a video or a post by the influencer. In return, they will feature your product or brand prominently throughout the piece.
Co-creations: you can partner with an influencer to co-create content or a product which features the influencer's branding as well. You can promote it on your website as well as the influencer's. Third-party channels can also be used to maximize the effectiveness of such campaigns.
Brand ambassadorship: you can hire an influencer to work as a brand ambassador for your product. They will promote your product across multiple platforms and will feature your brand prominently.
Discount codes: you could partner with an influencer and offer discount codes that can be claimed by the influencer's audience. This is a great way to determine the influencer's reach and how effective they are at "influencing" their audience to make a purchase.
Affiliate marketing: the influencer will act as an affiliate – they will promote your product through a unique link and make a commission on every sale.
Once you've selected the type of strategy you'd like to proceed with, producing influencer-based content requires coming up with a creative concept. You will also need to devise general guidelines for what you want the influencer to say (you want to make sure it's authentic and as close to the influencer's tone and style as possible), and produce it in a way that looks real and believable – no big budgets needed here!
3. Find a Relevant Influencer
The biggest problem that most brands face is in finding a suitable influencer. It's not always about throwing money at the guy with the highest following; it's more about finding a relevant person who understands your audience well.
With so many types of influencers in different niches, this can seem like a difficult task. To find someone who resonates with your audience, you need to expand your horizons slightly.
Most brands are only concerned with finding influencers on Instagram. Instagram is a massive landscape, and while you might be able to reach a bigger audience, the competition is much tougher there as well.
Don't limit your scope. You need to experiment with other platforms like Facebook, Twitter, TikTok, Snapchat, or even Pinterest.
How can you find a relevant Influencer?
The best thing to do is to first determine where your target audience is most active. For example, if you sell a digital product, you probably won't find an active audience on Pinterest. Facebook or YouTube might be more appropriate in this instance.
Similarly, if you sell arts and crafts products, Pinterest is definitely a better choice than, say, TikTok.
Once you have found an appropriate platform, the next step is to look for influencers in your niche on that platform. From there, it's just a matter of negotiating the rates. There are some big name influencer agencies that you can approach as well, such as:
MSL Global
Viral Nation
Fanbytes Agency
The Influencer Marketing Factory
Veritone One
Remember, hiring an influencer with the biggest following is not necessarily the best idea. Micro influencers are becoming more and more popular because brands prefer hiring influencers who have a more active audience with whom they engage regularly with.
It's imperative that you take the engagement rate into account. An influencer with a smaller but more loyal following is a better choice than one with a bigger following that doesn't engage with their posts as often.
4. Use the Right Influencer Marketing Platforms
Influencer marketing platforms are simply software programs that are designed to help brands with their influencer marketing campaigns.
You can use these programs in order to track the influencer marketing effectiveness and work out ways to improve on their performance. Here are some popular platforms that you might want to consider.
a. Grin
Grin is an eCommerce-centric influencer marketing program that integrates very well with major shopping platforms. Grin has a searchable database to help you find influencers relevant to your niche, and it offers simplistic workflows for tracking metrics.
b. AspireIQ
AspireIQ is ideal if you are looking for an influencer on YouTube or Instagram. It has a database of almost 200K influencers. The database is automatically updated and has a very intuitive search engine to allow brands to match up with suitable influencers.
c. Upfluence
Upfluence is preferred by small businesses because of its affordable pricing. It has a humongous database with more than 500 million pieces of relevant content, spread over various social media platforms. The entire database is searchable and has lots of information on different influencers.
It also has an array of tools built in to manage relationships and track the performance of different campaigns.
There are plenty of other platforms that you can use to reach out to influencers, so it's best to find one that best fits your business needs.
5. Negotiate an Agreement and Track Performance
Once you find an influencer who aligns with your audience and understands your business requirements, you can discuss your plans with them. Depending upon the objectives, the influencer will probably pitch a few ideas of their own.
Some influencers are fine with promoting products in return for a gift or so, while others require an upfront payment with commissions depending upon the success of the partnership.
Most influencers demand a monthly fee or a fee per post. If the collaboration turns out to be successful, you can always renegotiate the terms.
It's also equally important to track the performance of your marketing campaigns. Track appropriate KPIs after regular intervals to determine whether you were able to meet your objectives or not. You can continue adjusting the strategy as the objectives change over time.
3 Amazing Influencer Marketing Examples
When done right, social media influencer marketing can take your business to a whole other level. Here are three amazing examples of influencer marketing examples that were a major hit.
1.      The Subaru Impreza Launch
Subaru is one of the most popular auto makers in the world. For the launch of their new Impreza, the company launched their #MeetAnOwner campaign.
The campaign featured videos from influencers showing the Subaru Impreza in different locations across the globe. The company decided to eschew conventional television ads and went with influencers in the hopes of appealing to a younger audience, millennials.
View this post on Instagram
It worked a treat.
Sales went up 10%, which is a tremendous achievement in a cutthroat industry. According to a case study done on the campaign, the engagement rate was at 9%, with the hashtag spreading far and wide.
Subaru's own video received 2.5 million with over 73K likes. Subaru worked with major influencers like Zack King and Devin Graham, appealing to a large group of potential customers.
2.      Ralph Lauren
The big-name fashion brand was one of the first to run a successful influencer marketing campaign that used Tiktok's Hashtag Challenge Plus. The campaign's star was Diana Silvers, an influencer, model, and actress. They used the #WinningRL hashtag, and asked their followers to share moments where they won something in a unique way.
This was around the time of the US Open, with Ralph Lauren being one of the prime sponsors. Even the initial video with Diana Silvers featured tennis, and the top three winners all received tennis-themed prizes, including US Open apparel.
For a limited period of time, the Hashtag Challenge Plus opened a slew of new possibilities for Ralph Lauren as they rode the wave of the campaign's success. Users could buy Ralph Lauren merchandise straight from an in-app store for the length of their campaign.
Needless to say, it boosted their ROI massively and promoted their US Open sponsorship to new heights, generating significant user interest.
3.      BECCA Cosmetics
Chrissy Teigen, wife of the famous musician John Legend, has a sizable social media following. She is an influencer, model, and TV host. When BECCA Cosmetics chose her to collaborate with for their new makeup palette, they knew what they were doing.
Teigen took to Instagram to announce her collaborative partnership with an Instagram video that received a cool 5 million views. BECCA showed that, while influencers do great with promoting existing products, they can also play a major role in promoting new items.
Teigen's lavish support for the makeup palette no doubt boosted sales, and it showed that influencers take more interest when they give input for the new product as well. It's a classic example of knowing your audience, and finding the right person to put before them.
4.      Bingo Blitz
Bingo Blitz is an online bingo game that features flashy colors and vivid animations. It was released as a mobile app on Google Play and iOS in 2012. They came up with an ingenious marketing campaign, creating a song titled She's Bingo that featured Nicole Scherzinger and Luis Fonsi. The 30-second official commercial has crossed more than 2.5 million views since its release in March 2021.
However, it wasn't just the song that captured people's attention; it was the dance steps in the video. It didn't take long before YouTube and TikTok were flooded with videos of the 30-second dance challenge featuring regular influencers.

This is a great example of how to create original content for a campaign that has both awareness and influencer aspects.
The Bottom Line
Influencer marketing is only expected to grow in the future, and if you want to grow your presence online, it's just something that you cannot ignore anymore. From the examples given above, it's easy to see that influencer marketing doesn't have to feature big names all the time. It can include small-scale influencers as well, and generate lots of impressions if done correctly! It takes a strategy, budget, and a bit of trial and error to find what works for your brand.
BACK TO BLOG
NEXT ARTICLE