June 5, 2023
MAU Vegas 2023 recap
Las Vegas beckons with its mesmerizing slot machines and lively poker tables, where the excitement of the clubs intertwines with passionate debates among mobile growth managers about acquisition and retention funnels. Amidst this vibrant atmosphere, emerges the pinnacle of mobile marketing and growth events – Mobile Apps Unlocked (MAU) – a must-attend conference of the year for industry professionals.
As the sun-soaked poolside cabanas provided a luxurious backdrop, app marketers from all corners of the world descended upon Sin City, driven by their desire to partake in the grandeur of MAU. From engaging panel discussions exploring the intricacies of people-based attribution to immersive networking opportunities, MAU served as the ultimate congregation for top-tier mobile marketers to stay abreast of the latest trends.
For us, attending MAU held a crucial position within our strategic roadmap to extend our presence in the ever-expanding US market. With a packed schedule comprising over 50 meetings, we sought to illuminate the industry with yellowHEAD's distinct brand and capabilities. Connecting directly with esteemed brands, we aimed to showcase our expertise in App Store Optimization (ASO), User Acquisition (UA), Creative solutions, and an array of other essential facets.
Throughout these enlightening conversations, a resounding theme echoed: the ongoing evolution of the mobile marketing ecosystem and the relentless pursuit of transparency and strategy-driven User Acquisition (UA).
What happened in Vegas stays in Vegas? We are telling everyone!
As we catch our breath from our eventful and highly rewarding journey at MAU Vegas 2023, we are excited to share the highlights and emerging trends from this remarkable show, whether you were fortunate enough to join us or missed out on witnessing our presence among the brilliant and eager minds.
Zac Hamburger , Senior sales manager, Lee Spungin, VP of Growth and Vered Aviv, Senior Marketing Manager
MAU Vegas stands as an unrivaled platform that caters to the top mobile brands, offering an exceptional experience centered around invaluable networking opportunities, world-class hospitality amenities, two full days of groundbreaking learning, and the chance to cultivate relationships in an unparalleled environment. Once again, MAU transformed the city into the most vibrant event destination globally, attracting over 2500+ attendees, 90 sponsors, and 65 speakers from the most esteemed mobile brands.
The agenda included sessions about a variety of topics: growth outside the box of mobile, how AI is changing the game for marketers and agencies, SKAN 4.0, how to incorporate a brand marketing strategy in a performance-based company and much much more.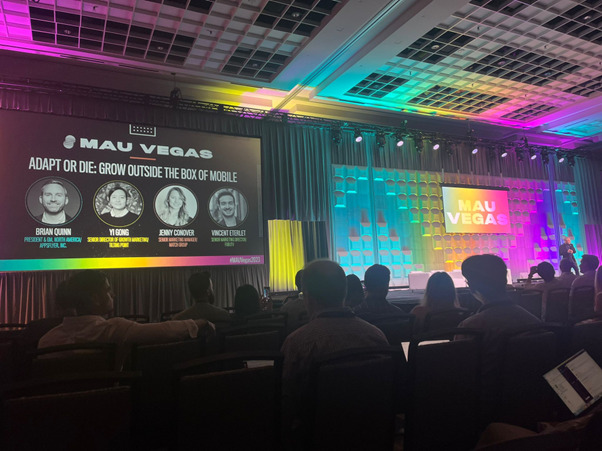 Everyone is talking about the integration of AI, SKAN, and privacy. It's something that keeps coming up as everyone is in the testing phase and trying to prepare. AppsFlyer  announced that they are now stepping beyond the confines of mobile measurement and providing a solution for cross-platform. Their LinkedIn announcement HERE.
In addition to the unveiling of new products and launches by major industry players, MAU Vegas 2023 also provided a stage for scaling startups and ambitious companies to showcase their innovative technologies, fostering a dynamic ecosystem of growth and innovation.
Throughout the span of two enlightening days, the stages of MAU Vegas hosted industry leaders, entrepreneurs, marketers, and product experts who shared their insights on the latest trends, forecasts, winning strategies, compelling case studies, and invaluable lessons learned. Their collective wisdom and expertise propelled the industry forward, empowering attendees with actionable knowledge and inspiring ideas.
We extend our heartfelt appreciation to the organizers, exhibitors, speakers, and our exceptional team for their unwavering dedication in putting together an outstanding show amidst the scorching Vegas heat. MAU truly proved to be a remarkable experience for us, as we immersed ourselves in enlightening learnings, engaging conversations, impactful meetings, and invaluable networking opportunities that exceeded our expectations.
We look forward to our next conference in the US. Keep an eye out for updates and check out our event calendar for future events.
If you didn't have a chance to meet us at MAU, don't hesitate to contact us to hear more about how we can boost your performance marketing today.
BACK TO BLOG
NEXT ARTICLE