November 19, 2020
Ad Creative Benchmark Report: What Converts Social Casino Users?
Using the Alison Technology Platform, we analyzed 300M+ impressions across thousands of ads to see what creative strategies work best.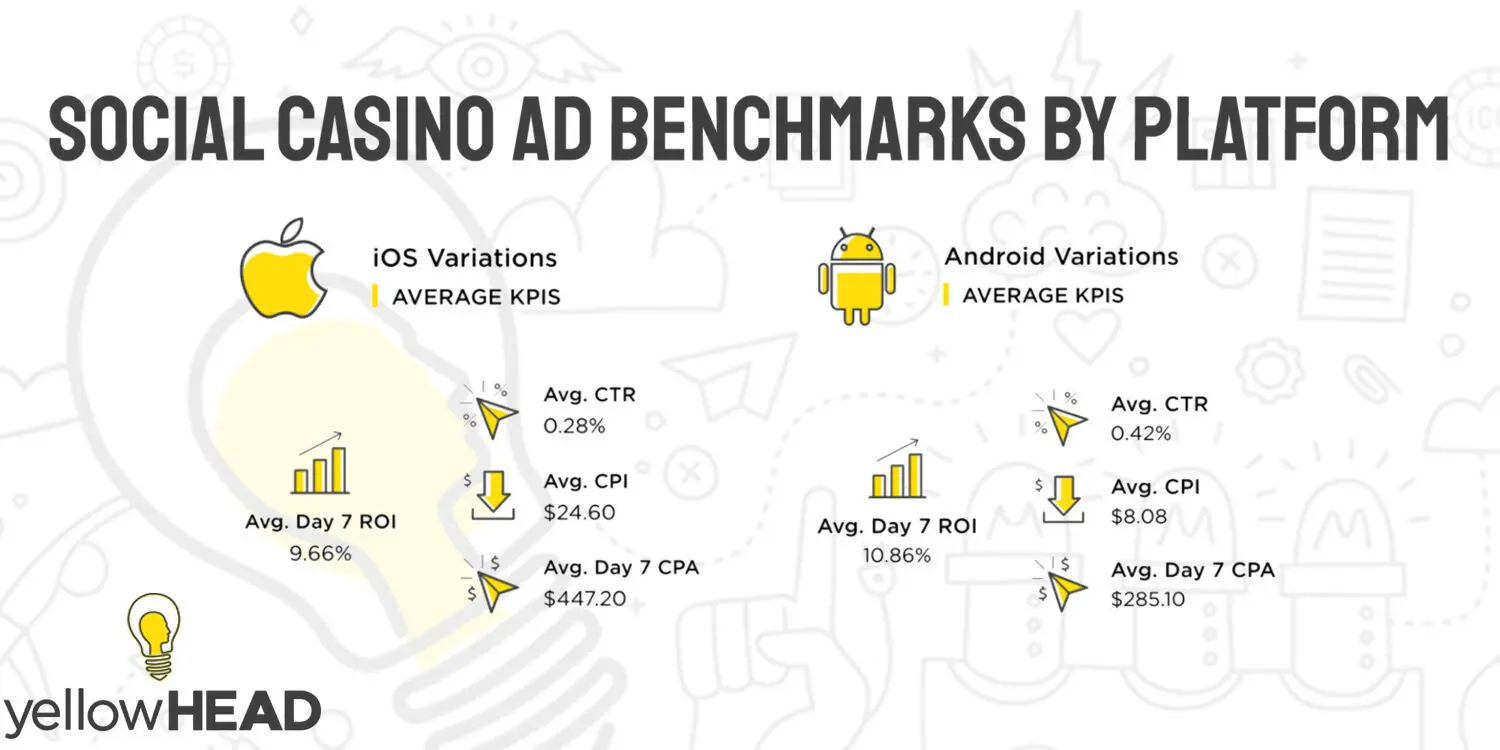 Mobile gaming is a multi-billion-dollar business, and social casino games are among the most profitable. User acquisition professionals with experience in the social casino space know just how valuable a compelling creative can be.
Deployed at scale, minor variations in animations, characters, messages, logos, calls to action, etc. can mean the difference between a slam-dunk return on ad spend or an uncomfortable conversation with your boss as to why your monthly budget vanished with very little to show for it. For top-performing titles, the stakes are high, and the more insight into what creative choices convert best, the better.
That's why, using data from yellowHEAD's proprietary Alison technology platform, we've created our latest Ad Creative Benchmark Report: to uncover the creative best practices for social casino game ads that turn ad dollars into engaged users.
The Alison engine uses a combination of computer vision and machine learning to analyze and optimize ad creative at scale, while our in-house creative strategists take a hands-on approach to the analysis, ensuring that Alison's insights and optimization recommendations will deliver maximum value for our partners. Combined, it allows us to deliver some of the most sophisticated creative analysis and ideation in the industry.
The report reviews Alison data on social casino user acquisition campaigns across all platforms and operating systems, and analyzes performance information from a data set representing:
12 unique social casino apps
230 ad creatives
860 campaigns
1,045 ad sets
6,365 ads
376,818,253 impressions
What We Found
When it comes to mobile ads, marketers only have about three seconds to grab users' attention. That's not a lot! Striking visuals, clever messaging, fun animations, and friendly characters should be designed to make an immediate impact. Some immediate actionable insights include:
Don't wait to show your logo. Most ads only show logos as they're ending, but our data shows that placing a logo in video ads from the start is over 40% more effective.
Social casino gamers love cartoon characters and animal mascots, even though the most common practice is to use animated men and women.
Make it rain! Show those spinning reels and resulting dollar bills. Dollars actually outperform the usual coin animations by 20%.
Looking for an effective CTA color? Let purple reign — this hue resulted in 30% greater ROI than the more common blue and green.
And that's just the tip of the iceberg! Inside the full report, you'll find KPIs for a number of different creative strategies broken down by region, mobile OS, and ad platform. To get the full picture of the best creative practices for mobile social casino ads — with the data and analysis to back it up — check out the full report today.
BACK TO BLOG
NEXT ARTICLE