July 1, 2021
What are Motion Graphics? A Guide for Advertisers (With Examples)
Motion graphics are a great way to stand out in a world that's constantly bombarded with new information and entertainment. Find out how to use them effectively.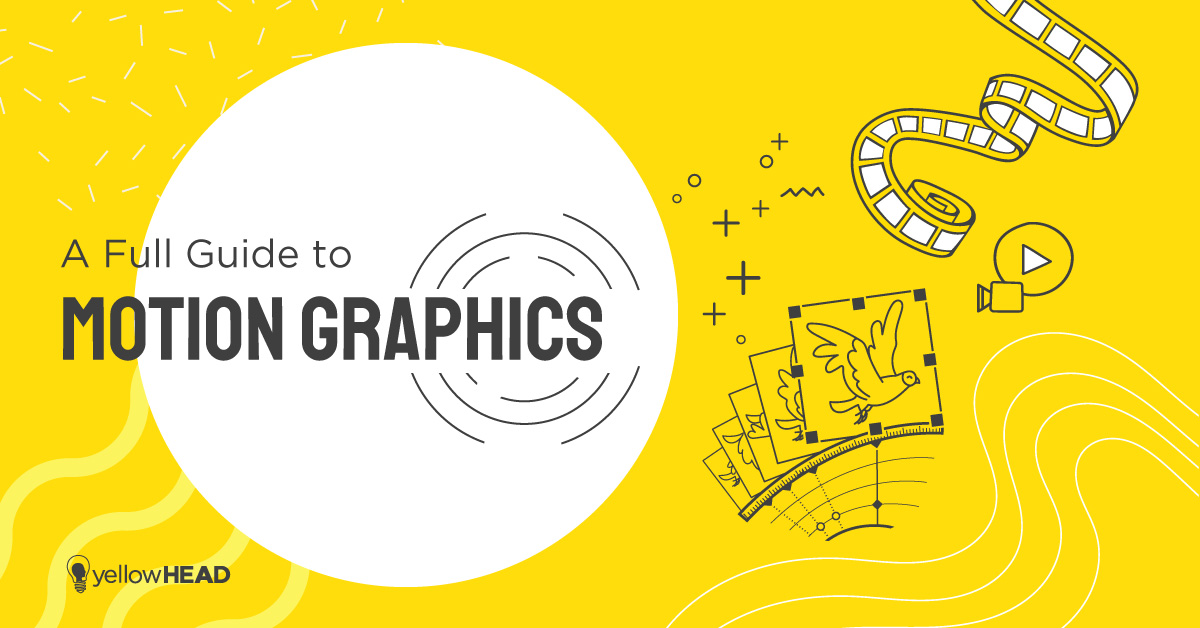 We live in a world saturated with entertainment — and this leaves brands having to compete for the limited attention spans of ever-distracted people in a matter of moments. Any marketing effort has to capture attention quickly, preferably within the first three seconds, in order to be effective.
Humans respond better to visual elements than simply reading text, so motion graphic videos are a great way to capture attention and get a point across on a variety of platforms. They visually conceptualize ideas and information through a mix of animation, video, sound, infographics, and animated text, making it easier for potential clients and customers to understand what you do and take action. Best of all, they're easier to share on social media and add to site content. All of this makes brands more personable and boosts engagement.
Using motion graphics in your video content will help increase engagement. Twitter agrees, noting video views increased by 62% from 2019 to 2020.
Posting long articles, even with great photos, means many people will simply scan through them instead of reading the whole thing. Motion graphics just help convey messages better.
According to one study, video marketers are able to generate a much higher ROI with 66% more qualified leads in a year by simply using videos. Using motion graphic videos on a website is essential to staying ahead of the competition. Not incorporating motion design and animation into a website or blog means missing out on the perfect customer or client.
Jump to a section…
What are Motion Graphics?
Types of Motion Graphics
What Are Motion Graphics Used For?
Motion Graphics vs. Animation
How to Use Motion Graphics in Advertising
The Best Motion Graphics Examples
What are Motion Graphics?
Motion graphics are simply animated designs, but with text as a central feature. They're sometimes called motion graphic ads, motion graphic commercials, motion graphic animations, and even mographs.
Think about the opening scenes to many movies for great examples motion graphic animations out there. One such is the intro to just about any Star Wars film. It features long text scrolling down the screen, which prepares viewers for the story they're about to see.
The motion text is matched by a  tremendous score by John Williams, often punctuated with effects like blaster shots, and ominous drums. This helps deliver an important message and mentally prepares the viewer for what's to come.
Now, imagine creating an advertisement like this! It's totally possible.
The guide below explains what motion graphics are best for and how to effectively create great motion graphics ads. Plus, check out a few of the best motion graphics examples around.
Types of Motion Graphics
There are various types of motion graphics that brands used to tell stories. Categorically, motion design and graphics are meant to make your viewers feel something, learn something, and encourage them to purchase, sign up, or take pretty much any desired action . This can be done using:
Instructional videos
Explainer videos
UX animation videos
Animated logos
Interactive infographics
Animated presentations
Animated titles
GIFs
What Are Motion Graphics Used For?
Motion designs and graphics are used for a variety of purposes. Here are some common reasons to use motion graphic animations.
1. Instantly Capture Attention
When was the last time you sat through an entire longform article? You probably don't remember. That's because most people simply don't go through lengthy content. The consumption of digital content has shortened the human attention span to less than that of a goldfish: 8 seconds, according to a study by Microsoft.
Marketers need to hook viewers and condense the insights from an in-depth article into a concise video that's only 30 seconds to one minute long.
2. Increased Conversions and Engagement
Whether your audience is made up of visual or auditory learners,  the best motion graphics will appeal to both through a combination of great visuals, the right music or speaker, and engaging text. Having videos on a page could be just what brands need to breathe new life into their content marketing efforts.
Videos lead to a 157% increase in organic traffic, increasing CTR drastically. More importantly, viewers are able to remember 95% of a message if they view it in a video as compared to reading it in written form. The stats don't lie: if you want to see real results, this is the way to go.
3. Emphasizing a Point
Motion graphics illustrate your message in a way that strengthens the idea you're trying to get across in the text.  Remember: a picture is worth a thousand words; a video is worth a million.
4. Simplify Complex Information
Businesses, organizations, or groups offering complex services can use motion graphics advertising in order to break it down and make it easier to understand. Motion graphic videos are excellent visual aids that make learning much easier.
Motion Graphics vs. Animation
Animation is a broad term that involves any technique which makes static images or text move. It can involve the use of different techniques like stop-motion animation, 2D and 3D animation, mechanical animation, and a lot more. Motion design is just another type of animation, focusing on "animating" conventional graphical elements and text on the screen.
Motion design primarily includes the use of abstract elements and text, bringing them to life using animated techniques. It's less complex than full-scale animation that involves hand-drawn elements or CGI. Animation, on the other hand, focuses on visual storytelling using a particular art style, and as a result, costs more.
How to Use Motion Graphics in Advertising
As seen above, motion advertising is an excellent way to present ideas and capture your viewer's attention quickly. When done correctly, mograph designs can instantly reel a viewer in, which is the ultimate aim for every marketer out there.
Ideally, if you want to use motion graphics on your platform and integrate them into your content marketing strategy, you need to first decide what you want to present. You can use 2D graphical elements and animate them to create transitions and then add music in the background. Most companies prefer working with graphic designers on this one, however.
Here are some ideas for using motion graphics in your advertising strategy:
Short Explainer Videos to Explain Complicated Concepts
Explainer videos simply explain complicated processes, services, or concepts. Post the explainer video along with an in-depth guide, making it much easier for a viewer to process information.
Interactive Social Media Posts
Instead of posting a static image with a long caption that most viewers probably won't read, why not engage your social media following with an interesting motion graphic video? If you follow consistent design practices with the videos (such as an opening title sequence), brand awareness will increase too.
Ads on Social Media
Nobody likes viewing two-to-three-minute ads anymore. By presenting a message in a 15-30 second video ad, you could garner a much better response on social media platforms like LinkedIn or Facebook. In a mobile-first marketing environment, micro-ads work far better, especially on smartphones.
The Best Motion Graphics Examples
Now that you understand just how important motion graphics animation really is, it's time for inspiration. Plenty of brands are already doing their thing and using different types of digital motion graphics. Here are some popular motion design examples that will get your creative juices flowing.
1. McDonald's – Explainer Video Done Right
Inspired by the '70s style, McDonald's created an explainer video that shows the growth of the company and highlights how they incorporate technology into their everyday business practices. The video is constantly presenting flat elements in an animated style and the whole thing is under 1 minute 30 seconds.
To keep a viewer hooked, they rely on contrasting colors and blended animations. It's a pretty good example of an explainer video done right. The best part? It's not promotional at all.
2. Placemeter – Simple Line/ Stroke Illustrations
Placemeter is an open urban intelligence platform that helps quantify data associated with vehicular and pedestrian movements, and thus helps municipalities and businesses make smarter decisions about how to spend their money.
This video was created for Placemeter by Illo.tv, and makes heavy use of geometric shapes. The simple illustrations, upbeat music, and simple color palette create a relaxed feeling for the viewer. If you are short on inspiration for your next motion graphics video, use this as an example!
3. Piriton Preroll – Animated Infographic
Made by Nucco Brain, a visual studio in the UK, this motion graphic ad was created for GSK. It is an incredibly easy to follow infographic that illustrates facts associated with allergies in the UK using bright orange colors and presenting stats in oversized text. The cartoonish animation style gives the video a whimsical touch and segues perfectly into the final frame of Piriton tablets, which is presented as the solution.
There's little music in the video, though it uses sound effects and narration to deliver the right impact.
Motion Graphics by yellowHEAD
If you're ready to make stunning motion graphic ads, yellowHEAD's creative studio, yellowSTUDIO will make it happen. Our professional in-house creative studio produces HD motion graphic ads and videos, all tailored to meet the custom goals of each brand. Plus, yellowHEAD is a complete marketing solution and offers a wide  range of digital marketing solutions, including AI-powered ad creative management, SEO, ASO, User Acquisition, and more.
See what kind of motion graphics yellowHEAD can create for your brand! Contact us here or in the form below.
BACK TO BLOG
NEXT ARTICLE