December 10, 2020
Online Ad Formats: The Ultimate Guide to Creative Optimization
Consider this blog post your one-stop shop for all things digital advertising.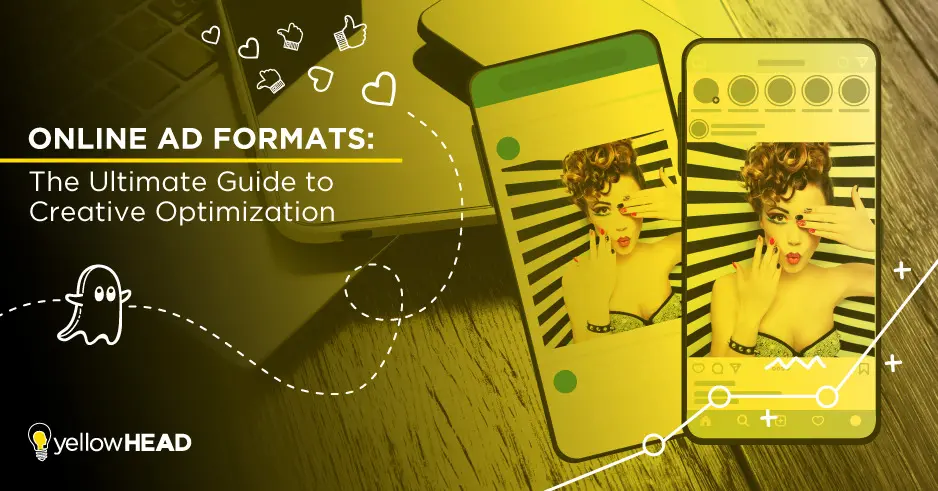 When it comes to online ad formats, marketers have a dizzying array of creative options, formats, and platforms to choose from. With so many types of digital advertising available at your fingertips, keeping track of it all can be exhausting.
Luckily, you don't have to figure it all out on your own. At yellowHEAD, we're all about taking marketing campaigns to the next level using a combination of cutting-edge technology and years of industry expertise. In other words, we know our online ad formats — and how to get the best results out of them.
In this guide, we'll examine the different kinds of online ad formats, as well as creative trends and some standout examples. Ready to get started? Let's go!
Jump to a section…
Step 1: Know Your Online Ad Formats
Step 2: Find the Right Platform
Step 3: Make Data-Driven Decisions
Step 1: Know Your Online Ad Formats
You can't master the world of digital advertising until you understand the number of different ad formats at your disposal. While marketers and channels are constantly evolving, some of the most popular choices remain video ads and display ads.
Online Video Ad Formats
Online video advertising is an integral part of any performance marketing strategy. According to Oberlo, 88% of marketers are satisfied with the ROI of social media video ads. Meanwhile, 54% of consumers actually want to see more video content from their favorite brands and businesses. With that in mind, the question isn't whether to use video ads — it's where to begin.
YouTube is a great place to start! As the second-most popular website globally, YouTube is a favorite among streamers, viewers, and advertisers. The video-sharing platform helped revolutionize the internet video age and remains one of the most effective platforms for performance marketers. Here are a few of the formats YouTube offers:
Skippable & non-skippable in-stream ads: These ads play during, before, or after videos on YouTube and other Google partner sites.
Video discovery ads: YouTube offers discovery ads to promote videos in search results, on the mobile homepage, next to related videos, and other "places of discovery."
Bumper ads: Bumper ads are six seconds or shorter and designed to reach a broad swath of viewers on YouTube and Google video partner channels with a brief, memorable message.
Outstream ads: These mobile-only ads begin playing with the sound off, allowing users to unmute if and when they choose. Unlike other ads on this list, outstream ads don't appear on YouTube, but they do run on Google video partners' websites and apps.
Masthead ads: Used for driving awareness, featured masthead ads autoplay without sound for up to 30 seconds at the top of YouTube's home feed.
Facebook and Instagram are also strategic platforms for video ads. After all, Facebook users watch over 100 million hours of video on the social media platform every single day, making it one of the biggest advertising channels on the planet. Meanwhile, the visual-focused Instagram, which was acquired by Facebook in 2012, makes a perfect home for creative, eye-catching video ads.
Here are some of the formats advertisers have access to using Facebook and Instagram's shared marketing tools:
Slideshow: Slideshow ads let marketers turn images and text into simple, quick video ads.
Stories: Optimized for a mobile-friendly vertical orientation, Stories is one of Facebook's most popular formats, boasting over 500 million viewers apiece on Facebook, Instagram, and Messenger.
Carousel: Carousel ads allow advertisers to showcase up to 10 images or videos within a single ad, and including videos within carousel ads is a great way to increase engagement and tell a story.
Collection: This ad format combines the power of video advertising with the instant gratification consumers crave. It uses a primary video to hook users, with four smaller images in a grid providing a fast-loading post-click experience.
Playables: These interactive ads let users try out an app experience, typically a mobile game, within the advertisement itself. Playables often use video to engage viewers and entice them to interact.
Instant Experiences: These mobile-optimized ads load instantly and can combine videos, photos, carousels, and tilt-to-pan images.
In-Stream Reserve: These ads are used to showcase videos in exclusive content, such as Facebook Watch. This format is ideal for reaching younger audiences in a brand-safe environment.
For more information about video ads, check out the full post: Online Video Advertising – The Performance Marketer's Complete Guide.
Online Display Ad Formats
You can't spend any time on the internet without running into display ads. Used primarily to raise brand awareness and gain customers, these popular ad formats can be found on websites, apps, and social media. These ads come in several different formats and sizes, generally using a mixture of visual creative — either static images, GIFs, or video — and concise copy to get the message across.
The majority of display ads are placed on the Google Display Network, Facebook Audience Network, and Twitter Audience Platform. Though display ads can take many forms, these are the most popular formats:
Static: A single, unmoving image, generally accompanied by text.
Animated: Uses 5-10 seconds of looping video or GIF.
Interactive: Requires engagement from the viewer, such as answering a survey, playing a short game, or entering personal information.
Video: Unlike animated display ads, which only have a few seconds of footage, video ads are longer, though typically not longer than 30 seconds.
Expanding: Expanding display ads appear small at first and get bigger when the user performs a certain interaction, like clicking or scrolling the mouse cursor over them.
While the display ads do use some consistent best practices, such as striking imagery and focused messaging, ultimately what works best for every brand is different. You can't get a full picture of your strategy until you've conducted a thorough data-driven analysis of every creative element and its performance.
Want more information about display ads? Read the full post: The 6 Best Display Ad Examples & What Makes Them Click-Worthy.
Other Common Online Ad Formats
Advertisers aren't limited to just video and display ads. Creative marketers are constantly innovating with new formats, making the options plentiful. Here are a few other popular online ad formats:
Banner Ads: Banner ads have been around the longest and remain one of the most popular — and inexpensive — options for mobile advertisers. Typically appearing across the top or bottom of the screen, banner ads are static images often used to raise brand awareness or drive users to an external website.
Native Ads: If you've ever scrolled through a favorite app and seen a branded post that looked exactly like the content surrounding it, that's a native ad. These ads are designed to take the form and function of their platform; that could mean a tweet, Reddit post, or Instagram image. Often the only giveaway to its true nature is a small "sponsored" tag.
Rich Media Ads: Defined by variety and customization, mobile rich media ads can incorporate video, animation, interactive elements, GPS functionality, and other mobile-specific features.
Static Interstitial Ads: Interstitial ads take up the entire mobile display, covering the interface of their host apps. Timing is everything; these ads are most effective when used in a place where a break makes sense, like between levels in mobile games.
As you might have noticed, all of these different ad types are not necessarily mutually exclusive. There's some overlap between banner ads and display ads, for example, and rich media and native ad formats often incorporate video or motion graphics. What's important is finding the formats that best suit your brand and serve your marketing goals.
For more information about ad formats, check out the full post: Mobile Ad Formats – Creative Specs & Industry Standards.
Step 2: Find the Right Platform
Once you've figured out what type of ad to create, the question becomes where to advertise. Some of the most popular options are social networks, particularly Facebook, Instagram, and Snapchat. Each of these channels offers something different for marketers, but they have one thing in common: a massive built-in audience that appreciates highly creative and targeted advertising.
Facebook
With around 2.7 billion monthly average users, Facebook is one of the best advertising channels for brand awareness, user acquisition, and direct response campaigns. Facebook ads come in various formats and placements, utilizing video (as detailed in the previous section) and static images in creative ways.
Here are a few options for Facebook advertising:
Image: The most basic option is a static image accompanied by text. However, Facebook recognizes metadata from panoramic and 360-degree images, allowing brands to go beyond the standard image format offered by other platforms.
Video: Video ads on Facebook can run anywhere between one second and 241 minutes. Advertisers can also use interactive 360-degree videos.
Carousel: Facebook's carousel ads allow users to scroll through up to 10 images or videos, each with details and links. Carousel ads are great for telling a brand story or highlighting multiple products during a promotion.
Collection: This unique ad format features a cover image or video followed by additional product images. Collection ads essentially showcase a catalog of products, and clicking on a product takes users to an engaging full-screen experience.
Events: Events ads are ideal for highlighting something occurring on a specific date or date range. You'll first have to create an event — conventions, seminars, and limited-time sales work well here — and then publish the related ad with the event to your intended audience.
Messenger: Messenger ads appear in Facebook's built-in chat service, and users will often see them while scrolling through messages. Brands use these ads as a jumping-off point for conversations or questions or to direct potential buyers in the right direction.
When studying successful Facebook ads, a few trends emerge. Brands use copy that's direct and compelling, keeping the message short and sweet, while letting the visuals do the rest of the talking. Beyond that, ensuring that you know your audience and stay on brand is key, like Monday.com did in this smart ad:
By evoking nostalgia for the early days of Apple's Macintosh line and using succinct but easy-to-understand text, Monday.com easily gets its point across in a way that's sure to catch Mac users' attention as they're scrolling through their feeds.
Other brands take advantage of Facebook's unique ad formats, like Amazon did to advertise a Black Friday sale:
Tying a clear product shot to a limited-time event helps to build hype, and Amazon was able to create a sense of urgency with a series of ads similar to this one.
What the best Facebook ads have in common is this: They're wildly creative and don't waste consumers' time with walls of text or gaudy visuals. Like with any other channel, there are best practices for Facebook ads, but ultimately what works comes down to your brand identity. Think about your customer and what you're trying to accomplish, and don't be afraid to test new concepts and optimize along the way.
For more Facebook ad inspo and best practices, read the full article: The 5 Best Facebook Ads of All Time (And How to Copy Them).
Instagram
Though Instagram is owned by Facebook, it still functions as a standalone social media platform with over a billion active users. Visuals are even more important on Instagram than they are on Facebook, and captivating Instagram ads use high-quality photos or videos and a minimalist approach to copy to appear native to users' feeds.
These are some of the formats advertisers use to make a splash on Instagram:
Photo: Some things are classics for a reason. Instagram was built on users sharing their own photos, so naturally this ad type fits right in on their feeds.
Stories: With over 500 million daily users, Stories is one of Instagram's most popular features. Stories Ads make full use of the mobile screen, rather than sharing real estate with other posts.
Video: Instagram allows video ads up to 120 seconds long in either landscape or square format. As described in the previous section, there are various ways for advertisers to incorporate video into their ads.
Explore: By appearing in Instagram's Explore feature, these ads reach users who are looking beyond their own feeds to find something new.
So how can advertisers cut through the noise on Instagram and create compelling content? The meditation app Calm did so with a GIF ad that's almost hypnotic:
This one works in so many ways: not only is it completely on brand, but it engages viewers with easy-to-follow directions like "take a deep breath" and "download Calm". Of course, brands don't necessarily need video or motion graphics to make an impression, as Arby's proved with this ad:
Integrating food with art while showing off its geek culture knowledge is a stroke of genius, and humorous ads like this have helped Arby's create a successful brand story after years of floundering.
Want more examples of stellar Instagram ads? We've got them in the full article: The 6 Best Instagram Ads & What They All Have in Common.
Snapchat
A relative newcomer in the social media landscape, Snapchat is especially popular with millennials and Gen Z, who make up a large chunk of its 249 million daily active users. This makes the image-focused channel a great destination for marketers trying to reach those in-demand demographics, as Snapchat users are actually 20% more likely to make mobile purchases. It may not be as familiar as Facebook and Twitter, but this unique social network presents a great opportunity for marketers creating shareable content.
Snapchat ads come in many different forms:
Single Image or Video: Snapchat lumps basic images and video together in one category. These are full-screen ads that allow Snapchatters to swipe up to take action.
Collection: With four tappable tiles, Collection ads showcase a series of products and make it easy to browse or buy.
Story: Snapchat originated the Story format that's also now popular on Instagram and Facebook. These branded tiles appear in Snapchat's Discover section and drive brand awareness. Story ads can have between three and 20 images or videos.
Lenses AR Experience: This is where Snapchat advertising starts getting really different. With Lenses, advertisers can create interactive AR experiences that encourage viewers to play and share.
Commercials: Those of us who remember a time before Netflix and Hulu are familiar with the concept of commercials, and Snapchat's Commercials are no different. Appearing in curated content, Snapchat Commercials are non-skippable videos between six seconds and three minutes in length.
Filters: One of the most appealing things about Snapchat is its fun filters that users can easily apply to photos and videos. With Filters, brands can create their own filters for users to apply and be part of the conversation.
Companies that advertise on Snapchat are able to take advantage of robust targeting options, connecting with audiences based on their interests, behaviors, locations, and other factors. For example, when promoting the series finale of the massively popular show Game of Thrones, HBO created a one-of-a-kind AR experience that placed an undead dragon in New York City.
Meanwhile, Adidas tapped into that nostalgia that works so well with modern audiences with a fun playable ad that emulated classic baseball video games. Since the ad was created to promote the brand's 8-bit-themed cleats, this format and creative turned out to be a perfect fit.
As you can see, Snapchat really allows marketers to flex their creative muscles in ways that other platforms don't always do. If you've got a fun brand story to tell and want to hook younger audiences, this social media platform fits the bill.
We've got even more examples of top-tier Snapchat ads here: The 5 Best Snapchat Ads Ever (With Tips for Marketers).
Again, marketers aren't limited to these three platforms, but as some of the dominant advertising channels, they should definitely be part of the conversation.
Step 3: Make Data-Driven Decisions
Even with a strong understanding of different online ad formats, platforms, and creative practices, it's perfectly natural to still have questions about which kind of advertising content works best for your brand. The truth is, in order to find the most effective ad strategy to meet your marketing goals, you'll need to study the data about what's working and what's not. The best way to do this is to use machine learning to test and analyze a variety of different ad types.
If that sounds intimidating, just remember that you're not alone! The right ad partner will be able to help facilitate this process and be available to help you every step of the way.
At yellowHEAD, our proprietary Alison platform combines cutting-edge machine-learning technology with the expertise of our own marketing pros. The result: a deep, data-driven analysis with a human touch that makes traditional A/B testing obsolete. Are you ready to get started and launch ad campaigns with compelling creative elements that get results? We're standing by, so get in touch!
BACK TO BLOG
NEXT ARTICLE