July 30, 2020
What is Performance Marketing? – yellowHEAD's Overview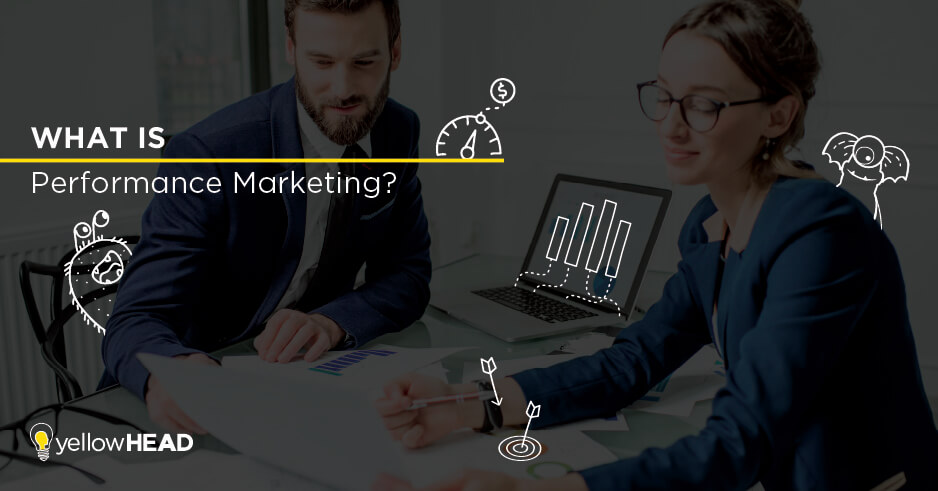 yellowHEAD has been a digital performance marketing agency for over seven years now, and it hit us. We've produced a decent amount of content over the years, but we never provided a clear performance marketing definition as we see it.
Guess we were too busy helping clients that we forgot that articles like this can help you, the reader.
So without further ado, here is our blog post about "What is Performance Marketing?".
In this article, we will go over how everything yellowHEAD does is digital performance marketing. We will discuss paid channels, organic growth, and performance-based designs.
Jump to a section…
So, what is performance marketing?
What is the difference between brand marketing and performance marketing?
What are Performance Marketing Channels?
How to measure marketing performance?
So, what is performance marketing?
Performance marketing refers to online marketing and advertising where service providers get a reward when important business goals are met. This way marketing is tied to specific business conversions and overall business performance.
Performance marketing can encompass a large variety of activities that are measurable. Advertisers and marketers are able to measure the success of their work and make educated decisions based on their campaigns' performance. They can see what has and has not been working for them, the impact it has had on their overall sales (online and offline), and optimize accordingly.
For example, if they are running a campaign that displays something which does not appeal to the target audience, the marketer will want to readjust that ad asset.
Or, if the marketer is going the more organic route, they can see how their keywords are ranking. They can make the necessary adjustments to those keywords based on their overall performance.
Marketers can also see how their paid and organic efforts are impacting one another. We explain this correlation (what's known in the industry as "the K-factor") in the video below:
What we're trying to say here is: marketers can make data-based decisions and optimize their campaigns according to those results. That's the basis for online performance-driven marketing.
The goal can vary depending on what the marketer is trying to do, but usually, it's to decrease CPI, increase CVR, improve ROI, and achieve overall world domination. If that last part isn't true, then I've been living a lie 😉
What is the difference between brand marketing and performance marketing?
Brand marketing aims to build relationships with customers to increase company name recognition and customer loyalty. Performance marketing concentrates its efforts on constant campaigns optimization towards bringing more conversions, so it entails testing and making data-driven decisions.
What are Performance Marketing Channels?
The performance-based marketing umbrella extends into several channels, which usually consists of:
Paid User Acquisition

Search engine marketing
Social media advertising
Programmatic Advertising

App Store Optimization
Search Engine Optimization
Creatives
Affiliate Marketing
In this article, we will discuss the performance marketing channels that we focus on at yellowHEAD.
You may be wondering, "Creatives? That's not performance marketing." Well, hold on to your seats! We'll explain more below. For now, let's talk about Paid User Acquisition.
There are a variety of ways for performance agencies to run ad campaigns nowadays. Some of the common channels are:
Google Ads (Google Search Network & Google Display Network)
Facebook Placements (including Instagram ads, Messenger, & Facebook Audience Network)
Snapchat
LinkedIn
Twitter
Each of these platforms has different audiences and segmentation, so be sure to know which you would like to target within your performance marketing campaigns.
They work on a real-time auction system where marketers will pay based on a variety of models, such as when a predetermined action occurs (more models listed below).
This type of system helps ensure that you will hit your target audience at the right time. Your messaging is vital here. Grab their attention and inspire them to take action. Some digital marketing goals can be:
Raise brand awareness
Expand site traffic
Boost engagement
Drive more app installs
Generate more leads
Increase sales & retention
Enhance conversion
Google & Facebook have different audiences and formats, so be sure to take that into consideration when building your campaign. Ideally, you want your audience to convert, which should affect such marketing key performance indicators as:
CPM (Cost Per Impression): The amount paid to a publisher per one thousand times an ad is shown.
CPC (Cost Per Click): The advertiser only pays when someone clicks on their ad.
CPL (Cost Per Leads): The advertiser only pays when an interested user fills out a sign-up form as a direct result of the ad.
CPA (Cost Per Action): The advertiser only pays when either a sale occurs, a form is filled out.
CPI (Cost Per Install): The advertiser only pays when a user installs their app as a result of the ad.
CTR (Click-Through-Rate): The ratio of users that click on an ad to the total number of views.
ROAS (Return On Advertising Spend): Measures the campaign's ability to produce a desired result, enabling businesses to determine which method works and where they can improve.
With these KPIs in mind, you will want to accurately target your audiences and create ads with messaging that will resonate with them.
Thorough keyword research can also go a long way here. Users using search engines will be looking for products just like yours! What better place to display an ad for your product than in front of someone looking for just that?
Social platforms are also a great place to target users based on their interests. Personally, I've seen a good number of food and sneaker related ads. Which is weird, because I'm not constantly watching cooking videos or searching for an affordable pair of Jordans…
Keep your ads relevant. An ad that worked for you a year, or even a month ago, may not work for you today. If you see that your ads aren't performing the way you want, don't be afraid to pull them back and refresh them.
Measuring your campaigns' success on these platforms is a great example of performance marketing. You can set your KPIs, track them, and make the proper adjustments according to results.
Being pioneers in ASO, yellowHEAD has turned it into a science. It goes beyond A/B testing pretty graphics and keyword stuffing.
A strong ASO strategy targets specific key phrases to improve search visibility, utilizes multiple A/B testing techniques to improve conversion, and expands audiences with an in-depth localization process.
As is the case with most performance marketing strategies, it all begins with thorough keyword research. Get to know your current rankings and find opportunities for other relevant keywords. It is helpful to know how your competitors are performing on these keywords as well.
After choosing which keywords are the most relevant to your app, you will want to target them in the proper places. Google Play and Apple's App Store have different places for targeting.
Google Play
Title: 50-character limit and the strongest place to target.
Short Description: 80-character limit. This is an important part to encourage users to install your app.
Long Description: 4,000-character limit, but not recommended to hit the limit. The key is hitting that Goldilocks zone of "not too many" to avoid keywords getting lost in the text, and "not too little" to avoid keyword stuffing. You want the "juuuust right" amount of text.
The most important keywords should be closest to the top so users can see the phrases that are most relevant to them right away. Keywords at the top are also stronger for ranking purposes.
App Store
Title: 30-character limit and the best place for your strongest keywords.
Subtitle: 30-character limit to try and entice the user while informing them about your app. This can also be a great place for strong keywords.
Keyword List: A 100-character list that is hidden from users. It is a list that is compiled of singular, relevant keywords. Apple's algorithm performs a "mix & match" with keywords in this list and other keywords in the title and subtitle.
In order to maximize the character limit, avoid using spaces. Separate keywords using commas.
Conversion Optimization
However, keywords aren't everything. App page graphics play a pivotal role in helping convert users. Anywhere from the icon to the video, to the screenshots, having a clear and concise marketing message can attract users to the page and convince them that your app is the app they've been looking for.
Creating an informative, exciting video that demonstrates the benefits and features of your app can be a very strong tool for conversion.
If you feel that you need some help in this area, yellowSTUDIO would be more than happy to help!
Localization
Finally, to maximize the number of installers, you'll want to expand into other markets, and translating your app page won't be enough. Localization uses the phrases that people use in that region. For example, "slot machines" in the US are "fruit machines" in the UK and "pokies" in Australia. Different countries have different words for the same thing. Use the most common phrases that people are using for your product.
Well, there are several tools that you can use. Here at yellowHEAD, we use our good friends Mobile Action for keyword tracking and competitor intelligence. Using this tool can help you optimize your keywords, which in turn will increase your search visibility and audience.
As for conversion optimization, A/B testing is a great way to measure the performance of your app page graphics.
These tracking tools & testing methods enable marketers to measure the impact of their App Store Optimization efforts, making ASO a strong component of a good performance marketing strategy.
SEO is one of the internet's oldest tricks in the book. It is a necessary step to ensure that your website appears on the first SERP (Search Engine Results Page) and doesn't get lost in the dreaded Page 2 and beyond. In fact, only 0.78% of users will click on the second page of SERPs.
Every business would like to rank first for its main keywords, which are usually based on relevance, competitiveness, and search volume.
There are countless factors that weigh into rankings. We use industry best practices to meet each of these requirements and keep track of each and every Google update.
Some important things to keep in mind while creating a comprehensive performance marketing based SEO strategy are:
Content Updates & Creation
Content is king/queen. It is one of the most important ranking factors for SEO. It needs to be unique, fresh, and be able to provide the answers to users' questions. When they search for something, you should be the answer.
Websites should always provide additional value to their user base.
Technical Audits
Technical audits should be performed on a frequent basis. They are the bread and butter of every website and could easily lead to a website being completely removed from SERPs, or man the charge to the top.
The best way to ensure success is by attending to any issues that the audits may find. There are several tools that you can use to help you do just that, such as Google Search Console, Screaming Frog, and more.
On-Page/Off-Page Optimization
On-Page SEO can be viewed as an amalgamation of content creation and technical audits. It consists of applying industry best practices on each and every page of your site for both search engines and users alike. These usually stem from thorough keyword research, branding, and, ultimately, the site's overall goal (what you are aiming to achieve).
Off-Page SEO refers to efforts not done on your website. Let me explain. This is usually done with links that lead directly to your website. For example, let's say you are on a website that links you to another website. To optimize that link, there are several factors to take into account, such as the anchor text, textual relevance, what page it is linking from, what page it is linking to, how many links are there on the same page, and more! That is Off-Page SEO in a nutshell.
It's also worth remembering that it isn't necessarily about the number of links a website receives, but rather their overall quality, diversity and relevance.
Tracking SEO Performance
All SEO is based on research and overall performance. Anything discovered through a technical audit needs to be adjusted accordingly to ensure the success of your site.
If a piece of content is not performing the way you had hoped, run a technical audit, and review your competitors. Ensure that your on-page is up-to-date and that your off-page follows search engines' guidelines.
Although not all search engines are the same, Google remains the most dominant name in the game. When optimizing your site, you want to keep all of their quality guidelines in mind, including two of their most recent ones: EAT (Expertise, Authoritativeness, Trustworthiness) & YMYL (Your Money, Your Life).
Following these guidelines is a sure fire way to ensure success with a performance marketing SEO plan.
I said we would talk about this and here we are.
While creatives are usually something that designers will put together for a campaign, we at yellowHEAD look at them differently. After all, we are a performance marketing agency.
Since creatives can be the make or break point for the success of a campaign, it is important to grab the attention of the user in seconds. Your message should be clear and concise, while being engaging and exciting. This is usually where a user will decide if you're what they are looking for. Here are some tips for winning creatives from yellowSTUDIO.
One of the best ways to ensure success of a creative is by A/B testing different elements against one another. For example, placing a CTA at the top of the image versus placing it at the bottom. Even character choice can play an important role. What you and I might find attractive in graphics, the user may not, so it is important to always be testing.
You can also utilize tools like Alison, yellowHEAD's in-house technology, that analyzes creatives and makes recommendations based on data.
This data-driven approach helps sharpen the marketing message and focus on elements that will appeal to the user. In turn, this performance marketing strategy strengthens a variety of KPIs, such as increased installs, lowered CPI, improved ROI and overall performance.
How to measure marketing performance?
While there is a lot more on the topic, a performance marketing definition can be broken down into three main points:
Set your KPIs – knowing what to look for is fundamental and a very important step in securing positive results
Know your keywords – targeting the most relevant will assist users in finding you and increase your chances of hitting your goals
Track and analyze your results – how are you supposed to know if your marketing efforts are going well if you don't see what's been going on?
In classic yellowHEAD fashion, we take performance-based marketing another step further. With the help from our in-house tech team, we have built an all-encompassing analytics platform where we can see both paid and organic activities.
Don't be afraid to optimize – even if a campaign is running well, updating and refreshing your marketing message can help your audience stay engaged
From organic to paid, practically everything we do is performance marketing. Did that keyword do as well as you'd hope? Is that video underperforming? Did I make that sandwich just right or was there room for improvement?
As mentioned earlier, what you do in your paid campaigns can have effects on your organic activities. For example, if someone sees an ad for let's say, off the top of my head, a restaurant, people are likely to remember that restaurant again later when looking online for somewhere to eat.
On the other side, what you do in organic can also affect your paid campaigns. Targeting quality keywords and adjusting your creatives helps convert users when they land on your site or app page. This increase in CVR can ultimately lead to a decrease in CPA, resulting in more cost-effective UA campaigns. Read more about the link between paid and organic.
Adjusting your gameplan according to the performance is a vital step in ensuring success.
We hope this answered the question of "what is performance marketing?". If you want to know more about performance advertising, feel free to check out our blog or YouTube channel, or send us a message. We'd be happy to help! 🙂
BACK TO BLOG
NEXT ARTICLE