January 30, 2022
Creatives for ASO: The Complete Guide
Did you know that creatives are crucial for your store page conversion? That users don't really read app pages — they scan them? Of course you did. But this is not what this blog post is all about. This one is a copy-and-paste-send-to-your-designers kind of post, with all the nitty-gritty details of sizes and proportions (plus important tips and tricks for really nailing those ASO creatives).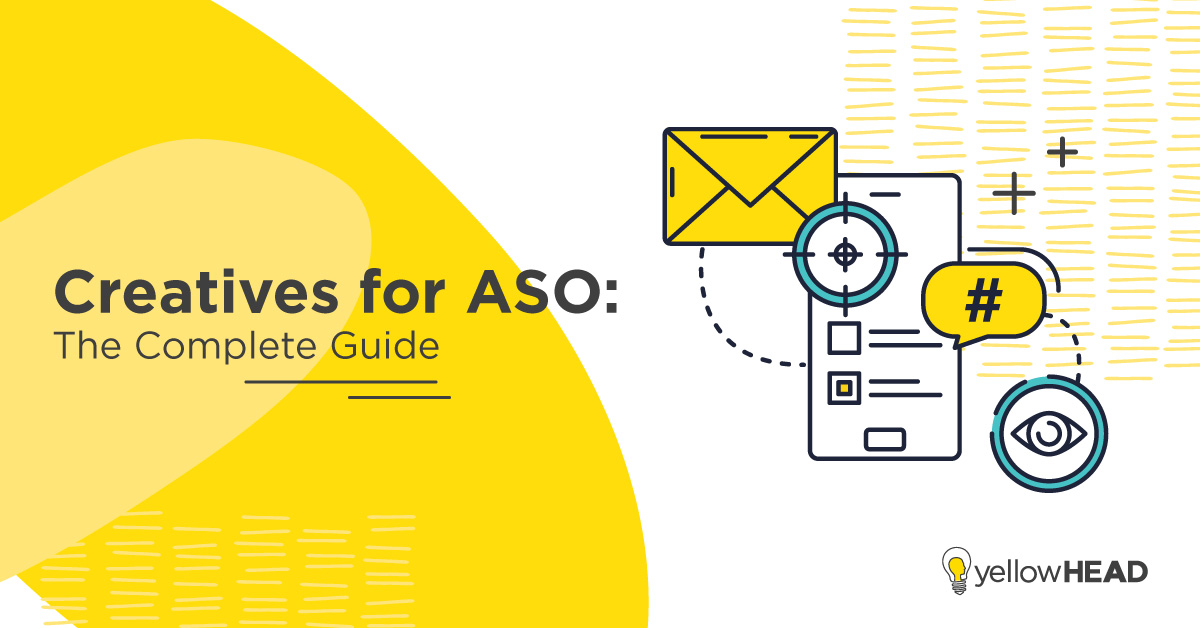 Table of Contents
To Each OS Its Own
The first important thing to understand about store creatives for apps is that the conversion funnel works differently based on whether the listing is in the App Store or Google Play.
When searching for a generic term (as opposed to a branded one, which we'll get to later) in the Google Play store, you'll most likely receive a list of results, showing only small icons and app titles. This means the icons on Google Play are the top priority creative to think about. From the search results, users will (hopefully) click on your app, arrive at the store page, and only then potentially install your app.
On iOS, within the search results page, apps are shown with icons and three screenshots for a portrait shot and one for landscape. What's more, the install usually occurs when users are on the search results page, which means your app icon and first three screenshots should be treated as one conversion unit, which allows much more room for graphic messaging.
Branded Searches on Google Play
On Google Play, when users search for a specific brand (a branded search), the branded results show up larger than the others and include the first four screenshots, depending on the screen and device size (similar to iOS). This "extra real estate" pushes the competitors to the bottom of the page, making the following results much less visible than they would be in a generic search.
Icons
As mentioned, your icon is the most important asset for conversion, especially in the Google Play store, so frequently testing and optimizing it for conversion can have a noticeable impact on your overall performance.
The great challenge with an app icon is the lack of room for detailed messaging, so make sure your icon conveys the essence of your app in a way that's recognizable and appealing.
An important note about Google: They have become increasingly strict about additional, irrelevant graphic elements in icons, such as banners and notification symbols, so be sure to avoid using them. See more dos and don'ts for Google Play icon design here.
Another note to take into account is that the icon can be updated on demand through the Google Play Developer Console. In iOS, however, the icon has to be included in your app binary code. See more about iOS app icons here.
Screenshots
iOS
On iOS, you can upload up to 10 screenshots. They can be either portrait or landscape and they need to present a more accurate app experience.
Different screen sizes need to be applied depending on the device and it is important that each one displays the relevant device on the screen (e.g – iPad screenshots should show an iPad). See more iOS screenshot specs here.
Google Play
On Google Play, there is much more room to play. You can upload between 2 to 8 phone screenshots. The maximum dimension of your screenshot needs to be less than twice as long as the minimum dimension. Within that range, go wild! Screenshots that break the regular sizing scheme (neither portrait nor landscape), will really grab the user's attention and boost conversion. See more Google Play specs here.
Google: Feature Graphic
The feature graphic is the thumbnail image that is on top of your video. If you have a video on your store page, the feature graphic takes up most of the device view, making it a major asset for conversion.
Some important tips to keep in mind regarding feature graphics:
Keep prominent visual elements and the focal point toward the center of the graphic, but take into account the play button that is placed in the center, and make sure it's not hiding any key elements like brand logo, app name or main UI.
The edges of the feature graphic are cropped by around 70 pixels on each side, so make sure nothing important is placed within the cutoff zones.
The Feature Graphic sizes are 1024 x 500
Feature Graphic can be in 24-bit PNG or JPEG format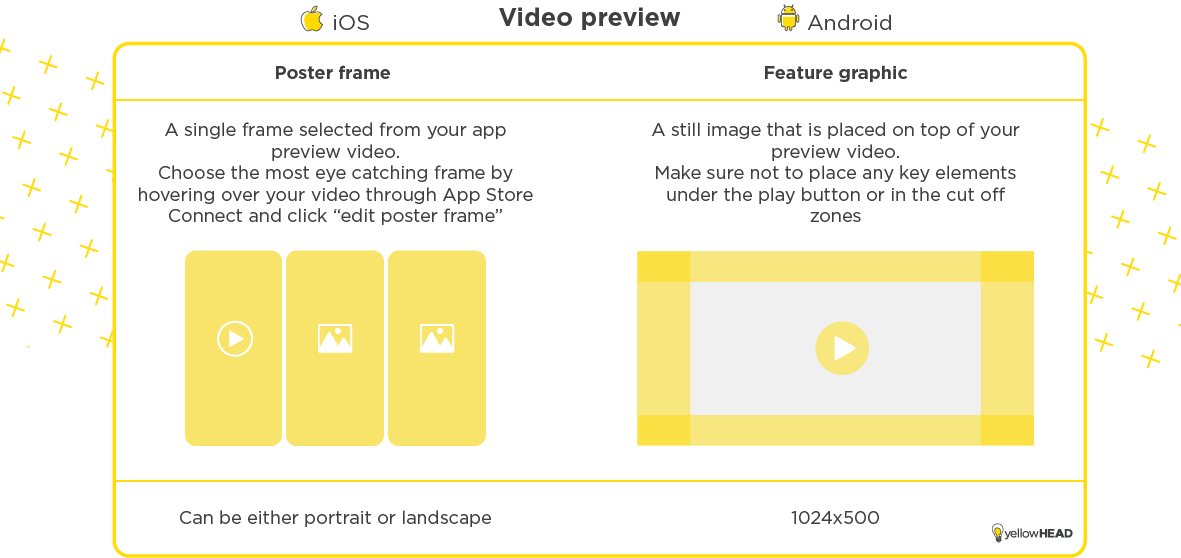 iOS: Poster Frame
The poster frame is a selected frame from your app preview video, it is fundamental for conversion and it's hard to overstate its importance since this is what the user will see before the video is played.
You can edit your poster frame in App Store Connect.
ASO Video
ASO video can really help deliver the essence of your app in the most compelling way. For tips and tricks on creating a great ASO video, see this blog post dedicated to the subject. In this blog, we're focusing on the technical details, so here are some must-knows about each operating system's requirements for video:
Google Play: Video is played through YouTube, so the orientation must be landscape. The video should be either public or unlisted, with ads switched off and no age restrictions. Google does not specify the length of the video, but only the first 30 seconds can be auto-played (depending on users' phone settings and network connection), so it is not recommended to exceed that time frame. More info on Google Play preview video here.
iOS: Video can be either portrait or landscape and should be between 15-30 seconds long. iOS videos are even more crucial for conversion since they can autoplay right from the search results. See more app preview specs here.
A Few Thoughts on iOS 15's Newest Features
In-App Events and Custom Product Pages, the App Store's recent game-changing features, can boost the performance potential of your app, but they also require a whole new set of creatives. Make sure you're strategizing well for the new opportunities by preparing your top creatives in advance.
Luckily for you, Apple also released Product Page Optimization, another significant new feature now live on iOS. It can help you test those creatives for optimal results.
Now that you have all the info, you're left with no excuse for a mediocre storefront. With this guide in hand, you can create your storefront to really show off your product and watch your creatives perform better than ever.
If you would like a (very creative) hand with it, don't hesitate to reach out to our ASO (app store optimization) experts and professional ad creative design studio.
BACK TO BLOG
NEXT ARTICLE