August 24, 2021
The 10 Commandments of Incredible App Preview Videos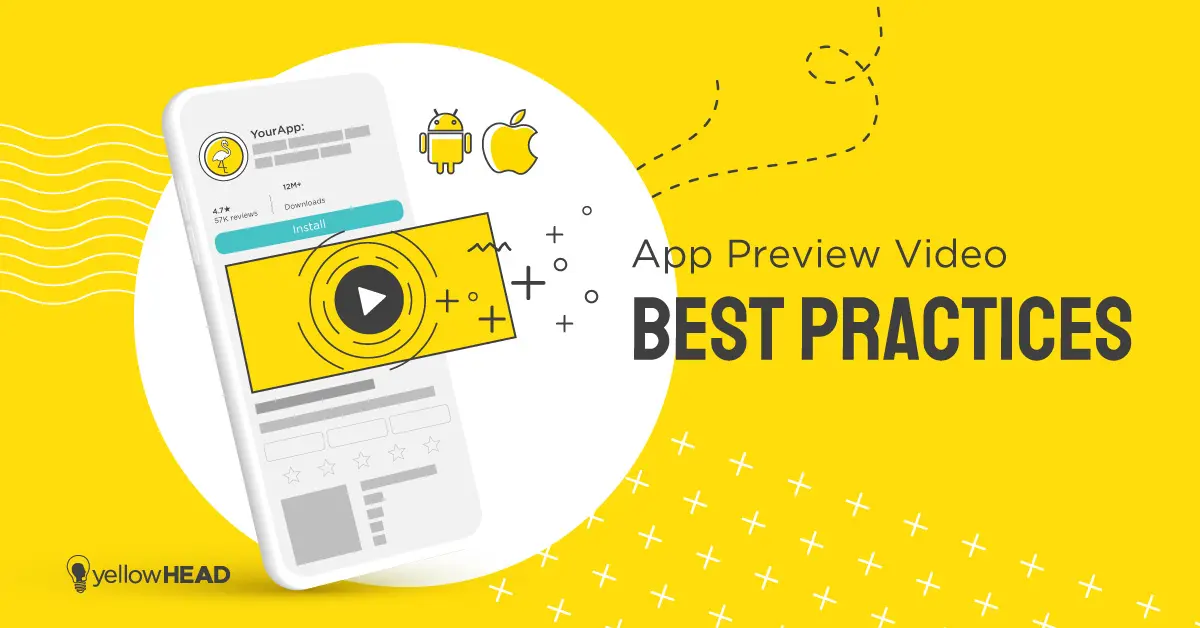 If a picture is worth a thousand words, video is worth so much more. The world of ASO has definitely realized this!
Video is hands-down the most compelling way to grab attention. Although production can be expensive and time consuming, it's well worth it for the boost it gives to conversion rates.
That being said, just having a video is only half the battle. It has to be done right to actually captivate users.
Read on to learn the ASO "10 Commandments" for creating truly compelling App Preview videos.
The 10 Commandments of App Preview Videos
1. Make the First 5 Seconds Count
The first 5 seconds are so important. It should be engaging enough to inspire the user to watch the rest of the video or to download the app. Make sure to highlight the app's most popular features and USPs (unique selling points) prominently in those crucial first moments.
2. Say Little, Show Much
Is your app serious or funny? Elegant or eclectic? Harness elements like colors, graphics and overall tone to fit your brand's style and messaging. It says a lot about the app without having to do a lot of explaining. Which leads us to our next point…
3. Silent Mode
Don't rely on sound because many users will end up watching your video on silent mode. If your video has a voiceover, add subtitles. Music can definitely create a vibe, but the video has to be great without it as well.
4. Understand Your Audience
When a user first arrives at your app, what are they looking for? What are their needs and pain points? Understand your audience well before all else. A video that speaks to your (diverse!) target audience is more likely to make them feel connected to your product.
5. Branding
Showcase your brand at the beginning, as most users won't watch the entire video. For example, in a slot game, the winning "3 in a row" sequence should appear alongside your brand logo in the first few seconds of the clip.
6. Small Screen = Big Elements
Not only are your users watching videos from small screens on their mobile devices, they're probably distracted too. Make sure captions and graphics are large, easy to see, and simple to understand. Emphasize what's important, but still make sure all elements support your overall message — they can still have a subliminal effect.
7. Decide With Data
It doesn't matter whether you and your teammates LOVE a specific version of a video. What counts is what the audience thinks. Figure out what your audience likes with thorough A/B testing. Make a hypothesis first, then test it to optimize your video even more.
Another important data source is in-game activity: which features of your app are the most popular? Make sure you present them at the beginning of the video.
8. Create a Flexible Video Sequence
Did we mention how costly and time consuming it is to produce an app preview video? For that reason, make sure videos consist of several clips rather than one story arc. This way, you'll be able to rearrange clips, test different sequences, place the best-performing clips at the beginning and you'll discover the most effective storyline. This takes some extra creative planning, but it's so worth it.
9. Localize
Users behave differently in each market, so go beyond localizing the feature graphic, screenshots, and text. ASO localization means localizing your characters and adjusting your messaging to best suit that geographic location.
Take advantage of in-app data to see which features are most popular in each market and put those front and center in your app preview video.
Research the local culture, traditions, and even dress codes since perceptions differ. For example, a character dressed in a tank top might be fine in one market, but look scandalous in another. 
10. Adjust to the Operating System
iOS and Android have different requirements, which have their own advantages and disadvantages. These need to be considered when crafting a video.
More About App Preview Videos (By Platform)
Since the App Store and Google Play each have different requirements, below is a summary of some of the things to keep in mind for each platform.
App Store
Can add up to 3 videos
Videos should be 15-30 seconds long
Keep the file under 500 MB

Both portrait or landscape orientations are accepted

App portrayals in video must match the app's real user interface
Needs to be device specific, showing different sizes for each Apple device
If featuring a phone device, it must be either an iOS device or ambiguous
Choose a great poster frame and make sure it blends nicely with your screenshots. Videos in search results don't automatically play until the results above your app have finished playing (including videos in Apple Search Ad results).
More information on iOS app previews, including how to upload them, can be found at Apple's App Store Connect Help.
Google Play
Must be in landscape mode since it plays from YouTube
Only one video allowed at a time
Since the video doesn't autoplay, the Featured Graphic (or video thumbnail) takes the place of the first screenshot and plays a major role in conversion.
Pay attention to the Play Button's placement and make sure it doesn't hide any important content or features.
Now that you have the tools to be an ASO video expert, the next thing is to start applying this knowledge! And if you'd like to have ASO experts on your side for your next app preview video, schedule a consultation with yellowHEAD's ASO department.
Want to get more advice on ASO and marketing straight from the industry experts? Sign up for the yellowHEAD newsletter.
BACK TO BLOG
NEXT ARTICLE