December 15, 2022
Apple Search Ads (ASA) – A Comprehensive Guide for 2023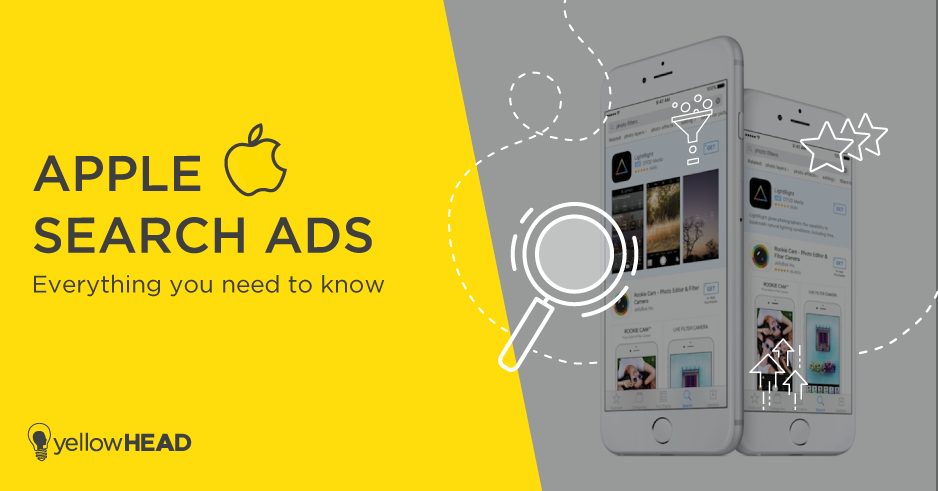 Table of Contents
Over 600 million people go to the app store every week, and more than 70% of them will search the App Store before downloading an app. Since the iOS 14 IDFA update kicked in, Apple Search Ads (ASA) has grown considerably in popularity, so if you aren't on board, it's time to jump in.
So what are Apple Search Ads?
Apple Search Ads are sponsored ads that take information from your current App Store Listing and are displayed in prime locations across the App Store. The search ads high similarity to organic results is one of the main factors responsible for their insanely high conversion rate.
Why Use Apple Search Ads?
The average conversion rate is a whopping 60% –

It's hard to come to terms with this figure, but Apple claims it's true. Simply put, there's no comparison with other ad networks. The answer to this is simple: people are highly motivated when they search for an app in the Store, and they usually download what they search for. There's no way around it: Apple App Store advertising is effective.

Scaling is key – Apple Search Ads can be viewed by users in

more than 60 different regions

and reaches over half a billion weekly App Store visitors. This is not a channel you want to overlook. 

Prime ad positioning –

When you take into account the high intent of an average user when searching for an app in the Store, it's obvious how prime ad positioning can increase brand awareness and chances of a download.

Organic traffic boost –

Not only will prime placement improve your paid traffic, but the number of organic downloads are likely to increase as well. You can expect a higher tap-through rate and a greater conversion rate. Combine your strategy with ASO (

App Store Optimization

), and you can improve results for both channels. TIP: If you notice an ASA keyword performing really well, consider incorporating it in a screenshot or the title of the app as well to improve overall conversion!

Cost-Per-Tap model – you only pay when a user is interested enough in your app to click on it.
As you might suspect from its name – Apple Search Ads prime and initial placements is the search result page (aka "The SERP"), right above the organic results when a user is searching for a query. But nowadays, Apple Search Ads are coming in all shapes and sizes. Check out all the hot spots you can promote your app on:
Apple Search Ads placements
Search results page – search is the primary way people discover apps on the App Store, with 70% of App Store visitors using search to discover apps and almost 65% of downloads happen right after search activity. If you're an ASA beginner, this is the first place you will go! This prime location is the holy grail of all placements, as it gives a strong indication of the user's intent, and presents him with the ad right at the moment of truth – when he's searching for it!
Search Tab – this placement will present a small view of your app, just the icon, title, and subtitle, without screenshots, at the top of the suggested app list in the Search tab. This spot has the potential for huge reach, at a very cheap cost per click. Since October 2022, Apple Search Ads are also available in new placements, helping developers drive discovery to their app across the App Store.
Today Tab – this is where over half a billion weekly App Store visitors start their journey to discover new apps. With a Today tab ad, your app will appear on the front page of the App Store (This is why it's also known as "paid featuring", being the spot where up until recently, only "Editor's-choice" apps would appear) The prominence of this placement makes it a good option to drive awareness of your app, but don't expect high conversion, as this ad will be presented to a very wide audience, not necessarily those who showed interest in your product. In order to have a Today tab campaign, you'll need to create a custom product page in the App Store Connect, and it must include at least four portrait or five landscape assets.
Product page – These Apple Ads will appear at the top of the "You Might Also Like" app list at the bottom of the product page. This means that users searching for your competitors might land on your app. But it also means users from your product page can end their journey by downloading your competitor's app.
Apple Search Ads (ASA) Keyword Match Types
A match type is a keyword setting in Apple Search Ads Advanced search results campaigns that help you control how your ads are matched to user searches. There are two types you can apply: Broad match and exact match.
According to Apple, broad match is the best way to ensure your ad will run on relevant close variants of a keyword, such as singular, plurals, misspellings, synonyms, related searches, and phrases that include that term, fully or partially. But from our ASO experts experience, the broad match is VERY broad, matching your ad with many non-relevant queries. So be very open-minded about allocating large budgets to terms in a broad match. Another issue with using broad match terms is the lack of ability to track your KPIs since you can't always be sure of what exact keyword brought that install. 
We recommend setting most of your KW to an "exact match", for better measurements and performance. Read more about it in the discovery campaign section.
Apple Search Ads campaign structure
Since ASA are offering so many different growth opportunities, it's recommended to structure your account in the most accessible way that will allow you to track its performance and not less importantly -to scale it when needed. It's important to say that the campaign structure is not an Apple Search Ads requirement, but is just an easier way for you to organize all your keywords in a convenient method. Here we'll suggest a basic structure for search result campaigns, based on the type of keywords you would wish to target. 
Brand campaign – in this campaign you will want to list all the different formats users will search to find your brand. Think of misspellings, with and without spaces, and also add "app" or "mobile" to your brand. Many app developers might be concerned about cannibalization, or in other words – "why should I pay for a user that I could get organically?" That's a fair concern, and it leads us to the other type of campaign which is – 
Competitors campaigns – think of similar products to yours, and other brands competing with the same audience you are. Note, that it doesn't necessarily have to be the exact same product. If you're a website builder app, you might be interested in targeting users searching for "logo maker" apps, since they might be business owners with the potential to be interested in your product. This is also a great way to scale your performance and reach a wider audience. Now, is it clear why you should bid on your own brand? Your brand campaign is your competitor's "competitors" campaign! They are bidding on your brand, and if you won't be there to outrank them, running strong stable brand protection – they might steal your traffic. It's also worth reminding here, of the high similarity to the organic results, as some of the users could definitely be confused and think your competitors' ad is your app, and download it. 
Generic keywords campaign – this is where you'll want to place all the generic terms users will search for your app. Think of different ways to describe your product (tip – check your app title!), or different needs and problems your app is solving for your users. Users searching for those keywords have a very high intent in mind, and they are coming with an exploring mindset, so it's a crucial selling point meeting them, but this is also what makes these keywords super competitive. If you're a small brand, you might want to consider other long tails with lower competition to bid on. 
Discovery campaign – in all the above campaigns, we recommended setting keywords as "exact match". The discovery campaign is meant to help you find more options and ideas for new keyword opportunities. In this campaign you would like to open the "broad match" option, to discover more KW. In this campaign – it's recommended to add your keywords from other campaigns, as negative keywords, so you won't waste your budget on keywords you already know. Once you find an interesting term, it's best practice to move that keyword into the other "exact match" campaigns, and add it as a negative KW to the discovery campaign. That way, you'll keep "cleaning" your campaign from known KW, to allocate its budget to discover new ones.
Best Practices for Using Apple Search Ads
Apple Search Ads place a huge growth opportunity for your app, but you will want to make sure that you adopt a few best practices that will ultimately help you make the most of your investment. Here are a few best practices for App Store advertising that you should follow when using Apple Search Ads.
Conduct comprehensive keyword research – try finding as many keyword opportunities as possible, for the best optimal growth. 
Structure your keywords in an organized campaign order – separate your keywords by types – branded, generic, competitors, discovery. 
Explore new Apple Search Ads placements – since October 2022, ASA has offered app developers new ad placements, explore new scaling options by opening a today tab campaign, and a product page campaign, and check what works best for you.
Scale to other markets – Apple search ads are available in more than 60 regions, take full advantage of it by exploring new markets your app can be discovered in. 
Connect your Apple Search Ads account to your MMP

for deeper funnel metrics, and track the KPIs you're most interested in. This is an important one – since some keywords can bring you many downloads, but not as many paying users. 

Optimization is an ongoing process – monitor your performance on a daily basis, to avoid spending budgets on non-relevant terms, and increase your impression share on keywords that do bring you results.
Work with the Apple Search ads impression share report – this report can give you valuable insights on your impression share on specific terms compared to your competitors, helping you understand better how to adjust your bids.
Source – apple.com
App Store Search Ads Basic vs. Advanced
If you go to the official page for Apple Search Ads, you will notice that there are two variants: Basic and Advanced. While both are handy solutions, the capabilities differ considerably. The Basic version of Apple Search ads allows you to use up to $10,000 per month per app. There's also a cap of 50 apps that you can promote.
This option is obviously suitable for marketers who want to set up a recurring budget and wish to run a simpler setup. You don't have to worry about selecting relevant keywords or refining your audience with the Basic variant. The automated method matches the ads with relevant users on its own, allowing you to track the results in the performance dashboard and see how to improve app discovery rates.
But, if you want more complexity and need a greater array of options to tap into the Apple ad network, the Advanced version will be a better choice. Apple Search Ads Advanced will allow you to create a highly customized ASA campaign, as you can choose your own keywords, control the exposure of ads to your users, and make use of a selective range of creative assets.
You can also define the keywords and your relevant audience. More importantly, the Advanced process also allows you to determine the maximum spend for each click based on your objectives. You also won't be restricted to the performance dashboard; there are a number of additional tools packed in, such as Search Match and a detailed reporting tool.
Almost all the key metrics that you could think of are also included so that you can really delve into the success of your campaigns. There's no ceiling for the maximum amount you can spend or a cap on the number of apps you can promote. The Advanced version operates on a cost-per-click model, much like Google.
Need help setting up your Apple Search Ads account? Reach out to our ASA experts, and we'll be happy to help!
BACK TO BLOG
NEXT ARTICLE