January 13, 2021
Everything You Need to Know About Apple Search Ads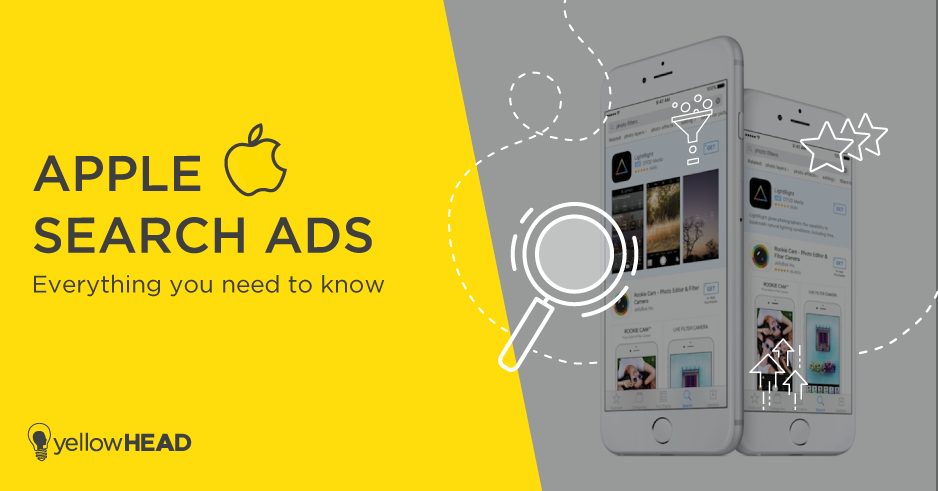 Apple is one of the biggest tech companies in the world, and their App Store has more than two million apps on it. This number continues to rise as developers try to target a burgeoning market. Performance marketers should take full advantage!
Apple Search Ads are used to promote iOS apps within the App Store. Because your ad will be placed above specific organic search results, your visibility and chances of discovery increase significantly. ASA has grown considerably in popularity in recent years, so if you aren't onboard, it's time to jump in.
Obviously, Apple Search Ads are not in the same league as Google's PPC advertising or even Facebook's Ads, as the audience is limited (these ads are limited only to the App Store). However, interest and competition are on the rise and it could become a valuable part of your user acquisition funnel when used correctly. Here are a few things that you should know about App Store ads and why you should adopt them.
For those who are new to search-based marketing, Apple Search Ads are sponsored ads that take information from your current App Store Listing and are displayed in first position (above 'organic' results) for relevant search queries.
Jump to a section…
Why Use Apple Search Ads?
App Store Search Ads Basic vs. Advanced
Best Practices for Using Apple Search Ads
Why Use Apple Search Ads?
Currently, Apple Search Ads can be viewed by users in more than 60 different regions. According to stats, there are 193 million iPhone users in the United States. In 2020, 45.3% of mobile phone users in the United States alone were using an iPhone. The total number of iPhone users around the globe is more than 900 million, so it really doesn't make sense to ignore this channel.
Source: Statista.com
According to Apple, more than 70% of its users search in the App Store before downloading an app. If that isn't convincing enough, here are just a few more reasons why you should use Apple Search Ads.
The average conversion rate is a whopping 50%. It's hard to come to terms with this figure, but Apple claims it's true. Third-party analysts have further lent credence to this claim. Simply put, there's no comparison with other ad networks. The answer for this is simple: people are highly motivated when they search for an app in the Store, and they usually download what they search for. There's no way around it: Apple App Store advertising is effective.
Prime ad positioning. These ads will show up right at the top of the search results in the App Store. When you take into account the high intent of an average user when searching for an app in the Store, it's obvious how prime ad positioning can increase brand awareness and chances of a download.
Organic traffic boost. Not only will prime placement improve your paid traffic, but the number of organic downloads are likely to increase as well. You can expect a higher tap-through rate and a greater conversion rate. Combine your strategy with ASO (App Store Optimization) and you can improve results for both channels. TIP: If you notice an ASA keyword performing really well, consider incorporating it in a screenshot or the title of the app as well to improve overall conversion!
Now, before we get started, it's important to understand that there are two types of Apple Search Ads: text-based and image-based. Most marketers agree that the TTR (tap-through rate) of image-based Apple ads is almost 4-5 times higher than the text-based ones. If you are using image-based search ads, users are more likely to click on them.
App Store Search Ads Basic vs. Advanced
If you go to the official page for Apple Search Ads, you will notice that there are two variants: Basic and Advanced. While both are handy solutions, the capabilities differ considerably. The Basic version of Apple Search ads allows you to use up to $10,000 per month per app. There's also a cap of 50 apps that you can promote.
This option is obviously suitable for marketers who want to set up a recurring budget and wish to run a simpler setup. You don't have to worry about selecting relevant keywords or refining your audience with the Basic variant. The automated method matches the ads with relevant users on its own, allowing you to track the results in the performance dashboard and see how to improve app discovery rates.
But, if you want more complexity and need a greater array of options to tap into the Apple ad network, the Advanced version will be a better choice. Apple Search Ads Advanced will allow you to create a highly-customized ASA campaign, as you can choose your own keywords, control the exposure of ads to your users, and make use of a selective range of creative assets.
You can also define the keywords and your relevant audience. More importantly, the Advanced process also allows you to determine the maximum spend for each click based on your objectives. You also won't be restricted to the performance dashboard; there's a number of additional tools packed in, such as Search Match and a detailed reporting tool.
Almost all the key metrics that you could think of are also included, so that you can really delve into the success of your campaigns. There's no ceiling for the maximum amount you can spend, or a cap on the number of apps you can promote. The Advanced version operates on a cost-per-click model, much like Google.
So, you will only pay when a user clicks on your Apple Store search ads. You can set up the bidding model to only bid on competitive keywords, which will ensure greater returns for each click. Apple will also make a suggestion based on the information available for your app regarding the maximum CPC you should bid, thus increasing your chances of winning the keyword auctions.
Best Practices for Using Apple Search Ads
Getting started with Apple Search Ads isn't a problem. But you will want to make sure that you adopt a few best practices that will ultimately help you make the most of your investment. Here are a few best practices for App Store advertising that you should follow when using Apple Search Ads.
Review the App Metadata Before You Launch a Campaign
You need to first access App Store Connect and review the app metadata carefully before you launch a new campaign. The appearance of the ad will be based on the metadata of your app, and you won't be able to change it later on. Keep in mind that the same ad is unlikely to appear for every user. Some might get a simple app description, while others will see screenshots and preview videos too.
Target Keywords Based on the USP
This is very important for marketers using ASA Advanced. You need to do a bit of research and identify keywords that will boost installs. For instance, if you have a fitness tracking app, keywords like "fitness trackers" or "diet plans" can be used as keywords. You have to know the search patterns of your audience, as it can greatly boost your conversion rate.
You can always expect higher competition with general keywords, but if you can find more specific keywords, not only will they be cheaper to bid on, but the conversion rate will also be higher.
TIP: Use the keyword research from your ASO strategy to understand your options and sync your targets!
Use the 80/20 Budget Distribution Method for App Store Promotion
When comparing keywords, you will have to distribute the keywords between Broad Match and Exact Match. 80% of your spending should be for Exact Match, and the remaining 20% should be for Broad Match. Both will be used primarily in discovery campaigns to identify keywords that perform better than others.
The Exact Match keywords will allow you to engage and convert interested users. They are going to be easier to convert and will be much more likely to generate more revenue. They may cost a bit more, but they will also pay off. Ideally, you should distribute your budget 80/20 to get the maximum returns. Once you start generating interest, you can reduce the budget allocation as well.
Learn to Optimize Your Bids for Apple Ads
Furthermore, you have to learn how to optimize your bids over the passage of time. It's imperative for advertisers to change their strategy over time instead of sticking with the same marketing techniques. You should carefully monitor the performance of your ad campaigns and determine when you should increase the maximum bid for specific keywords that you are not winning.
Remember, a strategy that worked in the past might not work all the time, so the key here is to adapt accordingly. Apple also provides a recommended bid amount that will give you a better idea of how much you should bid to have a higher chance of winning a specific bid.
Think of it as the base benchmark when optimizing your ad campaigns. Always remember to optimize your bids when you notice they aren't performing well. Using negative keywords is also a wise idea and will help you narrow down your options for targeted ads.
These are just a few things that you should know about utilizing Apple Search Ads for promotional purposes. This may be the best way to advertise your iOS app on the App Store, so make sure you add it in your acquisition channels for higher conversions!
Need help setting up your App Store Ads? Contact our team.
BACK TO BLOG
NEXT ARTICLE