March 18, 2020
App Store Update: How to Conquer Search Results
Search Results. Apple Search Ads. Featuring in Search Results.
Each of these formats consume the most viewed real estate for user-directed queries. All apps and games who know ASO are trying to get those #1 positions, the most impressions, the best visibility in the Search Results.
Recently, the value of these top positions went up even more. Apps and games now have the potential to earn full displays of their listings in Search Results. A user who searches for a keyword might now see an Apple Search Ad in the top slot, an organic result of that same app/game in the second slot, and a Feature slot following that – forming a full-screen of promotion.
How is this different from the past?
The App Store used to show the same content in each of the ad and organic slots. First three screenshots here, first three screenshots there. Then came Creative Sets, where you could actively decide to show specific screenshots, out of the usual sequence, in the ad display.
And now?
With this App Store update, if your app is being displayed in the ad slot AND you rank #1 organically for the search keyword, the App Store automatically displays Screenshots 1, 2 (and 3 depending on phone size) in the ad, and the organic result will show the FOLLOWING screenshots in sequence. See example: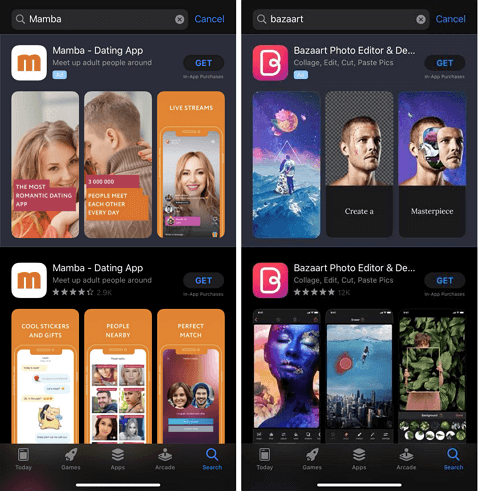 If your listing includes a landscape app preview, it will be displayed in the ad, and the organic result will show the first screenshot(s). In the below example, the third slot is a Feature of the same game – a full page of promotion!
It is important to note that if the Feature is displayed before the first organic result, breaking up the results, there's no variation in screenshot displays.
KEY TAKEAWAYS:
Adjust your ASA strategies to target the keywords you rank #1 for.

While this might not be intuitive since your app is at the top anyway, the added benefit of displaying many more visuals will help your conversion rates.

Make sure you have a minimum of 6 fantastic screenshots in your listings.
Stay tuned for info on the next App Store update and ASO news in general!
BACK TO BLOG
NEXT ARTICLE