November 22, 2018
How To Do Keyword Research Like a Pro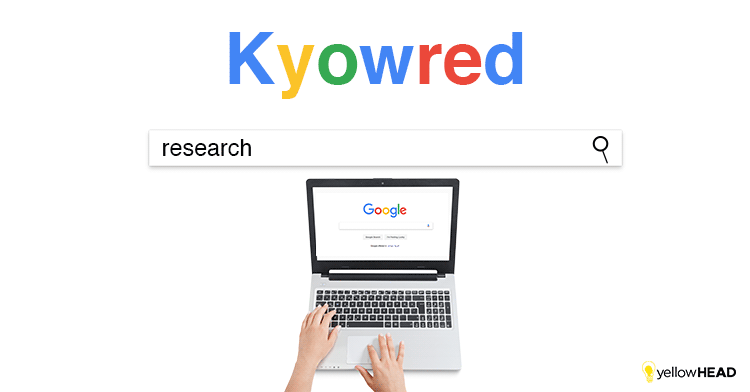 It's more than just keywords
Think of keyword research not simply as a mix & match approach for the search engine algorithm, but more as an opportunity to really get to know your audience. It is a chance to find out what they would genuinely like to know about your services and products.
Whenever we start a new keywords research at yellowHEAD, we try to create a persona and understand who is asking the questions? Which target audience are we applying this research to?
Step 1: Understanding user intent
Understanding users' intent behind search engine queries is essential to developing a successful content strategy. This is the key with which we can unlock an amazing user experience on our site, as it allows us to supply our audience's need for information. In general, we try to break it down into a few categories:
Main (Money) Keywords – Keywords that apply directly to a specific service or product most relevant to your brand. These keywords would be the core foundations on which your overall SEO strategy will be laid upon.
Informational Keywords – How to, what is, where to… you get the idea. These are not conversion-oriented, but you can use these search terms to build the site's authority through education on relevant subjects.
Local Keywords – Keywords that address a certain Geo such as "Best service provider in…"
Long tail Keywords (4+ word phrases) – I absolutely love long tail keywords! Why? With the growing implementation of voice search, long tail keywords will take up a larger part of overall search queries. And, the thing with long tail keywords is that they often convert better. According to a study by Moz, it turns out that over 80% of all searches are actually long tail queries. So, make sure you take this into considering as an integral part of a well-balanced SEO content strategy.
Step 2: How to choose which keywords to target
Brand-Compatible Keywords – After conducting the preliminary research, you should have a pretty good idea about which keywords have good potential from an SEO perspective. However, those might not be compatible with your branding strategy or services.
Level of Competition – The level of competition varies a lot from keyword to keyword, taking into consideration factors like competitor domain authority and monthly search volume.
Short-Term vs. Long-Term – When looking at your website versus the competition's, how well do you match up? Going for long tail keywords in the short term would bring you faster results and allow you to build a base of revenue with which to target the more competitive keywords down the road. According to a study conducted by Ahrefs.com, "only 22% of pages that currently rank in the Top10 were created within 1 year".
Step 3: Integrating keyword research across different tools
There's a lot of great software out there which you can use to conduct your keyword research such as SEMrush, Ahrefs, KWFinder and, of course, Google Keyword Planner. Each has its pros and cons, but combining these tools together can form a powerful combination:
Use SEMrush Keyword Magic Tool to discover a wide range of strong combinations. This is by far my favorite tool for keyword research. It creates a powerful list of combinations along with the search volume of each keyword you enter.
The only problem is that the search volume by SEMrush is not always 100% accurate. According to SEMrush:
 "The way we gather this data is through a proprietary method, similar to the way Google collects search volume. If you compare search volume of a keyword in SEMrush to Keyword Planner, it will most often be the same number. However, since we gather information in different methods, we cannot guarantee that we will display the same volume as Google for every keyword."
That's why we then use Google Keyword Planner.
Use Ahref's content explorer to find out which type of content works in your industry.
Step: 4 Use Reddit and Quora to discover hidden gems
Let's say we're targeting the personal finance niche. By digging deep into subreddits and Quora threads, we may discover additional topics we could potentially target.
Just by running Google's "Site" Operator, we already got great insights into relevant topics like budgeting, financial planning and frugality. Thses subtopics open up a lot of options when buidling our content plan.
Reddit:
Quora:
Use Reddit and Quora to find out what questions people are asking to get ideas for relevant keywords within your niche. I really like Quora as it's super effective for drilling down into your content and uncovering interesting long tail keywords.
Step 5: Competitor research
Once you have an understanding of which types of keywords you would like to target, it's time to see who's competing for those keywords and, more importantly, why they are ranking on the first page of Google search results. Take into consideration the following factors:
How many paid ads are there?
Are there Google map listings at the top of the SERP?
Website authority of top competitors
*Wow, what a long journey until we reach the #1 organic result!
Use these insights to prioritize the keywords you think you could realistically compete for.
Step 6: Reverse engineering
Now that you know which keywords you want to target, it's time for content analysis. We like to take into consideration the following:
Length of the article
Quality of visual content
Keyword density
Article segmentation
This is a crucial part of any Search Engine Optimization campaign. It's very important to understand what kind of information users expect to get from the SERPs and what search engines deem as most relevant according to those queries.
By analyzing your competitors' content using the above factors, you can get a good idea of what your SEO page template will look like. These verticals can change dramatically according to the search query we're targeting. Some product/service pages should be short and to the point with minimal word count, while others could be informational guides which are rich in word count and visual content.
As you can see, keyword research is a time-consuming process that should not be taken lightly. "Keywords are like a compass for your SEO campaigns" – without them, you are blind in a sea of content. Keyword research is a fundamental part of any SEO and content marketing strategy. I also recommend checking out this Keyword research guide from the guys at Firstsiteguide.com as an additional resource.
For any questions about keyword research or SEO services in general, or to let the experts do it for you, contact us!
BACK TO BLOG
NEXT ARTICLE