February 8, 2021
What is DTC Marketing? Everything Marketers Need to Know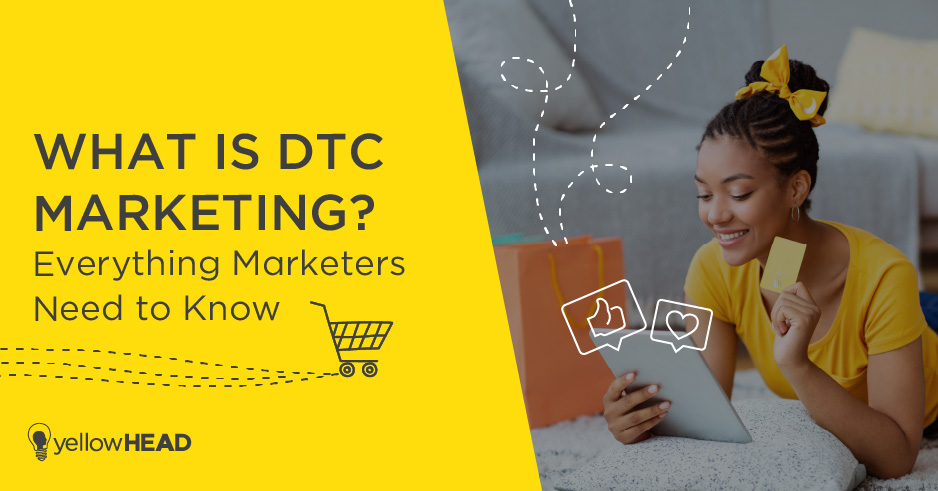 The direct to consumer market is booming. DTC sales were forecasted to reach $17.75 billion in 2020, a 24.3% increase from the previous year. While DTC sales are outpacing those of overall ecommerce, the increase in the volume of direct to consumer brands means DTC marketers need to work harder than ever to cut through the noise and reach their intended audiences.
In today's marketing landscape, the right creative strategy can mean the difference between success and failure. At yellowHEAD, we use a combination of machine learning and human expertise to help DTC marketers optimize ad creative and reach their goals. Want to know more? Get in touch!
What is DTC marketing and what can DTC marketers do to stand out in a crowded marketplace? Let's jump right in and find out!
Want to learn more about Direct to Consumer Marketing? Check out DTC Marketing: The Ultimate Guide.
Jump to a section…
What is DTC advertising?
What Are Some Best Practices for DTC Marketers?
What is DTC Marketing?
To understand DTC marketing, one must first understand the direct to consumer model. DTC brands sell their products or services directly to consumers, forgoing more traditional big-box stores or online retailers. Because they don't have the backing of a bigger company, DTC brands rely heavily on customer loyalty, so building long-term relationships with buyers is a must.
The DTC model isn't new, but it has evolved quite a bit in recent years. Modern DTC brands like Glossier, Warby Parker, Dollar Shave Club, and Casper are particularly popular with the Gen Z demographic, which represents $143 billion in buying power. These younger buyers generally look for different qualities in retailers than their parents did, appreciating authenticity, shared values, high-quality products, and internet savviness. Because DTC consumers have different expectations and brands can't rely on retailers for visibility or support, DTC marketers need to adjust their strategies accordingly.
What Are Some Best Practices for DTC Marketers?
Competing with both big retailers and other marketers in the DTC space is no small task, but these best practices will set you up for success.
Develop a Consistent Brand Voice
Who is your brand? What does it sound like? These are the first questions DTC marketers need to ask themselves when embarking on a new campaign. Your brand voice needs to be clear and consistent in all messaging and advertising, whether that's the website, social media, online ads, or TV commercials.
Your brand voice should accurately reflect your products and audience, but just as importantly, it needs to have personality. Generic ads and cookie-cutter calls to action aren't enough to make direct to consumer brands stand out, so don't be afraid to use that brand voice to communicate in an easily recognizable way.
Be Authentic
For younger and more socially aware consumers, authenticity isn't just a buzzword. DTC marketing requires transparency about the brand's mission, business practices, and overall values. How are your products made? Are you investing in your industry or community? Where do you stand on issues that are important to your customers, especially Gen Z and millennial shoppers?
Authenticity pays off big in the DTC space; for an example, just look to Allbirds, a footwear company that brought in over $100 million in revenue in 2019. Allbirds' mission of eco-friendly sneakers is clear in all of its marketing materials, with the front page of the company website displaying the tagline "Break a sweat, not the planet." Potential buyers can easily find out what materials Allbirds uses for its shoes and where they're sourced from. The strategy has proved effective, as Allbirds reached a valuation of $1.4 billion in just five years.
Listen to Your Audience
DTC buyers have a lot of great things to say about their favorite brands; the flip side of that is you're likely to hear their grievances as well. Good DTC marketing is empathetic and responsive, so when your customers speak out, it's important to listen. This could mean anything from doubling down on popular promotions to apologizing when messaging misses the mark. What's important is that your customers feel heard; otherwise, you're no different than faceless big-box retailers.
Being in tune with its customers is what helped make Glossier a premier DTC beauty brand. According to Forbes, "Glossier is powered by a fierce and loyal dedication to its customers, their needs and wants." For example, the beauty brand's popular Milky Jelly cleanser was developed in response to customer feedback. As Glossier CFO Henry Davis put it, "We innovate and develop products to meet those needs directly because we understand what they are."
Don't Ignore the Creative Side
Once you've developed an authentic brand voice and identified your audience's specific needs,  it's time to tie all of that together with ad creative that gets results. There's no one-size-fits-all strategy when it comes to DTC ad creative, so you may have to experiment a bit to find out what works best. On top of that, recent privacy changes on mobile platforms make it harder than ever to find your desired audience, so don't be afraid to test different creative options and see what resonates most.
Here's the good news: you don't have to figure out your creative strategy on your own. At yellowHEAD, we perform multivariate tests that go far beyond what standard A/B testing can do. Our proprietary Alison platform analyzes dozens of creative elements in ads to find out what's working and what's not, and our own experts study those results to make the most effective recommendations. Ready to get started? Let's talk!
BACK TO BLOG
NEXT ARTICLE