November 25, 2020
Meta Descriptions, Titles & Headers – Everything you need to know
Jump to a section…
What Are Meta Tags?
Meet the Meta Title (a.k.a. the Title Tag, Page Title)
Meta title best practices checklist
What is a meta description?
Meta Description Tag Best Practices
Header Tags
Meta Keywords
How to add or edit meta tags of a web page?
How to add meta tags in WordPress?
Why Are Meta Tags Important?
What Are Meta Tags?
Meta tags are elements that provide important info about the page to search engines and are located in a head section of HTML code.
Metadata can refer to different things in several different fields, but in SEO they have a very specific set of parameters. The main ones being Meta Titles, Meta Descriptions and Headers. Two important exceptions are what we will refer to as general meta tags and meta keywords.
General meta tags are a part of a given page's code and don't appear on the page itself, as opposed to metadata such as titles and descriptions (which are quite unique in that they do appear in certain areas of a page – more on that further down this article). General meta tags, such as canonical and robots tags, are not visible to visitors and we will not refer to them in this article.
Meta keywords used to be a very important part of SEO – but in the last decade, they have become obsolete. We covered meta keywords in slightly more detail at the end of this post, as they are no longer a high priority in the SEO world.
Nobody knows for certain how future changes will exactly play out, but we do know website infrastructure must be built correctly. It's a safe bet that the current best practices for meta titles, descriptions and headers will stick around for a while, so whether you're updating meta tags on an existing site or creating them from scratch, if you're looking to break old rules – be sure you know what the rules are, first.
Meet the Meta Title (a.k.a. the Title Tag, Page Title)
What is a meta title?
Users searching Google (or any other search engine) will meet the meta title as the first element of any website. The reason for this? The meta title appears in blue, in organic search results, like so:
E.g.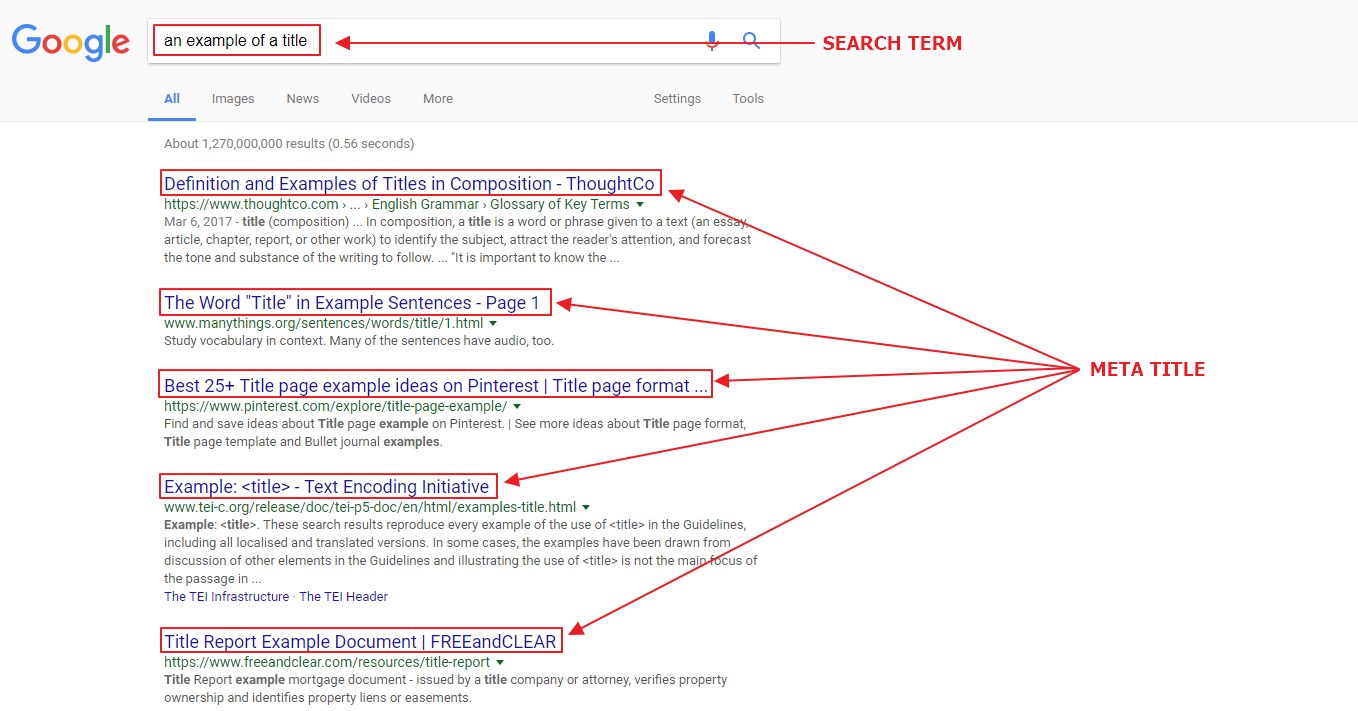 The meta title holds GREAT power, as it is one of the strongest elements to affect a webpage's ranking for its chosen targeted keywords. In addition to ranking, it is also highly responsible for the CTR (Click-Through Rate) of a given page.
This means that a meta title needs to use important keywords wisely, in order to rank as high as possible, and captivate users to enter a site.
Meta tags continue to be important now just as much as they were in the past, if not even more. One thing to keep in mind when creating 'the ideal meta title', is that it should follow a set of rules in order to be successful.
Meta title best practices checklist
1. GRAMMAR
In previous years, keywords would be first on this list – but with Google's ever-developing smart algorithm, users don't need keywords shoved down their throats, but rather useful and relevant information, provided in more subtle ways
Google's focus is on user intent and UX, not on keyword stuffing – keep the title grammatically correct
Your site will rank well as long as you convey a clear message
2. KEYWORDS
After doing some well-planned Keyword Research, consider the one keyword most relevant to be implemented in the title
In case you find it difficult to use the chosen keyword in a natural, organic manner in your title, considering implementing it as part of a long tail
3. SHORT & TO THE POINT
The meta title length should be approximately 55-65 characters long
Keep in mind – that number is merely an estimate; the reason: Google cuts off meta titles that are longer than 600 pixels;  this means that the visual length of a meta title in search results is more important than the actual character count – narrow digits and letters take up less space than wide ones, e.g. "1", "t" and "I", vs. "7", "M" and "W".
o SEOMofo has run a very interesting case study about this, which is still relevant (the website even updates their tests), and proved a very interesting result: a meta title of 107 characters fully showing in SERPs (!)
4. NO PROMO
Make it

NATURAL

– no promotional style for informative pages directed at organic traffic – otherwise, Google will consider it as spammy, most probably – with good reason
Keep your visitors' intent in mind and your site will perform better – not every keyword is worth this real estate, and if users won't find what they're looking for once they're on your site, they will leave
5. UNIQUENESS
Just like duplicate content on a page, Google is not a fan of duplicate titles (and descriptions, for that matter), and it will show in your site's performance – make sure each page has its own unique meta title
TAB INFO
Another thing to keep in mind is that the meta title will appear in the open tab when browsing a page. This serves as an informative element to help UX and user browsing. Ideally, you would want as much relevant information to be shown as possible, as can be seen in this screenshot: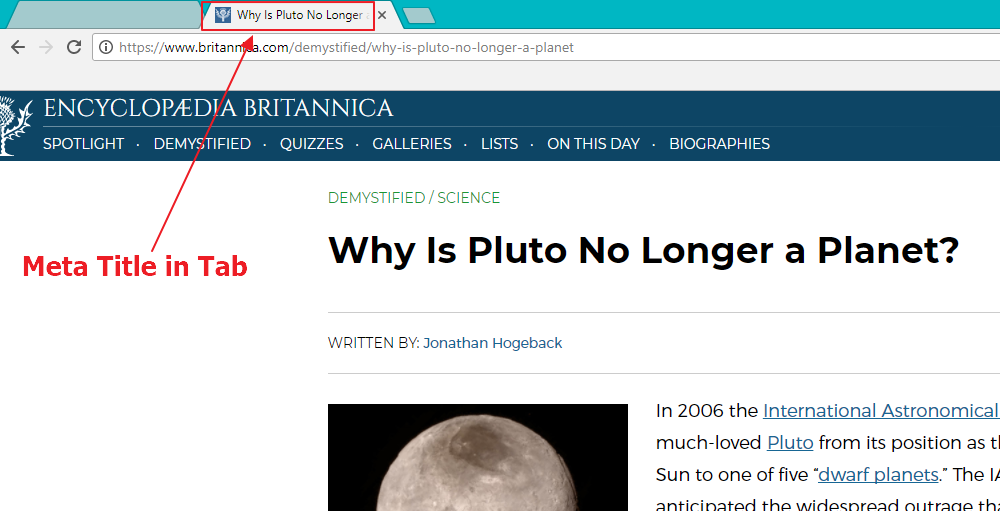 As mentioned above, the meta title has a lot of influence on a page's rankings and its CTR, and could very well be the strongest meta tag, but it is by no means the sole one.
What is a meta description?
A meta description is a summary snippet that shortly describes what a page is about and is used for a preview in search result lists. It is found just below the meta title in search results, and cannot be seen by a visitor once they enter the site. In the past, it seemed to hold more power in terms of a page's rankings, similarly to the meta title, but in this day and age, after going through many updates and changes, its purpose has changed.
Its main objective is to summarize the content of the page (a teaser or a blurb, of sorts), and to do it in an alluring manner. This is the reason the meta description is so important – it is one of the major factors in a page's CTR's performance.
Meta Description Tag Best Practices
1. META DESCRIPTION LENGTH
Update: Google's Danny Sullivan himself (of one of Google's search divisions) confirmed that Google shortened the descriptions' snippets in search results. The new length, as suggested by Search Engine Land, would be approximately 160 characters for desktop results, and 130 for mobile, which are more similar to the lengths previously displayed for most websites in search results. This change comes after circa 5 months of longer descriptions, as mentioned in the next bullet. Below – the exchange between Barry Schwartz and Danny Sullivan on Twitter:
Previously: In December 2017, Sullivan admitted that descriptions in search results were longer.  As pointed out by the great team at Spotibo.com, the average length of a meta description in Google SERPs was approximately between 290-350 characters (~1,750 pixels) for desktop and about 230 characters (~1,350 px) for mobile. You can try Spotibo's very interesting tool here, which helps understand just how much of your description will show in results (even if not 100% precise – it is the closest tool we've seen to show correct results). Here is Google's Danny Sullivan's response to Search Engine Land's Barry Schwartz on Twitter, from December:
During the period when Google tested longer descriptions, different results showed different lengths – some pages retained the original, shorter descriptions, while others featured descriptions that were as long as 330 characters – as can be seen in the below screenshot:
2. KEYWORDS
Yes, you should include your keyword in the meta description as well – it's important! This serves as another way to tell users they've found the information they were looking for – and obviously more informative than the meta title, mind you: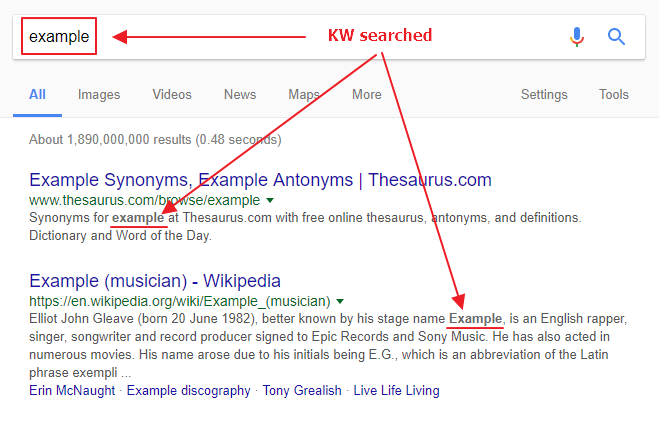 Do not overuse the keyword, though – its recurrence in the description does not necessarily strengthen it; in fact, doing so might end up doing the opposite
3. MAKE ME CLICK
Remember – the meta description's main purpose is to pique a user's interest while remaining relevant to the page's content
Make the copy count – tell visitors what the page is about, without revealing all of your secrets right away; think of something that is easy to read as well as compelling.
4. UNIQUENESS
Exactly the same as Meta Titles – give each page a description that is tailor-made for it
Header Tags
Heading tags are used to communicate a webpage's structure and logic both to readers and search engines. They might not be generally referred to as 'meta tags', but headers (commonly addressed as the confusing, very general term 'titles') are almost as important as meta titles and descriptions. Header tags, coded in numbers, range in size and importance starting from 1 and onward (the <h1> tag being the biggest and most important header, <h2> the second, and so forth), and are actually visible on a page when a user enters the site, and not in search results, as opposed to titles and descriptions.
In fact, they are important enough to be the main titles on a page – so much so, that it is SEO best practice to make sure your page has an H1 header (your main title) as high on your page as possible, and several H2 headers to follow.
If you're interested in a few more key points regarding headers, you're more than welcome to take a look at the relevant section in my previous post.
Meta Keywords
The meta keywords tag is one which I have myself used quite a lot in the past, and which has, as mentioned above, become obsolete.
The idea behind this tag was rather direct and basic: use the keywords you would like to rank for, and Google will take them into account in its algorithm.
However, many webmasters abused this tag in order to rank as high as possible (can you blame them?), which led to another Google update, a smarter algorithm, eventually ignoring this tag altogether.
There is still some discussion regarding this tag and whether or not it has any kind of effect on a page.
Our recommendation is to remove the meta keywords completely, wherever they appear. We believe they might be considered a spammy factor in Google's eyes (we know it is in Bing). Additionally, meta keywords allow your competitors to understand even better what keywords you're targeting and on which pages – why give them away on a silver platter?
How to add or edit meta tags of a web page?
You can add or edit meta tags of your web page by editing the <head> section of a page. This can be done directly by editing the HTML code of a page or, depending on your CMS, directly through its interface, or by using additional modules or plugins. Here's how the markup should look like:
How to add meta tags in WordPress?
The general approach of editing the <head> section of a page applies here as well, or you can do it with help of a plugin. Here's how to do it with one of the most popular SEO plugins, Yoast. In WordPress, choose the page, click "edit" and scroll down to the Yoast SEO interface: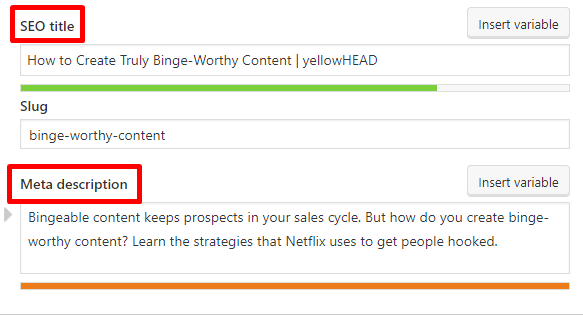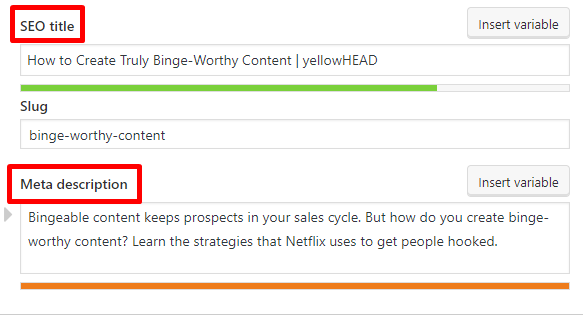 Why Are Meta Tags Important?
Meta tags are important for your website for several main reasons:
They help users find what they're looking for on search engines
They are the first element to determine whether a user will visit your website or not
They help rank higher for selected topics, search terms and keywords
To get the full impact of good SEO, a general site audit must be done, one that includes keyword research, correct on-page implementation, and above all – good old fashioned unique content of additional value, answering users' needs.
A web-page must have an optimized on-page implementation in order to appear anywhere in search results. That being said, content cannot be disregarded – a page with fabulous meta tags but low-quality content is a bit like the Kardashians – it looks really pretty but does it actually have anything to say?
BACK TO BLOG
NEXT ARTICLE