July 7, 2022
SEO Meta Tags Matter: Guide to SEO Meta Titles, Descriptions, & More
You might not always notice meta tags, but they're having a big impact on how sites are ranked by search engines — and the value they provide to the searchers themselves. In this guide, learn about the importance of meta tags and how to make the most of them.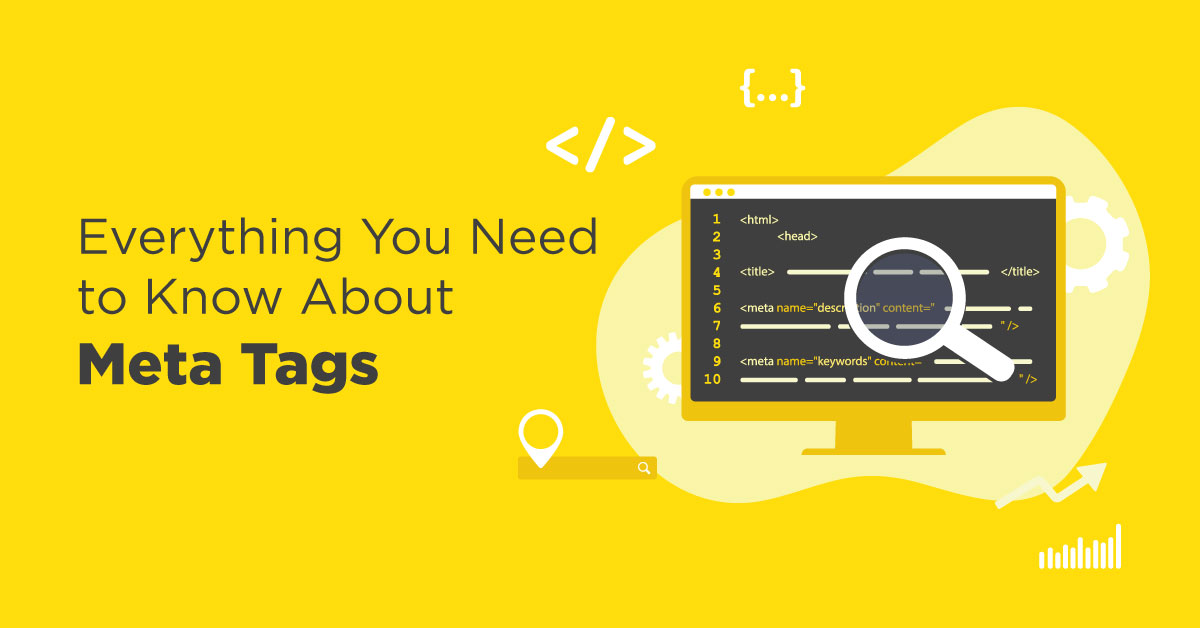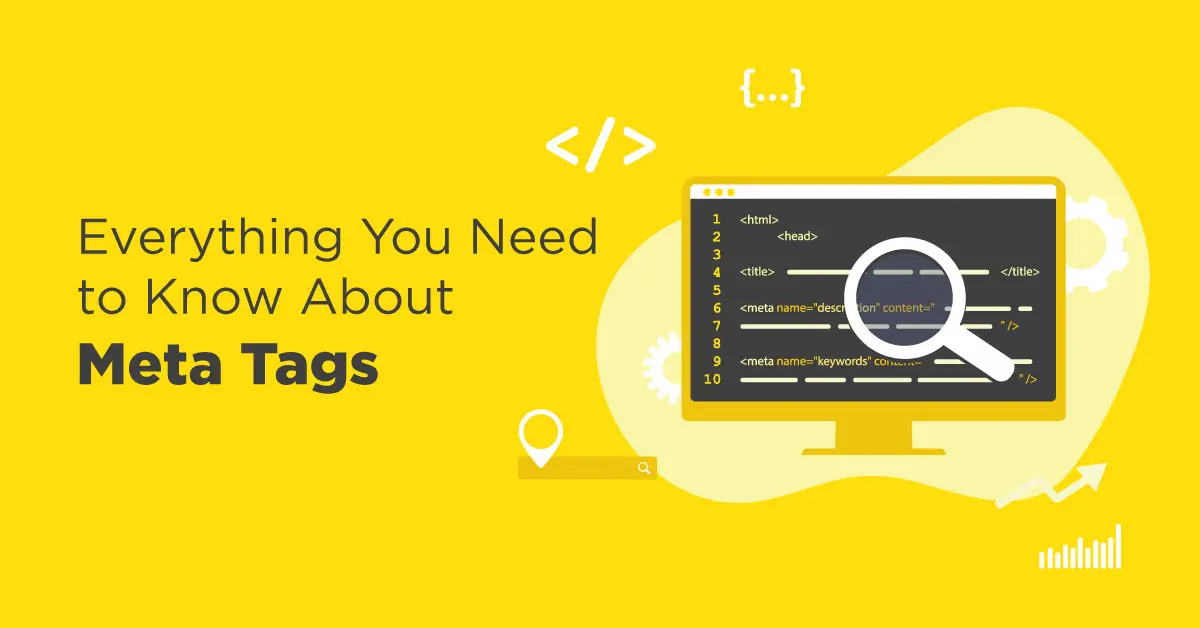 Jump to a Section
What Are SEO Meta Tags?
Meta tags are elements that provide important info about your page to search engines and are located in the header section of HTML code. Meta tags inform search engines how to display your page to users and how it will appear in search results.
Metadata can refer to different things in several different fields, but in regards to SEO, they have a very specific set of parameters. The main ones are meta titles, meta descriptions and headers. Two important exceptions are what we will refer to as general meta tags and meta keywords.
General meta tags are a part of a given page's source code and don't appear on the page itself, as opposed to metadata such as titles and descriptions (which are quite unique in that they do appear in certain areas of a page – more on that further down). General meta tags, such as canonical and robot tags, are not visible to visitors.
Meta keywords used to be a very important part of SEO, but in the last decade, they have become obsolete. We have covered meta keywords in slightly more detail at the end of this article, as they are no longer a high priority in the SEO world.
Meet the Meta Title (a.k.a. Title Tag, Page Title)
What is a Meta Title?
Users searching on Google or any other search engine see the meta title as the first element of any website on the SERP (Search Engine Results Page). For organic search results, the meta title appears in blue, like so: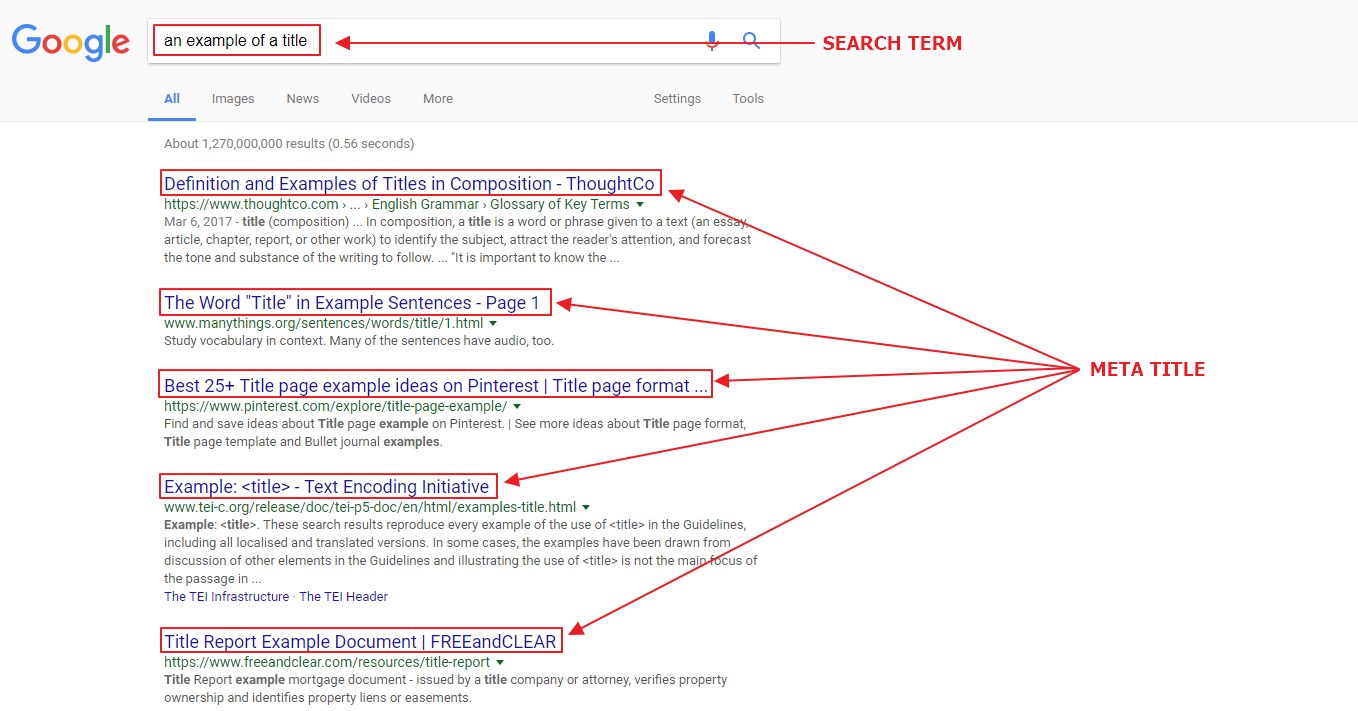 The meta title holds great power, as it is one of the strongest elements to affect a webpage's rank for its chosen targeted keywords. In addition to rank, it is also highly responsible for the CTR (Click-Through Rate) of a given page.
This means that a meta title needs to utilize important keywords wisely in order to rank highly and captivate users enough to get them to visit a site.
The ideal length of a meta title is 50 to 60 characters. There is no harm in exceeding the title length but Google truncates some of the characters and displays an ellipsis.
Another option to optimize for Google when your title is too long or irrelevant, is to swap it with data from the content itself, like the H1 or H2 headings.
Meta tags continue to be important now just as much as they were in the past, if not even more so. One thing to keep in mind when creating 'the ideal meta title', is that it should follow a set of rules in order to be successful.
Meta Title Best Practices Checklist for SEO
1. Grammar
In the past, keywords would have been first on this list. But with Google's ever-developing smart algorithm, users don't need keywords shoved down their throats. Rather, they need useful and relevant information provided in more subtle ways.
Keep the title grammatically correct. Google's focus is on user intent and UX, not on keyword stuffing.
Your site will rank well as long as you convey a clear message
2. Keywords
After doing some well-planned Keyword Research, consider the one keyword most relevant to be implemented in the title
In case it's hard to use the chosen keyword in a natural, organic manner, consider implementing it as part of a long tail keyword.
3. Meta Title & Pixel
The meta title length should be approximately 50 to 60 characters long
Keep in mind that this number is merely an estimate; the reason is that Google cuts off meta titles that are longer than 600 pixels long. This means that the visual length of a meta title in search results is more important than the actual character count. For example, narrow digits and letters take up less space than wide ones, e.g. "1", "t" and "I", versus "7", "M" and "W".
The former SEOMofo site once ran a very interesting case study about this, which is still relevant and proved a very interesting result: a meta title of 107 characters fully showing in SERPs!
4. No Promo
Make it NATURAL – avoid an overly-promotional style for informative pages directed at organic traffic; otherwise, Google will consider it spammy.
Keep your visitors' intent in mind and your site will perform better. Not every keyword is worth this real estate. If users don't find what they're looking for once they're on your site, they will leave.
5. Uniqueness
Make sure each page has its own unique meta title. Like duplicate content on a page, Google is not a fan of duplicate titles (or descriptions, for that matter), and it will show in your site's performance.
6. Add Numbers and Keep Them Up to Date
Studies have shown that articles with numbers in their titles do better in terms of SEO, both in ranking and CTR.
Numbers shouldn't necessarily be used for lists, but for dates as well. Assuming your content is actually up-to-date, you could add the date it was updated to your title.
7. Tab Info
The meta title appears in open tabs when browsing a page. This serves as an informative element to help UX and user browsing.
For best results, use up to 160 characters (920 pixels) for desktop and 120 characters (680 pixels) for mobile devices.
Ideally, show as much relevant information as possible. This is a good example of a meta title appearing in the tab.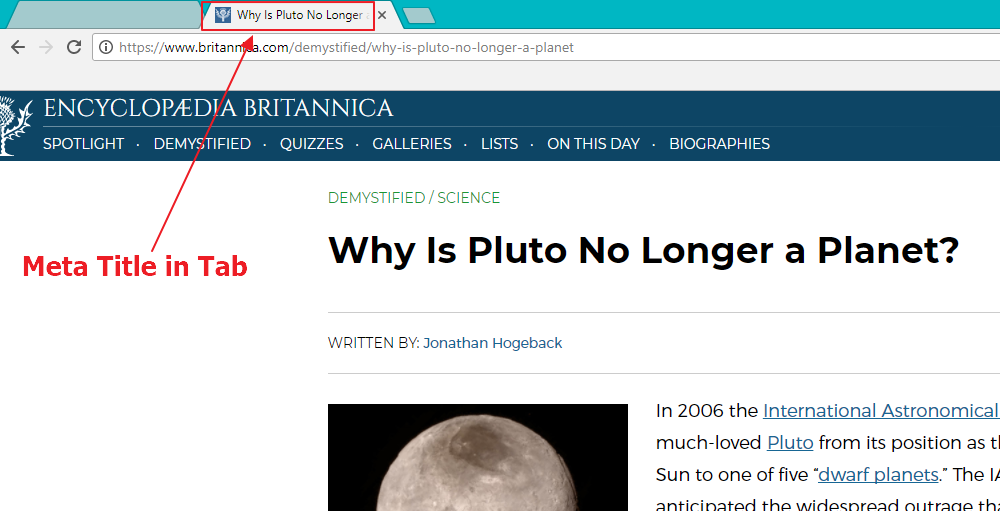 As mentioned above, the meta title has a lot of influence on a page's rankings and its Click-through rate, and could very well be the strongest meta tag, but it is by no means the only one.
Meta Descriptions
Think of the meta description as a TL;DR answer to the user's question.
A meta description is a summary snippet that briefly describes what a page is about. This text is used for a preview on the SERP. It is found just below the meta title in search results and cannot be seen by visitors once they enter the site. In the past, it seemed to hold more power in terms of a page's rankings, similarly to the meta title, but currently, after undergoing many updates and changes, its purpose has changed.
Its main objective is to summarize the content of the page (a teaser or a blurb of sorts), and to do it in an alluring manner.
This is the reason the meta description is so important. It is one of the major factors in a page's click-through rate.
Meta Description Tag Best Practices
In some cases, Google's algorithm will generate alternative meta titles and meta descriptions to help users reach relevant pages.
This might happen even though the preferred metadata exists within the page source and was implemented correctly in the CMS or the page's HTML code.
The reason might be a lack of metadata optimization that forces Google to push for an alternative that fits better with the user search queries.
General Advice for Great Meta Descriptions:
Make sure you optimize the page's metadata and fit it to the user intent.
Make sure there are no metadata duplications across the site's pages.
Avoid keyword stuffing within the page's metadata.
Create meta tags that align with the character limits.
Ensure the page was crawled recently by Google bot. A crawl budget issue could prevent the requested metadata from being pushed to live SERP results.
1. Meta Description Length and Pixels
A meta description length can be up to 160 characters and 920 pixels on desktop search results pages.
On mobile, the limit is about 130 characters or about 680 pixels.
As a rule of thumb, it's recommended to aim for 150 characters to make the title fit both desktop and mobile as best as possible.
2. Meta Description Keywords
Include your focus or target keyword in the meta description. This serves as another way to tell users they've found the information they were looking for while being more informative than the meta title.
Try to incorporate the focus keywords as early and clearly as possible.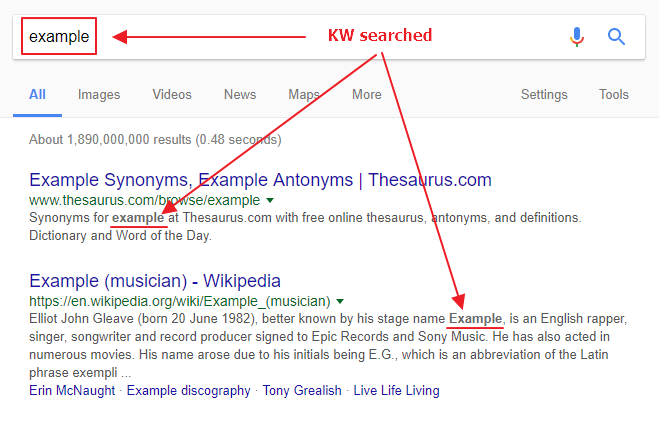 Do not overuse the keyword. Its recurrence in the description does not necessarily strengthen it; in fact, doing so might end up having the opposite effect if it does not sound authentic.
3. Clickability
The meta description's main purpose is to pique a user's interest while remaining relevant to the page's content
Make the copy count: tell visitors what the page is about without revealing all of your secrets right away; think of something that is easy to read as well as compelling.
Again, think of it as a TL;DR: give users the quick answer to their question while making them want to read more.
5. Be Unique
Give each page a unique description that is tailor-made for it, without copying meta descriptions from other pages.
Header Tags
Header tags are used to communicate a webpage's structure and logic both to readers and search engines. They might not be generally referred to as 'meta tags', but headers (commonly referred to as simply 'titles') are almost as important as meta titles and descriptions.
Header tags, coded in numbers, range in size and importance starting from 1 and onward. The <h1> tag is the biggest and most important header, <h2> the second, and so on.
As opposed to titles and descriptions, headers are visible on the page when a user enters the site, but not in search results.
In fact, they are important enough to be the main titles on a page – so much so, that it is an SEO best practice to make sure your page has an H1 header (your main title) as high up on the page as possible, with several H2 headers following.
Header Tags Best Practices
Although there will be a hierarchy throughout a page, the <H1> tag is unique in that it can only be used once per page, most often as the headline.
Avoid multiple H1 tags per article to prevent confusion by the crawler in regards to your main headline.
In most cases, it's possible to use a different H1 header than your meta title. This can help you create the best user experience.
Meta Keywords
Meta keyword tags were originally rather direct and basic: use the keywords you would like to rank for and Google will take them into account in its algorithm.
However, many webmasters abused this tag in order to rank as high as possible (can you blame them?), which led to another Google update and a smarter algorithm that eventually ignored this tag altogether.
There is still some discussion regarding this tag and whether or not it has any kind of effect on pages.
Our recommendation is to remove the meta keywords completely, wherever they appear. We believe they might be considered a spammy factor in Google's eyes (we know it is on Bing).
Additionally, meta keywords allow competitors to better understand which keywords you're targeting and on which pages. Why give this away on a silver platter?
How to Add and Edit Meta Tags
You can add or edit meta tags of your web page by editing the <head> section of a page.
This can be done directly by editing the HTML code of a page or, depending on your CMS, directly through its interface. Furthermore, it can by done with additional modules or plugins. Here's how the markup should look like:
How to Add Meta Tags in WordPress
The general approach to editing the <head> section of a page applies here as well, or you can do it with the help of a plugin. Here's how to do it with the popular SEO plugin Yoast.
In WordPress, choose the page, click "edit" and scroll down to the Yoast SEO interface: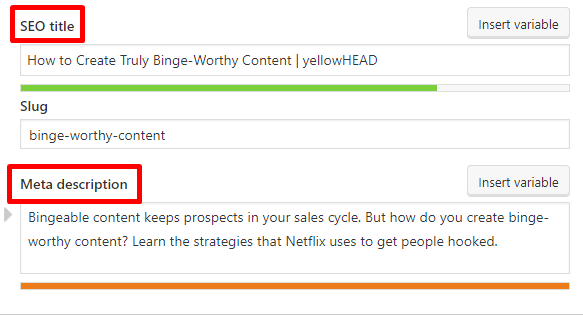 FAQ
How can you check a page's meta title and description?
Right-click on any given page (or use ctrl+U in chrome) to see the page source, where you'll find all the meta tags and much much more. Another way is to use any popular SEO extension, such as META SEO inspector.
How do I write a meta title and description?
Keep it concise and include the focus keyword so it will be clearly displayed to users. The description acts as an organic ad in the SERPs,so include a CTA to boost the click-through rate. Ensure the title and description are relevant to your content and unique.
How long should a meta title and description be?
The length of the meta title should be around 60 characters and for the description, around 160 characters. Going beyond these numbers may mean that Google truncates the title.
Why isn't Google displaying my meta description?
If a search engine is not displaying your meta title or description, check that:
The title and meta description are relevant to the user's search query.
The title and meta description are not too short or long.
The title and meta description accurately reflect your page content.
Why Are Meta Tags Important?
Meta tags are important for your website for several main reasons:
They help users find what they're looking for on search engines
They are the first element to determine whether a user will visit your website or not
They help pages rank higher for selected topics, search terms and keywords
For SEO to have its full impact, a general site audit must be done. It should include keyword research, correct on-page implementation, and above all – good old-fashioned unique content that provides value to users.
A webpage must have an optimized on-page implementation in order to appear anywhere in search results. That being said, content cannot be disregarded; a page with fabulous meta tags but low-quality content may look good but users will bounce if the content is not relevant or engaging.
BACK TO BLOG
NEXT ARTICLE