May 8, 2023
Top Google Search Ranking Factors for SEO in 2023
Ready to rank your business site at the top of the SERP? In this article, learn about the 11 most important ranking factors that Google's search algorithm takes into account.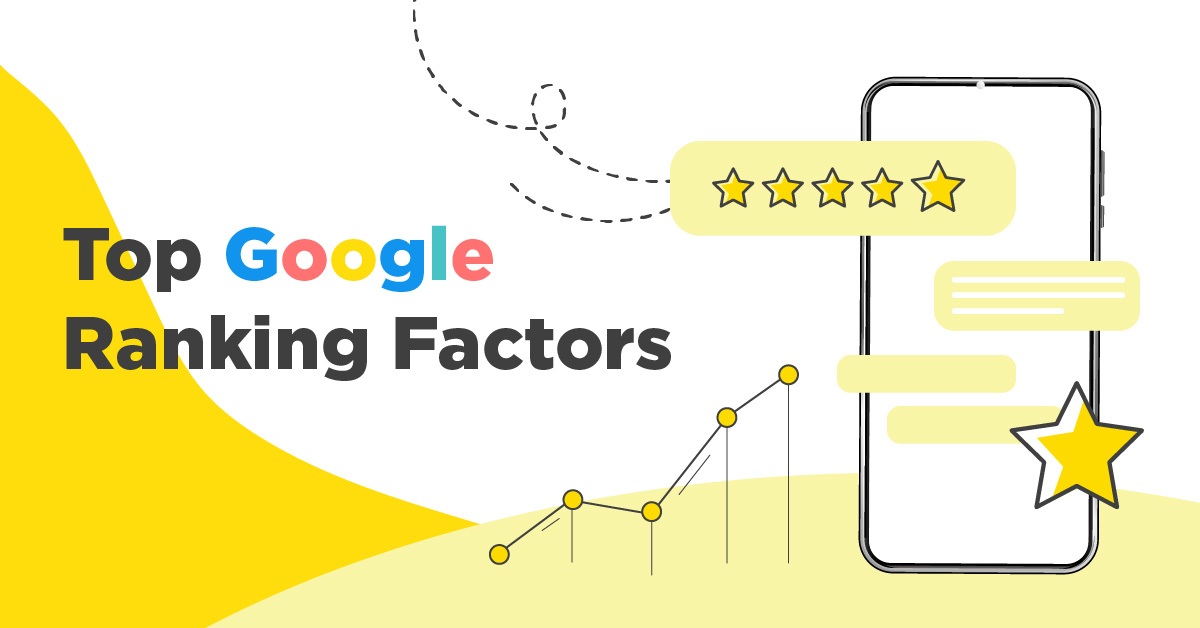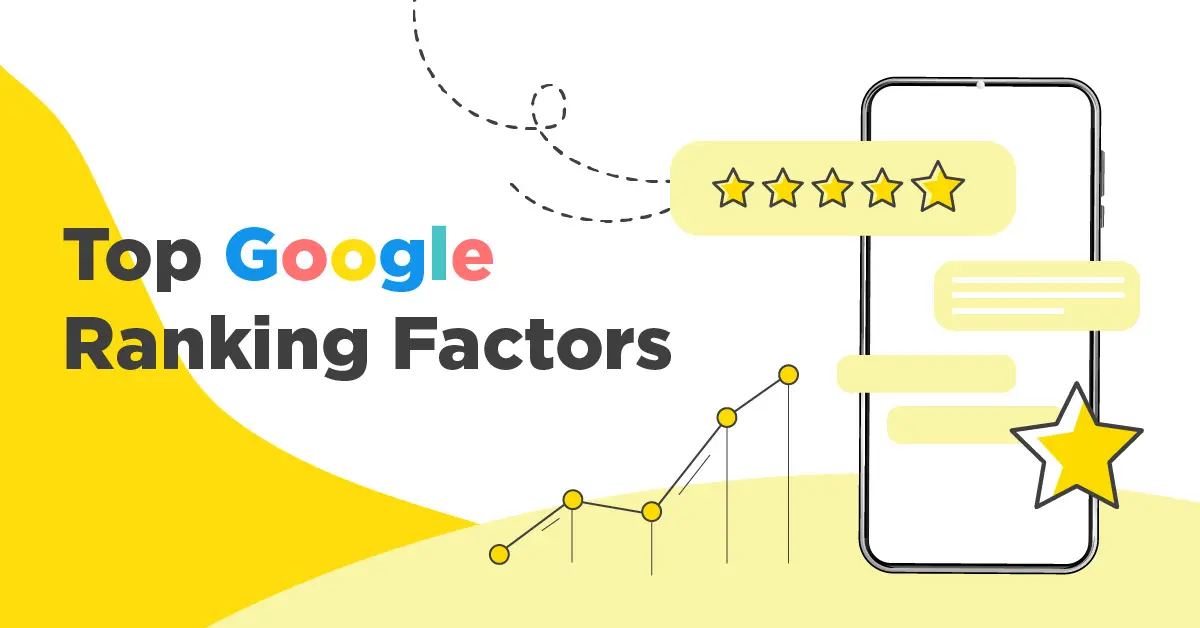 Search Engine Optimization is a field that is constantly evolving. Google, for example, regularly makes adjustments to the algorithm that decides when, where, and how to show a specific link, with the overall mission of providing the most relevant and reliable information.
How many ranking factors does google have? There are about 200 known ranking factors. Here are the major Google Search ranking factors to take into consideration if you want to rank at the top of the SERPs.
Table of Contents
Content SEO Ranking Factors
1. Content Quality
Content that ranks well is in-depth and covers a broad spectrum of its respective subject. Content must provide real value to the user and should incorporate engaging visual content to complement the written content. Remember, quality beats quantity every time. Focus on value, not word count.
2. Content Length
There is no clear rule of thumb regarding the optimal word count for an article since it varies per subject; however, we do notice that longer, more comprehensive content typically achieves higher rankings. A study by Neil Patel reveals a correlation between content length and top Google search positions.
Pro Tip: Use Google's semantic search to optimize keyword targeting in your articles. Semantic queries can be found by browsing the "related search" results at the bottom of the Google search results page.
For example, a search for "content marketing" reveals the following related searches. If you are writing an informational article on content marketing, you can use these semantic queries to get a better understanding of related keywords.
3. E-E-A-T (Experience, Expertise, Authoritativeness, Trustworthiness) and Information Accuracy
On December 15, 2022, Google updated the quality rater E-A-T to E-E-A-T. The extra "E" refers to Experience which is another factor Google uses in order to evaluate search rankings.
The additional Experience requirement means that the content was produced with a specific proficiency, degree, or even a real use of the product or service. Or in Google's words – "a first-hand, life experience" of any topic that a site presents.
While not a direct ranking factor, E-E-A-T signals are still very important for sites that have beneficial purposes, especially for those that cover topics that can potentially impact a person's health or finances (YMYL, "Your Money or Your Life").
Make sure your content has factually-accurate information or aligned with scientific consensus and cites other trustworthy sources. It should be easy to find the person responsible for the content, as well as the website's contact information. For more details, check out the latest Google Quality Raters Guidelines.
Author Expertise
Google's algorithm seems to give preference to content written by subject matter experts, such as people with formal training in the subject and those with a reputation in their field that is recognized by others. Still Google Webmaster Trends Analyst John Mueller has refused to confirm nor deny that this has an impact on rank.
4. Rankbrain
Another important Google ranking signal is RankBrain, which aims to provide the most relevant and useful results by better understanding user intent behind a search query. RankBrain uses machine learning to understand complex searches and their relatedness to particular topics, while taking into account how the user behaves towards the exact set of search results. So, search results that have more success with users get rewarded with higher rankings. Read more about RankBrain in our dedicated article Understanding Google Rankbrain.
A Note About MUM: Google's Multitask Unified Model
The Multitask Unified Model update (also known as MUM) is an improved, more powerful version of the Google algorithm BERT, and aims to make search results more relevant and intuitive to users' queries using AI. It launched in June 2021, though isn't used for ranking, according to Danny Sullivan, Google's Public Liaison for Search. Vice President of Google Search and Google Fellow Pandu Nayak has said it won't be used for ranking content. It's important to note that Vice President of Google Search and Google Fellow Pandu Nayak, has said that MUM "is currently only used for COVID vaccine naming, and powers the related topics in videos [sic.] results." In addition, MUM is now used to detect personal crisis searches such as suicide, sexual assault, substance abuse, and domestic violence.
5. Freshness
The Google Freshness Algorithm is a real game changer. The algorithm was originally rolled out in June 2010 and has had a powerful impact over the years. If you're a big publisher with a lot of old content that does not rank, updating old articles could be huge. Google seems to be somewhat biased to new content. It prioritizes new materials and makes sure that at least some of the SERP features are up to date. Take, for example, a search for "Best Android TV Box";
The first result is the most up-to-date one. Meanwhile, 3 out of the top 6 results include the date the article was listed by Google. The freshness algorithm seems to update much faster than other core algorithms that Google updates. We've seen that it only takes a few days to see an impact in the SERP when we've updated our clients' old articles.
6. Backlinks
Backlinks remain one of the strongest ranking signals in Google's search algorithm. The more links you have from multiple high-authority domains, the better your chances are to rank well for top keywords. Online marketers should pay close attention to their backlink profiles, especially given the Penguin 4.0 update, which cleans and filters sites with low-quality backlink profiles.
The Link Spam Update
On December 15, 2022, Google rolled out a new release of the link spam update. The main aim of this update is that spammy/unnatural links will be neutralized, and all credits that they pass will be lost.
Google is fighting spam links by an AI-based effective solution – "SpamBrain". This machine learning system can detect both sites buying links and sites with a purpose of passing outgoing links.
If links between sites are of a commercial nature, it's very important to mark them by using the "rel="sponsored", "rel="nofollow" tags, or other rel values according to Google's specifications. This will help prevent external links from being labeled as spam and thus negatively impacting your rankings.
7. Brand and Domain Power
Branded Searches and Social Signals
Branded searches provide a strong signal to Google's search algorithm. The more traffic a website gets from branded searches, the more it will be recognized by the algorithm. Additionally, we have noticed that social signals from Facebook, Reddit, Quora, Pinterest and other social media platforms also correlate with search rankings. This is not to say that a strong online social presence alone can drive organic traffic, but sites that combine brand power and social signals with efforts across all other SEO channels can achieve greater search visibility.
Domain Power
In the past, exact-match domains were a sure-fire way to boost organic search visibility. While not as foolproof as before, domains still have influence. With Google's smarter algorithm, we do still see two major verticals of domain power:
Exact Match Domains
Exact-match domains still carry a lot of weight. Take a search for "cars". We would expect to find popular car-related brands at the top of the search results (Ford, BMW, etc.). Instead, we get an exact match, "cars.com".

Domain Seniority
Domain age is another major ranking factor. New domains have a harder time ranking for top keywords, while domains with an extended track record seem to hold top positions for longer.
8. Local SEO and Local Search Results
In November 2021, Google updated how local search results are formulated by rebalancing the different factors that determine rank. Local search results are ranked by relevance, prominence, and distance, though Google hasn't provided any details on how heavily each of them play a role after this new update.
Product Review Update
When it comes to local SEO, having high-quality product reviews is the most prominent ranking factor. Throughout 2021-2022, Google made a few important updates to how product reviews rank in search results, and some of the product review best practices include:
Giving readers the option to purchase from the seller of their choice by providing links to a variety of sellers.
Providing audio, visual, or any other links that share a personal experience with the product to show that the review is authentic and reflects real expertise.
Showing quantitatively how the product compares to others in terms of different performance measurements.
Use purchasing advice in front of users and reward creators who provide helpful, in-depth, and authentic content.
Technical SEO Ranking Factors
In this article, we mentioned certain top-ranking factors that were recently updated by Google in terms of their definition. Google has redefined these factors as signals rather than ranking factor systems, indicating that they are no longer used as such. However, they are still considered relevant and noteworthy as signals that may impact other ranking systems. Therefore, we believe they are still worth paying attention to.
Ranking systems that were removed from the list by Google:
9. User Experience
It's hard to say exactly how to measure the effect of UX, as it varies per industry and demographic. Part of this is covered by Core Web Vitals metrics that we will talk about later in this article. We do see a strong correlation between an accurate UI/UX and good placements on the SERP. Remember: your site has to be functional first. It's highly recommended to read Joe Natoli's article on Signal vs. Noise: Removing Visual Clutter in the UI.
10. Google Page Experience Signals
Core Web Vitals
Adding core web vitals as a ranking factor aims to reward sites with fast page speeds, good loading, interactivity, and visual stability. It's measured by Largest Contentful Paint, First Input Delay, and Cumulative Layout Shift accordingly. Google's goal is to provide users with search results comprised of sites that provide the best user experience.
CWV first became a mobile ranking factor in August 2021 and a desktop ranking factor in February 2022, rolling out over the course of two months.
As previously noted, while CWV is not regarded as a direct or systematic ranking factor, it still holds considerable importance. Therefore, we advise continuing to investigate and enhance technical aspects to the greatest extent possible.
According to Google, page experience is a ranking signal, not a ranking system." However, there is no assurance that it will have a direct impact on rankings since Google has not provided a clear answer. As is customary with Google's continuous redefinition, it is advisable to err on the side of caution.
Below is additional information regarding the specific meaning of these signals:
Largest Contentful Paint: measures the time it takes to display the largest element that appears on the screen. This element can be a text, image, video, or anything else dependent on the page layout. To improve LCP, you should look for ways to minimize or remove render-blocking resources, improve server response time and resources load time.
First Input Delay: aims to measure responsiveness aka. the time it takes for a page to respond to the user's first interaction. Breaking up long tasks, optimizing the page for interaction readiness, and reducing JavaScript execution time can help you get a good FID score.
Cumulative Layout Shift: measures visual instability of the content and sums up all layout shifts that occur on the page. In order to get a green CLS score, you should:

Avoid dynamically injected content
Dedicate defined space for ads
Make sure all images have defined dimensions and fonts are rendered without significant visual instability.
Page Speed
With a general mobile-first indexing approach from Google, page speed has become more crucial than ever. Websites with slow page speeds have a harder time ranking at the top of the SERPs. As previously stated, page speed is considered a ranking signal that may not have a direct impact on rankings.
Fortunately, in November 2021, Google released a revamped version of the Pagespeed Insights Tool, which makes page speed optimization more straightforward than ever.
Mobile Friendliness
Google announced mobile-first indexing in 2016 and this meant that a website's compatibility with mobile started to directly affect its search rankings. In the past, web designers built desktop versions first, then mobile; today, with mobile usage surpassing desktop, websites need to prioritize mobile versions to provide a better user experience. At the beginning of its release, Google's mobile-first approach changed up search results, especially when it came to local results. After the update, users began receiving results that better targeted their current location and increasingly indicated that geolocation actively affected local search results on desktop as well. As much as mobile-first indexing plays a role, Google says it's not fully there yet.
No Intrusive Interstitials
The last Core Web Vitals factor depends on the use of interstitials that are intrusive, such as ones that cover the entire page. Google has warned sites against using intrusive interstitials as well. To avoid this from being an issue, Google recommends using banners that don't take up the entire page space. It will also make it easier for both search engines and users alike to reach the page content.
Secure sites (HTTPS / SSL)
This was first announced in August 2014 on the Official Google Webmaster Central Blog, saying that:
"Security is a top priority for Google. We invest a lot in making sure that our services use industry-leading security, like strong HTTPS encryption by default. That means that people using Search, Gmail and Google Drive, for example, automatically have a secure connection to Google."
Ever since October 17, 2017, Google has warned webmasters about using the HTTP protocol with sites where users are required to enter data. Although this factor has been removed from Google's ranking systems list, it still deserves attention, especially if a site has not yet made the necessary changes for some reason.
11. Schema Markup
Although it's not an unequivocal ranking factor, if you're wondering how to rank higher on Google, this is an important point to take into consideration. Schema markup code helps search engines get a better understanding of specific texts such as recipes, reviews, FAQs, events, job posts, local businesses, and more.
Implementing a site-wide schema code can be highly beneficial in terms of search appearance, which may increase page visitors. For example, this can be done by implementing a schema code to tell Google where your business is located, suggesting Q&A for the user search queries, marking up your how-to pages with structured data, and more.
Example of a business address schema code:
Final Thoughts
SEO has a big impact on business. Google's search algorithm is based on ranking factors that encourage high-value content and a great user experience. Google is also getting much better at measuring how users interact with content. Understanding the core Google ranking factors can make or break your online marketing strategy; get well versed in the basics, keep your eye out for updates, and you'll have a good chance of succeeding.
To learn more on how to proactively prepare websites for the next Google Core Updates, take a look at our article, How to Prepare for the Next Google Algorithm Update.
*Originally written by Doron Wolffberg
Get an SEO pro on your side! Contact yellowHEAD for details.
BACK TO BLOG
NEXT ARTICLE