May 13, 2019
Instagram Story Ads: The modern-day elevator pitch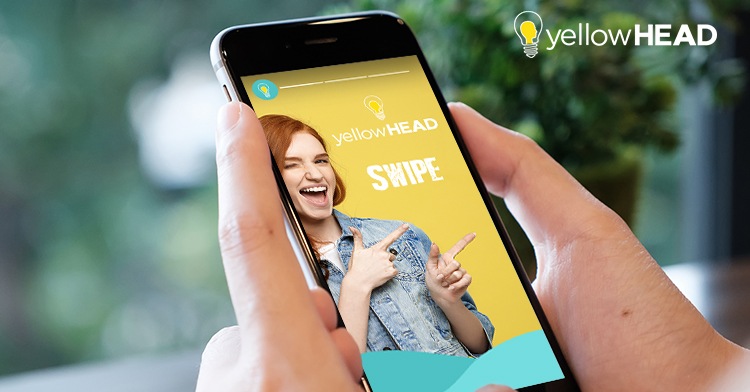 Instagram isn't just a feed of endless pictures of food, filtered selfies, and memes anymore. It has become one stop shop for pretty much everything you could ever imagine! Want a new pair of shoes? Want to find your next vacation spot? How about at tidal wave of endless cat videos? You can find all of that right in the palm of your hands!
Instagram Story Ads Introduced
With the growth of social networks over the past few years, it was only a matter of time until business learnt how to use them to their advantage. Seeing Instagram sponsored ads isn't anything new, but Instagram Story ads? Well that's a whole new ball game.
With a whopping user base of 500 million, Instagram has become a social network titan. They have taken over and are showing no signs of slowing down. It was only a matter of time until companies joined in on the fun with Instagram Stories, and Story Ads became available to businesses worldwide.
This allowed companies to tap into a user's passion for fashion, obsession for travel, love for food, etc. and inspire them to take action. Nowadays, one in three of the most viewed Stories come from businesses, and one in five of these Stories gets a direct message from its viewers.
When trying to think of how to create Instagram Story ads, there are several things you'll want to keep in mind. Luckily, yellowHEAD's got you covered.
Instagram Stories' Objectives
A vertical, full screen experience immerses Instagrammers into Stories. Whether they're photos or videos, businesses can target audiences more thoroughly and entice them to engage with their ads – ultimately driving results.
And if we're going to be honest here, we're pretty big fans of results!
Instagram's unique creative tools help your business tell a story. You'll want to make sure that you have your business objective in mind; Stories can run for as long as you'd like with the ability to be optimized to match the objective that matters to you most.
You can choose from seven objectives for your Instagram Story, and then add an appropriately linked CTA, that will help you achieve your business goals:
Brand Awareness: Grow your audience by finding more people that are likely to be interested in your business
Reach: Maximize the number of people who are shown your ad
Video Views: Get more views on your video content
Conversions: Create valuable actions on your app or site
App Installs: Boost your app's installs
Lead Generation: Build a database of quality sales leads via lead gen forms
Traffic: Drive more users to your website
After you've run your Instagram Story ad, you'll want to analyze your performance. Head on over to the insights section of your business profile and check out some metrics within Facebook Ad Manager.
Instagram Story Ads – Size Formats & Specs
You'll want to make sure you're making the most out of your ad space. There are three size formats to display your Story ads: Square (1:1), Landscape (1.91:1), and Vertical (4:5). Until smartphones can display 4K, we recommend choosing a 1080×1920 resolution. You can check out some more Instagram Story ad specs below:
Images
File type: .jpg or .png
File size: 30MB max
Length: Images show for 5 seconds by default
Videos
File type: .mp4 or .mov
File size: 4GB max
Length: Up to 15 seconds
Supported codecs: H.264, VP8
Get Instagram ad specs and the full ad specs & sizes guide.
We also recommend a Story with sound, as 60% of Stories are viewed with the sound on. Looks aren't everything. ? Except for these wafers. Just look at them!
[Credit: Instagram]
Nilla's bright background and dancing box captures the audiences' attention right away. They let the viewer know that it's their 50th anniversary and are celebrating with a new wafer flavor: lemon!
Keeping the objectives in mind, they encourage users to "Shop Now" at the bottom of the story. Using this CTA can be geared towards different objectives depending on what Nilla's ultimate goal is with their ad.
Instagram Carousel Ads
You can now show more than one ad in your company's Instagram Stories, allowing you to be more creative when reaching your target audience. You can show multiple products, have an integrated story, or tell a narrative – enticing users to keep watching your story!
Choose between different styles in which you would like to display your carousel ads: Unprompted & Prompted. You can see Instagram Stories ad examples for these different styles below.
Unprompted
Upload up to 3 cards. These ads will be automatically displayed and are only available for full-screen creatives.
Gap offers up an engaging ad that starts (literally) speaking to the user right off the bat. SZA says "the remix," and then the party begins. The second card has her and her dancers showing off Gap clothing while dancing. Finally, the third card is the Gap logo, and a "swipe up to shop the collection" CTA.
[Credit: Instagram]
Prompted
Upload up to 10 cards! Users can tap to "Keep Watching" after the first card is shown. These ads will only be available in non-vertical Feed creatives and for full-screen.
Jasper's Market app makes use of the Prompted stories by displaying an intriguing image paired with brief text about the app. Users can press "Keep watching" to see more images, which they can move through back and forth depending on which side of the screen they tap on. They can also tap the bottom to "Install Now" at any point during the story.
[Credit: Instagram]
Get Your Message Across Your Story Ads
Keep in mind, the best Instagram Story Ads are engaging and capture the audience's attention within the first few seconds. Users swipe through Stories almost at lightning speed (I say 'almost' because, let's be real, it's impossible to actually move that fast), so it's absolutely detrimental that you capture their attention in those first few seconds.
Your brand name and logo should be prominent in your creatives from the get-go. Get your message across and let your audience know what you're selling.
Instagram story ads are a great way to engage with your audience and build a whole new one. Make sure you have your objectives, and that you link your CTA correctly (we would hate for you to miss your opportunities!). Follow the aspect guidelines and keep your ads engaging; grabbing a user's attention is vital right from the start!
BACK TO BLOG
NEXT ARTICLE