October 26, 2020
The 5 Best Snapchat Ad Examples Ever (With Tips for Marketers)
Augmented reality, filters, scannable codes, and more make these Snapchat ad examples shareable and memorable.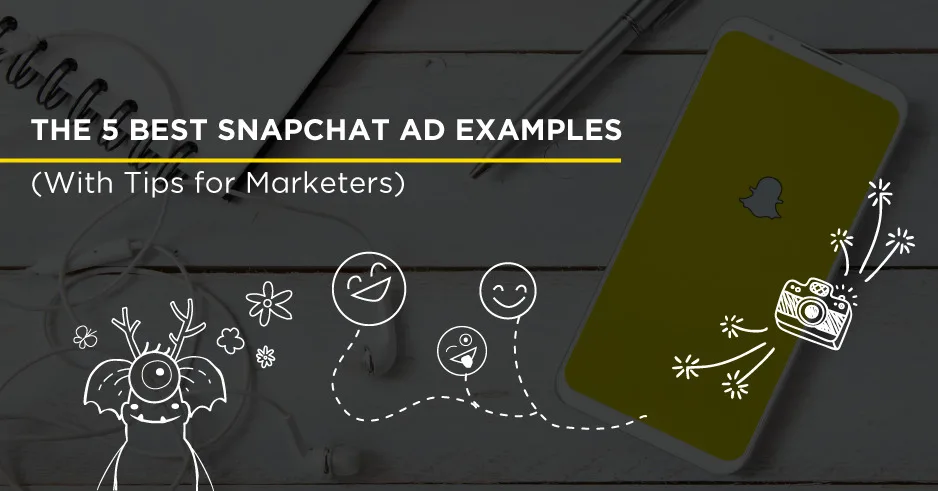 Snapchat Ad Examples
With 249 million daily active users, Snapchat is one of the most popular social networks on the planet, particularly among millennials and Gen Z. Naturally, this makes the image-focused channel a great destination for marketers trying to reach those in-demand demographics. In fact, Snapchat users are 20% more likely to make mobile purchases. It may not be as familiar as Facebook and Twitter, but this unique social network presents a great opportunity for marketers creating shareable content aimed at younger generations.
At yellowHEAD, we're no strangers to Snapchat. Using a combination of machine learning and marketing expertise, our strategists have built a number of successful Snapchat campaigns with strong creative assets. Want to know more? Get in touch!
We've rounded up some of the best Snapchat ad examples we've ever seen to show you just how wildly creative — and different — these campaigns can be. With Snapchat, you're only limited by your budget and your imagination. Ready to be inspired? Let's get into it.
Jump to a section…
What Are Snapchat Ads?
Snapchat Ad Formats
Best Snapchat Ads Example 1: Game of Thrones
Best Snapchat Ads Example 2: Adidas
Best Snapchat Ads Example 3: Netflix
Best Snapchat Ads Example 4: e.l.f. Cosmetics
Best Snapchat Ads Example 5: Jackpot Party
Oh, Snap
What Are Snapchat Ads?
Snapchat ads come in all forms: images, videos, playables, and more. Companies that advertise on Snapchat are able to take advantage of robust targeting options, connecting with audiences based on their interests, behaviors, locations, and other factors. The social media platform offers a host of self-publishing options for advertisers, but the right mobile partner can help figure out what type of ad formats work best for your campaign objectives.
Snapchat Ad Formats
Like Instagram, Snapchat's ads are very visual. However, Snapchat adds to the standard photo or video experience with creative filters and other special tools.
Single Image or Video: Snapchat lumps basic images and video together in one category. These are full-screen ads that allow Snapchatters to swipe up to take action.
Collection: With four tappable tiles, Collection ads showcase a series of products and make it easy to browse or buy.
Story: These branded tiles appear in Snapchat's Discover section and drive brand awareness. Story ads can have between three and 20 images or videos.
Lenses AR Experience: This is where Snapchat advertising starts getting really different. With Lenses, advertisers can create interactive AR experiences that encourage viewers to play and share.
Commercials: Those of us who remember a time before Netflix and Hulu are familiar with the concept of commercials, and Snapchat's Commercials are no different. Appearing in curated content, Snapchat Commercials are non-skippable videos between six seconds and three minutes in length.
Filters: One of the most appealing things about Snapchat is its fun filters that users can easily apply to photos and videos. With Filters, brands can create their own filters for users to apply and be part of the conversation.
Best Snapchat Ads Example 1: Game of Thrones
What Game of Thrones does well:
Great use of AR
Extremely shareable
A long, long time ago (read: 2019), the HBO series Game of Thrones dominated the pop culture conversation. As the award-winning show geared up for its grand finale, HBO teamed up with Snapchat to create a series of location-based augmented reality filters that would place elements from the show in the real world. The pièce de résistance, shown above, was the massive undead dragon landing on top of NYC's Flatiron building and coating it with ice. It's a smart use of Snapchat's unique advertising features, and fans were happy to share their AR experiences.
Best Snapchat Ads Example 2: Adidas
What Adidas Does Well:
Invokes nostalgia
Brand-right visuals
There are many ways to make a playable ad, but this campaign from Adidas is one of the best we've seen. To promote its new 8-bit-themed cleats, the athleticwear company created an interactive Snapchat ad that threw it back to the days of old-school sports video games. The result is a fun experience that's reminiscent of 1980s Nintendo and Sega baseball games while remaining fully on brand.
Best Snapchat Ads Example 3: Netflix
What Netflix Does Well:
Uses built-in fandom to create hype
Clever multi-part execution
Where the Gilmore Girls lead, fans will follow. So to celebrate the four-part revival of the beloved series that launched on Netflix in 2016, the streaming service used filter ads to get the word out. However, the campaign went deeper than simply using a sponsored filter. First, Netflix distributed a limited number of themed coffee cups with a scannable Snapchat code, making them sought-after items among fans. Those fans then shared pictures of their Gilmore cups with the branded filter, creating a viral sensation. The campaign was also extremely on brand; what better to represent those Gilmore Girls than a strong cup of coffee from Luke's?
Best Snapchat Ads Example 4: e.l.f. Cosmetics
What e.l.f. Cosmetics Does Well:
Expertly targets millennials and Gen Z
Smart, memorable tagline
This e.l.f. Cosmetics video spot is unapologetically loud. It grabs attention with music and compelling visuals, showing off its makeup before wrapping it up with a killer tagline: "Be extra without spending extra." In just six seconds, the cosmetics brand has made its value proposition: bold, high-quality makeup at affordable prices. The message especially appealed to shoppers in the coveted millennial and Gen Z demographics, gaining market share and increasing site visits by 20% in the first quarter of 2020.
Best Snapchat Ads Example 5: Jackpot Party
What Jackpot Party Does Well:
Creates excitement with big wins
Uses spinning slots and coins
Shows off distinctive jungle theme
Ka-ching! When you're advertising a social casino app, you need to show off those wins. The rolling slots and explosions of coins are a popular and effective creative combo for the genre. To top it off, the text and voiceover celebrating the "HUGE WIN!" generate excitement and draw players in. This 3-part Snapchat story ad by yellowSTUDIO also sticks to the jungle theme throughout, helping it stand out in a crowded app market.
Oh, Snap
Whether you're hoping to increase sales or raise brand awareness, Snapchat is the perfect channel for wildly creative ad campaigns. Good Snapchat ad design should incorporate attention-grabbing visual elements with a strong message guiding viewers to the next step, whether that means sharing or buying. Marketers should take advantage of its unique features to create memorable, shareable, and even interactive experiences that resonate with modern audiences. Stay on brand, but have fun with it!
Not sure how to find the best combination of creative assets and brand messaging for your Snapchat ads? At yellowHEAD, that's what we're here for. Using our proprietary creative analysis platform, Alison, we use machine learning technology and marketing expertise to help marketing pros reach their campaign goals. Ready to get started? Contact us!
Want to learn more about other online ad formats? Check out our guide Online Ad Formats: The Ultimate Guide to Creative Optimization
BACK TO BLOG
NEXT ARTICLE