November 20, 2019
Andy Andersen Keeps Tinder Local, Wherever You Are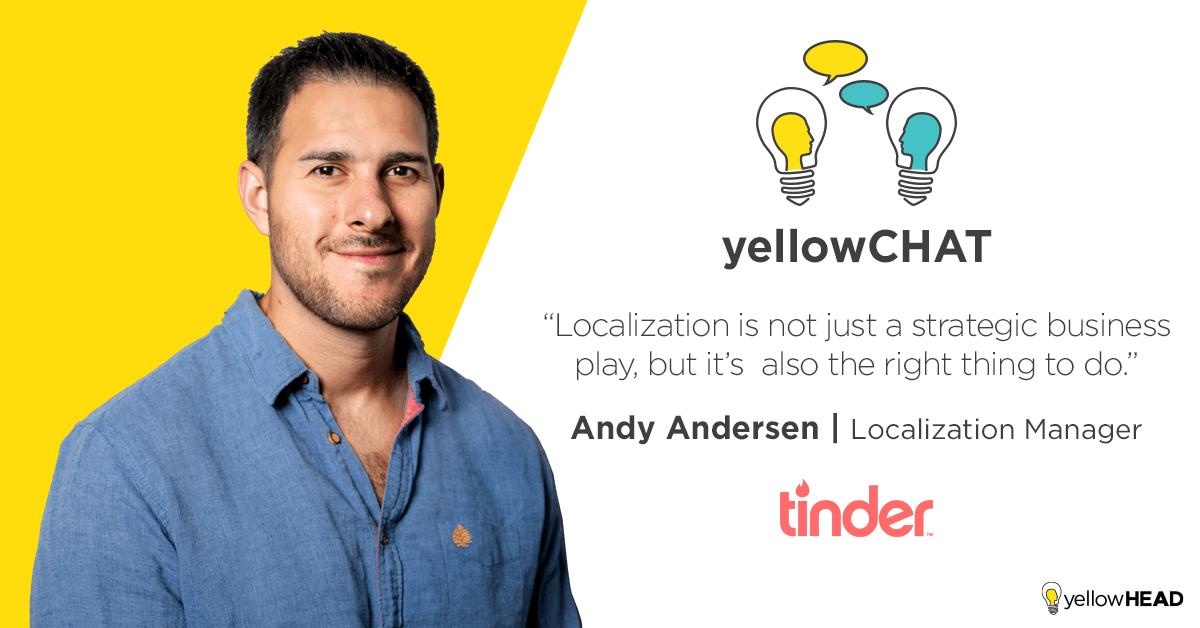 Who knew a kid from Louisiana would end up leading localization efforts at Tinder? Andy Andersen definitely didn't.
Andy moved to Baton Rouge from Lafayette and attended Louisiana State University, where he met a lot of international students. The diversity in backgrounds and languages piqued his interest but he was unaware of the localization industry just yet.
After university, Andy lived in Puerto Rico for a while before finally moving to New York City. He began his job hunt there and, after going through several job postings, Andy came across a listing that stood out to him. The role consisted of working cross-cultural communications, working with translators, working with international clients, etc. These were all keywords for him. He quickly applied and got the job!
From there, Andy was opened up to seeing all the opportunities in the localization digital marketing field. He took online certification courses to enhance his skills in certain areas, specifically in the digital marketing space and localization. He remained at the company for a couple of years until the opportunity at Tinder presented itself.
Now, Andy is responsible for the end-to-end localization process of the Tinder app into the 47 different languages that they support. Additionally, he has worked extensively with the app stores over the past few years to further drive their international ASO strategy. During his 3 years at the company, Andy has worn many hats, but at the core of everything since day one has been international growth.
How did you get into the online dating industry? What made you decide to go the route of mobile marketing?
I didn't plan to arrive in the online dating space, but it happens to be a space that I am passionate about. The impact that technology has had on all of us during the last 15-20 years is profound. It has transformed nearly every aspect of our lives from banking to travel to even the personal space of dating.
Tinder really broke open the mobile-first dating space when it launched and ever since, dating apps have played an interesting role in the social lives of so many people around the world and it's really exciting to be a part of that. I've experienced these effects firsthand with many close friends and even family members finding significant others through these platforms. They offer a way to meet people, which might have never been possible before, which makes the industry unique.
With respect to mobile marketing, it's an ever-growing and important industry. More and more people are gaining access to the digital world each day, most of the new adopters are mobile. Desktops and laptops served and continue to serve a purpose, but we're seeing the first generation come to adulthood that is digital-native. Whether we like it or not, phones are only going to get smarter and more important – no matter where you are.
With a specialty in localization, what sort of impact have you seen by localizing for different markets?
One of the aspects of the localization industry that I love is that you have a chance to make products accessible to more people. In an English-heavy world, it's easy to forget how diverse the world actually is. There are millions, if not billions, of people in the world who do not speak English. Even for the ones who do, many would still prefer to access products in their native languages.
I'm biased, of course, but I believe that too many companies overlook the importance of localization in their process. They think about localization as an afterthought rather than a strategic advantage. If you look at many of the most successful tech companies, they've not only spent significant investment in localization but have also helped to pave the way for new languages to get what I like to call 'technical representation.' Microsoft is a great example of this.
Localization is not just a strategic business play, but it's  also the right thing to do. Assuming that all of the potential users around the world speak a small handful of languages is erroneous and will likely contribute to a detrimental loss to the diversity of languages over time.
Imagine enabling an entirely new population of people to access the internet? Technology and localization have the power to affect that.
How do users' behaviors and interests play a role in that?
Research has shown that localizing your product not only opens up your product to new users, but also helps to build trust. After all, that most people prefer their native language to do things.
Sure, many people around the world are multilingual but it's just easier to do things in a language you have a high proficiency in. We live in a global-from-day-one world. As soon as you press publish, expect everyone to have the same access.
With a localized product, your users are more likely to understand, engage, and share your content. People also appreciate having options.
Creatives play a huge role in converting page views into installs. Typically, what kind of approach do you take to building and testing your store listings' creatives in different geos?
There are so many options here, I'm not sure where to begin. Depending on the industry, you'll often find that there are some common themes and standards for creative assets. Colors, wording, or even the presentation of the product itself can all be important factors.
For us, a common theme has just to test often and try different things to see what works. The goal for me has always been to align with market expectations, but also ensure that our presentation really feels local.
If you were to review our app store listings from Japan to India to Brazil, you'd find both common themes but an entirely different look at the same time. This is a healthy balance between uniting a product while also feeling localized.
In your opinion, what do you feel are key ingredients to take into consideration when entering a new market?
I'm not sure if there is one set recipe, but I think it is important to focus on your value proposition and ensure that it aligns with market expectations. No two markets are identical and understanding that is important as you roll out to new markets around the world.
What are some things that surprised you along the way in your marketing techniques?
One thing that is really interesting is how small changes can affect conversions. You might think that something as insignificant, but it changes a lot once you see things through the eyes of your user.
If you're not at the office, we can usually find you ________.
Walking through a market in a brand new place.
I think one of the things that I love so much about the world is all the little interesting areas that there are, and how different market cultures can be. I think market cultures are some of the best ways to experience a place and see the way that people go about their daily lives. Those are the places where you'll find all kinds of people getting their coffee, getting their morning bread, going through their daily routine.
I love markets. I love getting that energy from a place when I travel there. It's new, it's different, it's challenging, and it's exciting. That's what makes it so unique!
Where do you see the mobile dating industry headed over the next 5 years? Do you have any predictions?
If I had a magic crystal ball… The prospect of predicting the future in any industry is quite daunting. If we would have said in the not-so-distant past that you'd be doing your shopping, work, travel plans, and dating all on a computer that fits in the palm of your hand, it would have sounded ludicrous.
Now we are talking about self-driving cars, phones that talk to you and are essentially capable of running nearly all aspects of your life.
I really don't have a clue where we'll be in 5 years' time at the rate technology is improving. If I had to guess, it would probably involve some form of AI. It'll really depend on how culture evolves and adapts to new technology. The integration of social life with technology is one area that I think will always be balanced between real life and the digital world.
What is your golden tip?
Don't be afraid to try something new. Be bold and creative.
BACK TO BLOG
NEXT ARTICLE