September 25, 2016
App in Focus: Live.me™
Welcome to yellowHEAD's App in Focus, where we'll take a look at an interesting app climbing the Apple App Store and Google Play rankings from an App Store Optimization perspective. We'll give a quick analysis to determine if the app utilizes ASO best practices to help it reach the top of the charts. This week, it's the live streaming app Live.me that caught our eye.
Live streaming first hit the online community with the popular app Meerkat in 2015. Since then, social media giants like Facebook and Twitter took the market by storm with their own live streaming services, Facebook Live and Periscope. Now there are a whole bunch of apps trying to break into the live streaming craze. Today, Live.me is ranked highest of them all (excluding Facebook, which offers Facebook Live in-app). It currently ranks #20 overall in the Apple App Store and #57 overall on Google Play in the US. So how does Live.me find its way to the top of such a competitive market?
Breaking Down Live.me's ASO Components
The Title:
Live.me's title for iOS is "Live.me™ – Social Live Video Streaming". The title is quite keyword oriented, incorporating phrases like video (1.2 million avg. monthly web search volume according to Google AdWords), social (60,500 monthly web search volume), and video streaming (27,100 monthly web search volume).  Apart from its keyword orientation, it very clearly describes the service that the app offers. Users don't have to spend time reading the description to figure this out and can simply click "GET" in the App Store, making for a quick conversion.
Live.me uses a slightly different title in Google Play, "Live.me™ –Live Video Streaming", most likely due to the lower character limit (30 characters vs. Apple's 50). Even without this word, the title still maintains its keyword integrity and makes the app's service clear to users.
The title is the strongest place to target keywords. This is clear from Live.me's keyword rankings, as it currently ranks #1 for the keyword "live video streaming" and #2 for "social live video streaming". When users search these phrases in their app stores, Live.me will be the first or second app to appear in the results. Live.me also ranks #2 for "live video" and "video streaming", each very relevant and high traffic keywords in the category. However, the app is not ranked for the single word "video". This keyword has very high traffic, but is much more generic and is dominated by video player apps rather than social media apps.
The Icon: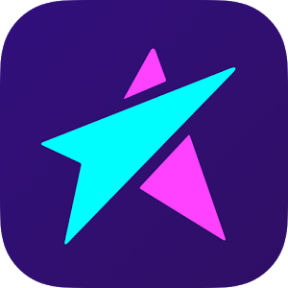 Social media apps typically adopt bold colors and simple, yet unique logos to integrate into their icons. Live.me is no different, with triangles (maybe a unique twist on the classic
play button?) whose bright colors pop over a dark purple background.
Taking a look at icons of similar apps below, they all keep it fairly simple and colorful. Most icon colors are on the lighter side (i.e. Snapchat's yellow, Persicope and Streamago's light blue), so Live.me's darker purple background may catch more eyes. Some apps also use characters that draw attention; Bigo Live's dinosaur, TwitCasting's bird, and of course, the Snapchat ghost.
The Screenshots:
If you have been following our ASO blog, you know that an effective screenshot should clearly present the app's main features, be easy to understand, and catch the eye by telling a visually pleasing story of the app. While Live.me's screenshots lay out the main features of the app, they show in-screen text that may be too difficult for many users to read. The individual graphics also do not flow into one another in a continuous fashion, which is typically good practice that creates a story-like screenshot progression. What Live.me's screenshots do have is star power. YouTube celebrity Roman Atwood, NBA star Dwayne Wade, and a few models definitely attract users' eyes.
The App Store Description:
From an ASO perspective, a good description should clearly outline the app and its features, while being high in keyword destiny without sounding spammy. Live.me's description does exactly this. 6 key features are clearly explained and the text contains many relevant keywords such as:
Live streaming
Earn rewards
Favorite stars
Meet new people
Broadcast live
Social media platforms: Facebook, Twitter, Instagram, Snapchat, YouTube
Live feed
Add followers
Trends
One of the metrics we analyze as a top ASO agency is keyword density, or the frequency of a keyword within an app's description. In Live.me's case, keyword density for "live", "stream", and "broadcast" is fairly high. However, some relevant and high traffic keywords like "video", "social", and "free" are not mentioned very often.
Takeaways:
To maintain and strengthen its position in the top charts, Live.me can continue to improve its ASO implementation. One area of opportunity is the screenshots. While they are eye-catching due to their star power, they are not very unique from one another. Most screenshots feature faces in chat rooms, over the same solid purple background. Differentiating the screenshots and introducing more creative backgrounds will make the graphics even more eye-catching. Proper A/B testing of new graphics will reveal what works and what doesn't. Live.me can also benefit from increasing the keyword density of some relevant keywords that users looking for a free social live streaming app may input in searches.
Overall, we believe Live.me capitalized on some ASO best practices which contribute to its success in the app stores. The app looks and sounds interesting while incorporating relevant, high traffic keywords. However, there are also opportunities for improvement in graphics and further keyword optimization. There is no doubt that Live.me's growth is also driven by star power and the brand's social buzz, but a quality App Store Marketing strategy that utilizes ASO is always a strong complement to any app's position in the ever-competitive market.
BACK TO BLOG
NEXT ARTICLE