July 11, 2023
The Best Examples of TikTok Ads (2023)
Need some inspiration for your TikTok ads? We've selected some of the best TikTok ads from around the world that are sure to get those creative juices flowing.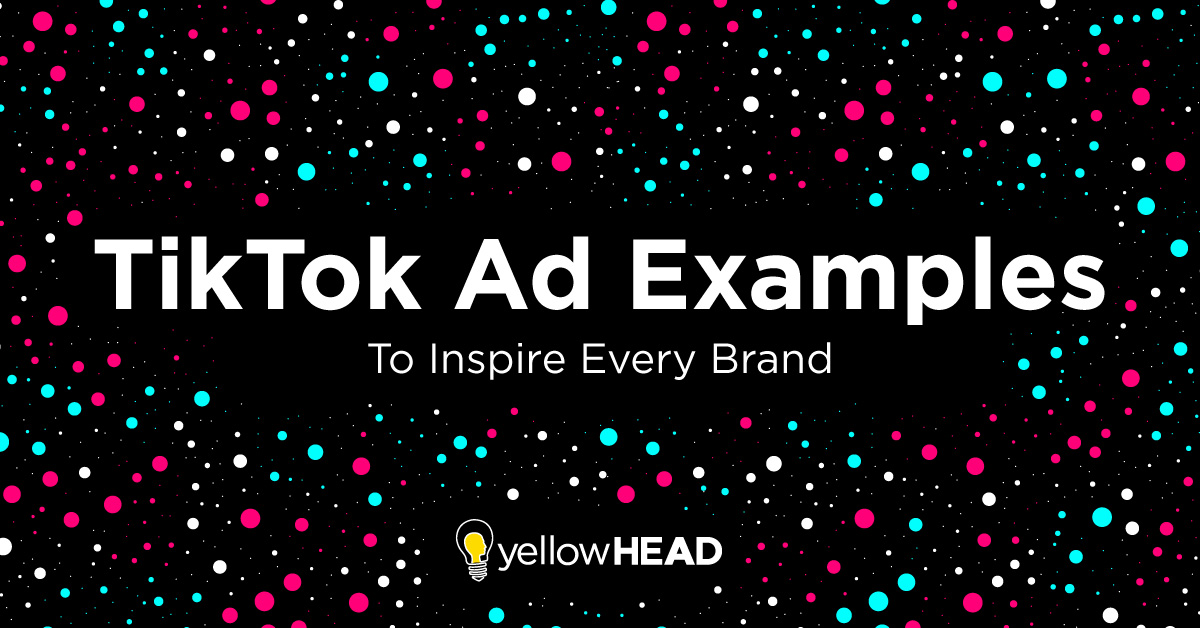 With over 1 billion monthly active users (and over 130 million in the United States alone) TikTok is one of the top choices for brands who want serious exposure.
Though the platform rose to fame from users copying each others' dance moves, for marketers and brands, advertising on TikTok delivers unique opportunities to engage with audiences in a way that was never possible before.
The platform offers five kinds of ad formats and it's not uncommon for businesses to mix and match multiple formats. Let's take a look at some inspirational ad campaigns that are sure to give some great TikTok ideas.
Table of Contents
TikTok New 2023 Trends
POV trend
The POV trend is a video that speaks directly to the viewer and inserts them into whatever scenario the creator has constructed. Often the creator will address the viewer directly or show the viewer a niche scenario from a first-person perspective.
What I ordered, what I got
TikTok users have been uploading videos showing the huge differences between what they (un)realistically wanted and what they got.
#lifehack
This hashtag has been viewed 93 billion times on Tik Tok, Showing us those tips and tricks that have changed your life.
Things Tik Tok made me buy
What is the #TikTokMadeMeBuyIt Trend? The #TikTokMadeMeBuyIt trend refers to users on TikTok discovering and purchasing products through videos posted by other users. This hashtag itself has gained billions of views on the social media platform, and it's also fueling major sales.
Roleplay
1 person acting out two characters to create a storyline and dialog.
The Best TikTok Hashtag Challenge Examples
Some of the best TikTok examples for advertisers use a Hashtag Challenge as part of their campaign. Branded Hashtag challenges are designed to promote brand awareness and enhance engagement. When a user taps on a hashtag, it takes them to the brand's landing page and shows other curated videos featuring the same hashtag.
Packages are available for either three or six days. Branded Hashtag challenges have an average engagement rate of 8.5%, according to TikTok.
Here are three of the most creative advertising examples of Hashtag Challenges.
Boss – #MerryBOSSmas
One of the best TikTok ads in recent memory was created by fashion brand BOSS. The global campaign was a huge success, featuring popular stars, TikTok creators, and influencers from all around the globe. The brand even released an original song by LODEF ft. Fleur East, created exclusively for the campaign. This further added to its appeal.
The campaign was launched in December 2020, at the peak of COVID-19. The results were nothing short of phenomenal. It launched in the US, Canada, the UK, and Germany, and garnered more than 3 billion views! Almost a million video creations were shared by TikTok users as a result.
American Eagle – #InMyAEJeans
American Eagle is one of the biggest lifestyle clothing brands in the world. Their #InMyAEJeans campaign for the Back to School Branded Hashtag Challenge is one of the prime dance ad examples of creative TikTok ideas put to good use. The challenge was launched by influencer Addison Rae and it immediately took off.
The campaign was a resounding success, primarily because it offered the chance to feature in a Duet with Addison Rae. More than 432,000 TikTok creators shared their dancing videos. Since its launch, the original video has received more than 3.7B total views.
FC Barcelona x OPPO – #GoForItChallenge
FC Barcelona, one of the biggest football clubs in the world, partnered with OPPO, a Chinese mobile phone manufacturer, for their #GoForIt campaign. They released a custom music track and encouraged users to share influential moments from the club's history, using split screens.
The campaign was a resounding success, generating 676,000 views. More than 70,000 users submitted almost 200,000 videos. The engagement rate for the campaign was well above TikTok's average, reaching 12.05%. It just goes on to show how amazing the results can be when users have creative freedom.
Maybelline – #Maybeli
Maybelline New York is a household name across the globe when it comes to makeup. To promote the launch of their new product line in Vietnam, the company opted for a Branded Hashtag Challenge with the hashtag #Maybeli. They even created a music video for it, entitled "May Be Li."
The result? Creators made 75,000 videos and reached 19 million users from across Vietnam. Their video garnered more than 173 million views and brand preference increased by 141.26%. Best of all, online sales jumped by 32.4%!
The Best TikTok Brand Takeover Examples
Brand takeovers allow advertisers to choose from either a static or display ad that takes over the entire screen. Brand takeover ads support 3-second JPGs as well as 3-5 second videos. These ads show up as soon as the user opens the app. Many companies have used the Brand Takeover ad format to boost their reach and engagement. Here are some of the best TikTok ads that use the brand takeover format.
PepsiCo Australia
When Pepsi Max was about to release their new flavors in Australia, they launched a campaign on TikTok using a combination of In-Feed ads and Brand Takeover. It was their first time advertising on the platform, but it resulted in an excellent TikTok brand takeover example.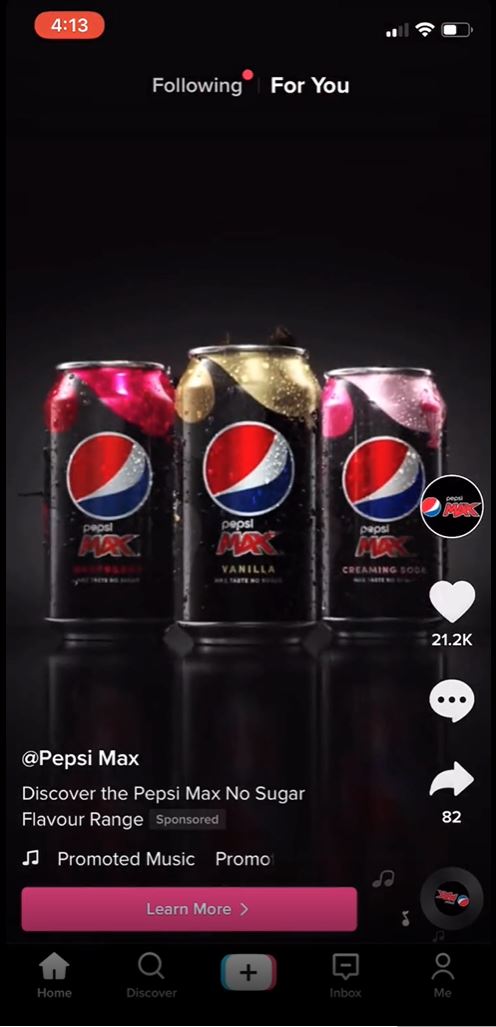 The click-through rate (CTR) for this campaign in one day was 24% and reached 2.4 million users in just one day. By the campaign's end, this brand takeover ad had garnered more than 10 million impressions and had an overall CTR of 17% (with 936,000 watching the video until the end).
LOTTE XYLITOL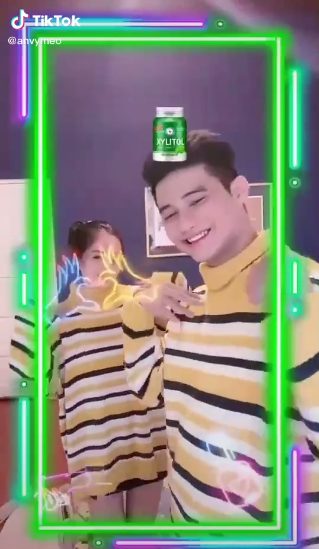 LOTTE XYLITOL wanted to generate buzz for their new gum line and used Brand Takeover ads in tandem with Branded Effects to make it happen. The #VoTuCuoi Challenge, as it was known, generated over 124 million views, over 59,000 videos and had a total reach of 15.5 million users! That's definitely a reason to smile.
Mercedes-Benz
Why is this one of the best TikTok ad examples that involve a brand takeover? Because the marketing team at Mercedes-Benz knew that to get Gen Z'ers and Millenials engaged in a unique way, it was important to get them moving with a unique campaign. To promote their #MBStarChallenge Hashtag Challenge (that included it's own branded effect), they released high-quality Brand Takeover ads, along with a mix of In-Feed ads that used user-generated content.
The campaign went viral, resulting in over 185,000 videos by 73,000 users and video views reached 180 million! Their Brand Takeover CTR was 17.5%. It did wonders for their reputation too. A post-campaign study showed a 66.3% increase in ad recall, an 18.2% boost in brand favorability, and allowed them to gain 30,000 new followers. In both the UK and German campaigns, page views topped 1 million.
The Best TikTok In-Feed Ad Examples
In-Feed ads give the ad a native feel, creating content like other TikTok creators. These auto-play ads are shown in the "For You" curated feed and can be up to 60 seconds long with sound. Users can interact with them by liking, sharing, or following. They can also use the music for their own videos. Numerous brands have used In-Feed ads to increase brand recognition and awareness. Here are a few excellent creative advertising examples on TikTok that used In-Feed ads as part of their campaign.
Stella McCartney
Stella McCartney is a well-known fashion designer that focuses on luxury sustainable clothing. For her latest Summer collection, the fashion house used In-Feed ads with an external link to boost engagement.
The 7-second ad was a major hit, generating over 3 million impressions, 20,000 clicks, and 8,000 new followers.
BMW
BMW partnered up with Henry, a famous K-pop artist, for their latest hybrid vehicle, the BMW eDrive. The "e-ideal Vibe" campaign was a big hit, featuring a remix of Thunder by Imagine Dragons. Using a mixture of In-Feed and TopView ads, the campaign ran for a total of six days and really tapped into user creativity during that time.
It generated 45.99 million video views and 6.29 million engagements. Even better, the campaign became an international hit, even though the original target was the Korean market, and users from 49 countries ended up participating in the campaign.
Balmain
Couture fashion brand Balmain usually showcases its latest high-end designs on the catwalk, but when in-person shows came to a temporary halt, the company had to get creative. They decided to introduce Balmain's latest designs via a TikTok Live fashion show. In-Feed ads were used before and during the live stream to promote the show and also appeared during the broadcast. It was a unique tactic that definitely paid off.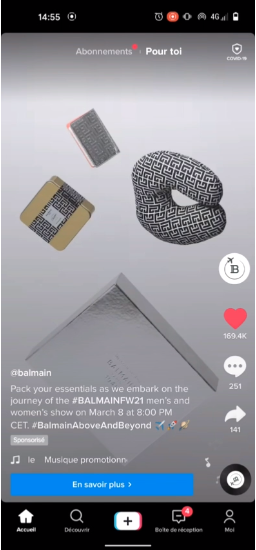 The sponsored in-feed ads garnered more than 22 million views, as well as tens of thousands of new followers who signed up to get notified when the show began. In the end, 240,000 viewers watched Balmain's unique TikTok fashion show, and it couldn't have been a success without an effective In-Feed ad campaign.
Great Top View Ads on TikTok
TopView ads are videos shown in the For You section that auto-play as soon as users open the feed. Brands get multiple ways to capture user attention, especially because the ad takes up the entire screen and can run for up to 60 seconds.
V Energy
One of the best examples of TopView ads was by energy drink maker V Energy, part of a larger campaign that used multiple TikTok ad formats to promote the TikTok's first New Year's Eve live show.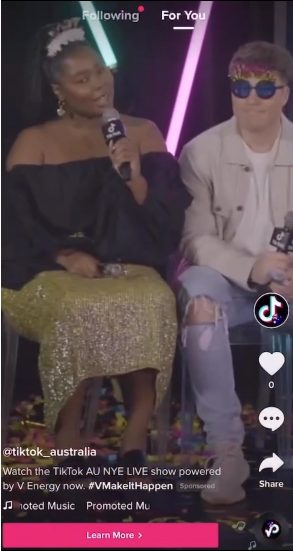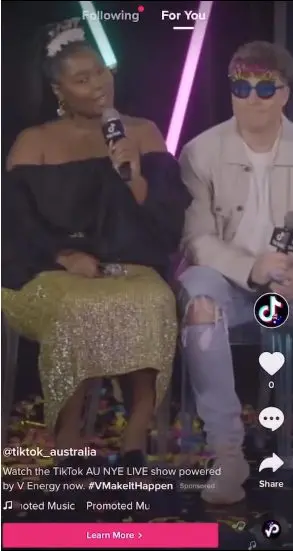 Creators were tasked with coming up with their own V Energy trick shot and the resulting influencer content was turned into a TopView ad that ran throughout January. The show became the second most-watched live stream in Australia ever, and after only one day of the TopView ad going live, V Energy's follower count increased by 5,000!
TikTok Branded Effect Examples
Branded Effects are a great way to engage audiences, giving them the chance to create unique content with special stickers, filters, or other special effects. The more creative the effect, the higher engagement is likely to be, which makes the following branded effect from Netflix a top TikTok ad example using a branded effect.
Netflix
Netflix created a special Branded Effect to accompany its Branded Hashtag Challenge, #TribesChallenge. The goal was to promote the show Tribes of Europa, which was about to launch in Germany.
They kicked off the campaign with 10 popular German TikTokers who used Netflix's custom Branded Effect and the #TribesChallenge hashtag, in addition to TopView and In-Feed ads. The results were mind-boggling: 1.5 billion video views!
Final Thoughts: What Makes a Great TikTok Ad?
The beauty of TikTok is the engagement brands can have with their audience. The most successful ad campaigns, in general, are:
Original
Authentic and consistent with the brand persona
Involve user participation
In vertical format
High energy
It's also important to partner up with established TikTok creators to make sure ads are seen by an established target audience. In fact, almost all successful TikTok ad examples in this article involve partnerships with famous TikTok influencers, often to launch the campaign.
Brands that want their TikTok ads to go viral need to incorporate many elements at once to create a good TikTok ad campaign. For this reason, it's best to make sure it's done right by using professional marketing companies such as yellowHEAD. The professional creative studio at yellowHEAD, for example, creates stunning ads and custom Branded Effects that can't be found anywhere else, which captures user attention the most.
When different components are combined in the right way, TikTok can drive engagement and sales through the roof!
Brands that aren't using TikTok for advertising are almost certainly missing out on huge potential. If your business is ready to give TikTok ads a try, contact us for a consultation.
BACK TO BLOG
NEXT ARTICLE