January 5, 2023
15 Surprising TikTok Facts and Stats
TikTok's meteoric rise across the world had an interesting start. Launched in 2016 as Douyin, it has grown to become one of the most popular social apps. Learn about its (rather brief) history and why so many businesses are utilizing its unique features.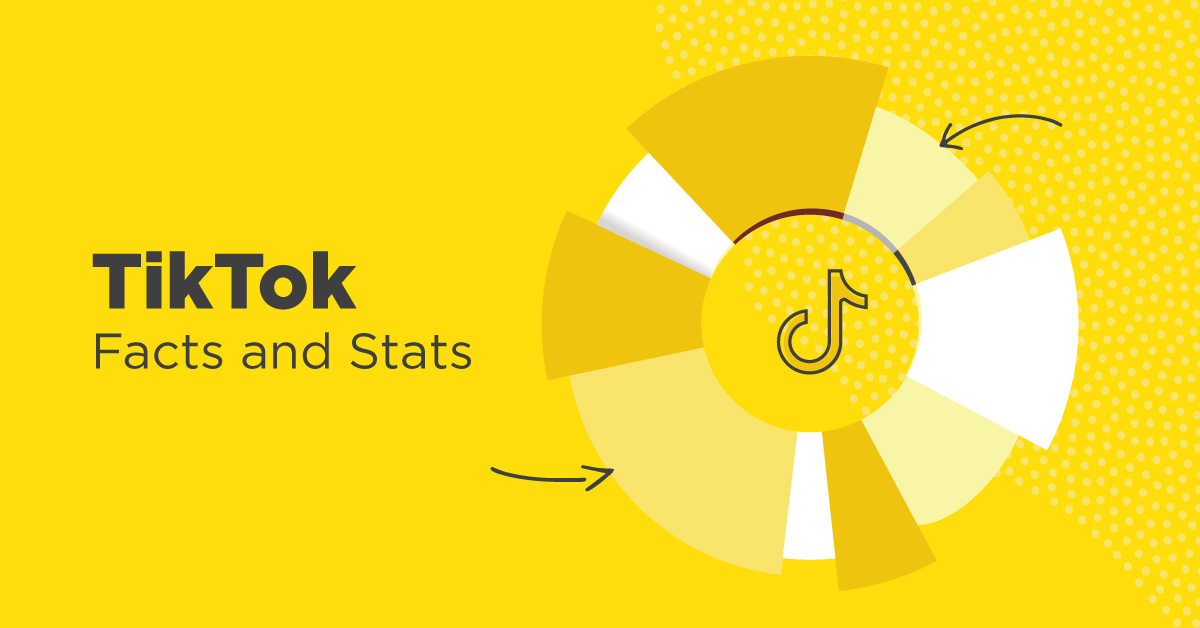 TikTok started as Douyin in 2016, owned by Chinese tech company Bytedance. It soon became popular across China. Founder Zhang Yiming had always wanted to expand Douyin overseas, so TikTok was launched for international markets in September 2017. It really took off worldwide in 2018 after merging with another Chinese social app, Musical.ly. The video-and-music combo proved popular and took the world by storm, especially during COVID-19 lockdowns.
Essentially, TikTok is the international version of Douyin, but with some key differences that will be explained below.
It may seem that there are new apps and trends becoming popular almost every day across the Internet, but TikTok deserves special attention. Some of the world's leading brands now advertise their products and services on the platform (some of our favorite TikTok ad examples are here). If you aren't already marketing on TikTok, read on to learn why it's so lucrative.

Surprising TikTok Facts and Stats
To highlight exactly why it is so important in the advertising world today, we have compiled 15 of the most important TikTok facts and key TikTok stats.
1. TikTok Has More Than 1.5 Billion Active Monthly Users
As of Q3 2022, TikTok was being used by more than 1.5 billion active monthly users around the globe. Combined with Douyin's 600 million users, the user base is upwards of 2 billion.
This is huge, because other apps, such as Instagram, took around six years to reach the billion-user mark. Similarly, it took Facebook four years to reach this figure. TikTok did it in around three years and is still among the fastest-growing brands in the world.
2. It's Been Downloaded More Than 3 Billion Times
The TikTok app has been downloaded over 3.5 billion times since it launched. From Q1-Q3 2022 alone, the app was downloaded more than 571 million times, according to Business of Apps.
It was also the most downloaded app of 2022. It was downloaded TikTok was downloaded 13.9 million times by iPhone users in 2022. On the Google Play Store, Tiktok has amassed more than 1 billion installs, which clearly shows just how popular it is amongst mobile users.
3. More and More Adults are on TikTok
In 2021, TikTok was the most popular app among US teens and young adults, but it's no longer just an app for teens. In the US in 2022, the 25-34 age range accounted for 25.4% of TikTok users. When combined with the 18-24 demographic (23.9%), adults in the lucrative 18-34 demographic accounted for 49.3% of Tiktok users in the United States.
While the "10-19" age range accounted for 25% of US users in 2021, the "12-17" age range accounted for only 17.7% in 2022.
For advertisers, this is a very important statistic as we see TikTok users mature.
By marketing on TikTok, advertisers can target the important 18-34 age group, which tends to be more willing to try out new things. As an advertiser, this could be one of the most eye-opening TikTok stats for you.
When you add in the variety of different TikTok ad formats and specs into the mix, you realize that this is one of the best branding apps in the world right now!
4. It Has the Highest Social Media Engagement Rate Per Post
According to data from Upfluence, TikTok's engagement rate is significantly higher than other major networks including Instagram, YouTube, and Facebook. Micro-influencers on the platform charge considerably less but are able to achieve engagement rates of around 18%.
For perspective, Instagram had an engagement rate of 3.86%, whereas YouTube's engagement rate is 1.63%.
5. TikTok's Usage Per Day Continues to Increase
According to data from Sensor Tower, Tiktok's engagement by country has increased year over year. In 2022, TikTok users averaged 95 minutes per day on the app, compared with 62 minutes in 2020.
6. 18% Of All Internet Users Use TikTok
As of 2022, 20.83% of internet users in the world (4.8 billion) were on Tiktok. Compare that with 2020, when TikTok was used by 18% of all internet users around the globe.
Platforms like TikTok, which rose in popularity dramatically during the lockdown, served as a fantastic gateway for brands who wanted to reach their target markets during a disruptive phase. 93% of the platform's users expected companies to provide practical information about how they were coming to grips with the lockdown. 88% of respondents also expected companies to run ads showing how to respond to the coronavirus threat.
7. TikTok is Available in 154 Countries
TikTok is THE ultimate home for mobile videos. These short-form videos are addictive and exciting, and above all, available in more than 154 countries. Despite its ban in India, TikTok is still available in 154 countries across the globe. The app has also been translated into more than 75 languages.
As a marketing professional, this is an incredibly important statistic. The app has grown rapidly in many countries, and it's highly likely that you'll find your target audience in one of these countries. By targeting micro-influencers in these countries, you can easily grow your brand in different markets!
8. 90% of TikTok Users Access the App Daily
Nine out of ten users on TikTok access it on a daily basis. When you consider the fact that almost 75% of all apps that are downloaded are usually only accessed once and then relegated to app oblivion, this suddenly becomes a huge figure.
With 50 million daily active users around the United States (almost 19% of all mobile internet users in the country), TikTok is a fantastic marketing platform. The reason for this is fairly obvious: it's incredibly addictive. TikTok continues to show a steady stream of content the more you use it, and as its AI brain understands your viewing habits, the content becomes more and more relevant.
Every time you open the app, an ad pops up. These 5-second ads might seem innocuous at first, but when you consider the sheer number of people who access the app daily, you get a lot of eyes on these simple ads.
9. It's The 7th Most Popular Social Media Platform in the World
TikTok is currently the 6th most popular social media platform in the world, and it crossed that figure in record time. It's also important to highlight here that TikTok has continued to grow rapidly, and its charge to the top shows no signs of slowing down.
At this rate, it's highly probable that the app will breach the Big Five in the next couple of years. It'll be the first Chinese app to become this big. It's little wonder then that the app has become increasingly interesting for marketers.
10. More Than 1 Billion Videos Viewed Daily
During its first year, TikTok videos were viewed 1 million times a day. That's big, because the company achieved this milestone in record time. Fast forward to today, and more than 1 billion videos are viewed on the platform.
Content is one of the main reasons why people keep coming back to this platform. TikTok makes it easy for the average content creator to create unique content, with an array of video effects, filters, and music choices. It is highly probable that this figure has increased dramatically due to the effects of the pandemic.
11. TikTok is Among the Most Searched YouTube Query
The app's success has permeated other platforms as well.
In 2022, the term "TikTok Mashup 2022" was the most-searched YouTube query in the United States, according to Semrush. This is because YouTubers often compile TikTok videos and put them on YouTube, which is a common way of repurposing content from the app.
Globally, "TikTok" remains the 2nd most-searched term of all time.
This means that the TikTok videos receive more eyes than what is officially recorded.
12. TikTok's Revenue Has Increased Exponentially Year-over-Year
In 2017, the company posted $63 million in revenue. In 2020, TikTok revenue ballooned to $1.9 billion, according to Business of Apps. In October 2020 alone, the company generated $115 million from in-app purchases, according to data from Sensor Tower.
All of this has greatly benefited ByteDance, the company behind TikTok. Based on anonymous sales data from online traders (gray market), ByteDance's value has soared above the $400 billion mark. As it stands, this is the most valuable startup in the world.
As you can imagine, TikTok's primary source of revenue is ads. Ads on TikTok have a CPM that starts at $10, with publishers having to spend at least $500 for each campaign. Hashtag challenges can cost upwards of $100,000, whereas brand takeover ads can cost anywhere between $20,000 and $200,000.
According to AdWeek, TikTok also recommends spending up to $200,000 additionally to promote hashtag challenges. Needless to say, if done correctly, TikTok can really improve a brand's reach.
13. More Than a Third of TikTok's Users Make $100k+ Annually
In 2019, 37% of all TikTok users had a median household income of $100k or higher; by March 2020, that number had risen to 40.2%. Whereas adoption is incredibly high amongst households that generate less than $25k per year, you should know that a vast majority of TikTok's users are affluent.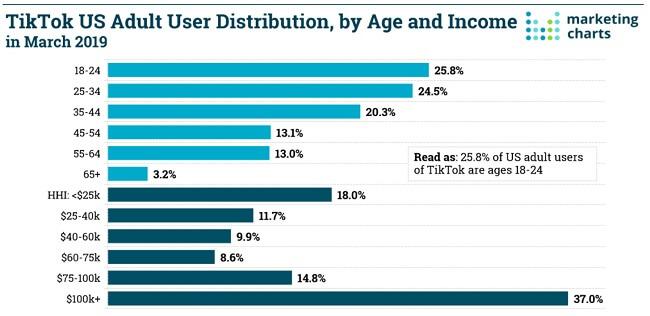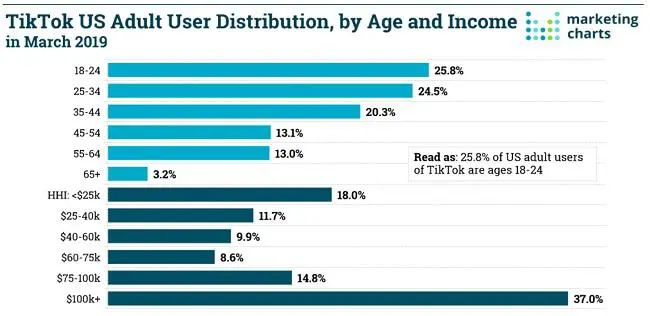 If you know how to segment your audience carefully, you could easily end up maximizing your ROI from your marketing campaigns.
14. TikTok and Douyin Look the Same But Are Different
The apps look exactly the same, but the two platforms do not interact and users can't see each other's posts. Douyin also has a few extra features such as photo search and in-app stores.
15. TikTok is Banned in India
When it was banned in India, TikTok had 200 million active users in the Indian market. However, due to a border dispute with China, India decided to ban TikTok, as well as 200 other apps of Chinese origin. Many Indian creators lost their main source of income as a result. ByteDance already had established offices in New Delhi, Mumbai, and Bangalore, and had plans to invest upwards of $1 billion in the local Indian market. Since then, TikTok has tried multiple times to negotiate with the government, but to no avail. With little headway, the company eventually decided to move away from the Indian market.
Why to Pay Attention to TikTok
Paid user acquisition on TikTok is one of the best investments that you can make. At yellowHEAD, we specialize in developing and implementing strategies that improve brand recognition for our clients. In fact, we recently worked on a TikTok campaign for a client, which resulted in a 19.5% increase in ROI and a 6x decrease in their CPM.
TikTok is too big to ignore as a marketing channel. These major facts about TikTok should serve as an eye-opener for forward-thinking marketing professionals and brands.
Contact yellowHEAD to learn how we help brands promote themselves on TikTok.
BACK TO BLOG
NEXT ARTICLE