May 26, 2022
How yellowHEAD Creates Amazing Video Ads
There's a lot more than meets the eye when scrolling through videos on your social media feed. From the artistic to the technical, yellowHEAD producer Igor Bulgakov takes us behind the scenes of yellowHEAD's full video production services.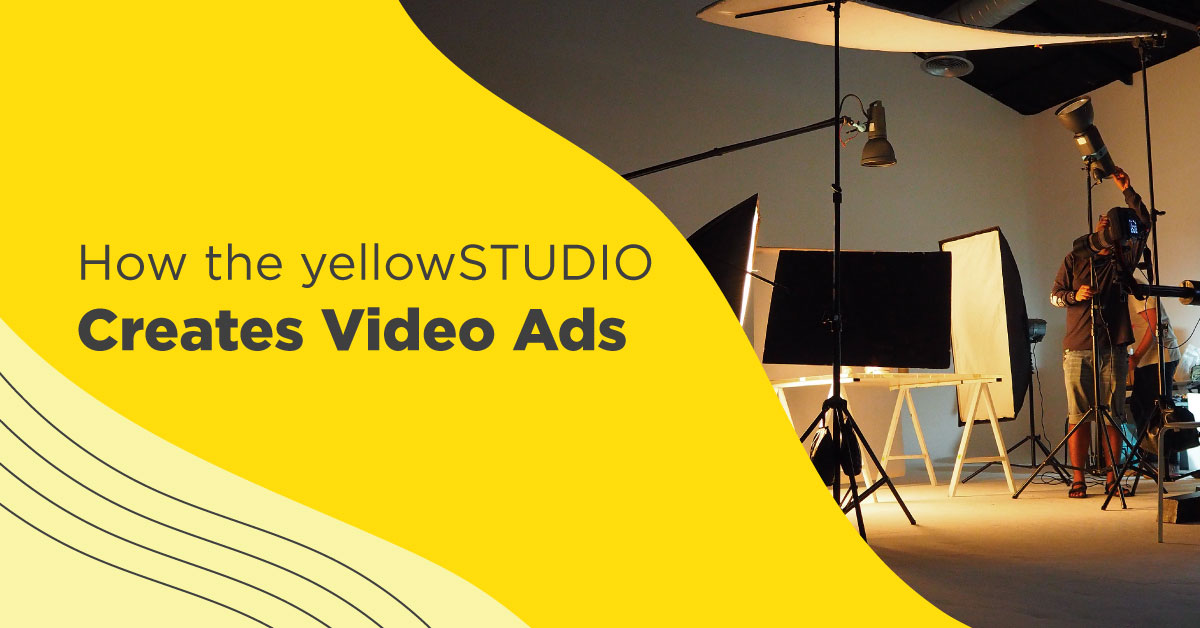 In this article, yellowHEAD's Creative Video Producer Igor Bulgakov shares his professional insights for the three main stages of video production and gives tips for creating product videos for marketing that drive results.
Originally from Ukraine, Igor began his career as a motion designer and video editor 10 years ago. He has a passion for storytelling, a flare for capturing magical moments, and knows exactly how to use these talents to create stunning video ads for yellowHEAD's partners as part of the yellowSTUDIO team.
Table of Contents
Pre-production
1. Concept
There are countless ideas and directions to take when creating video content. After years of creating hundreds of successful video ads for our partners, it's become clear that every great concept includes three key elements:
A person interacting with something or someone that is funny or interesting.
Action, gameplay, or the physical item or brand.
A call to action.
Once a concept has these components, it's very important to then align it with branding to decide on the overall look and feel. Missing this step can lead to more work down the road.
For example, a concept may be approved initially, but after production, the client may decide that it doesn't fit their branding and will need to change it (which can sometimes be done by making the pace faster or by creating a more exciting intro).
We recommend sticking to this checklist and making sure none of the components are missing from your concept.
2. Storyboarding
The yellowSTUDIO draws up a storyboard before every video. This is a crucial step in the pre-production process because it allows both the client and creative team to clearly visualize the story and collaborate effectively.
By sketching out the storyboard, it's possible to identify potential problems, make changes beforehand, and avoid additional production costs. The process also helps us understand the types of shots that need to be filmed and how they will connect throughout the storyline. https://thumbs.dreamstime.com/b/gym-fitness-storyboard-men-women-working-out-96390676.jpg
Key points to include in the storyboard are directions for camera angle, lighting, and transitions along with dialogue.
3. Shot list
Ahead of the shoot day, Igor makes a strict itinerary that factors in time for actors' makeup, set lighting, director work, and art direction needs.
Igor uses a director's viewfinder like the one here to plan out the shots and decide how much of the scene will fit in each frame. This step helps figure out which lenses are needed in advance, even if a team is just shooting in a small space.
Opening Shots: The Ever-Important Intro
The basic rule of thumb is that the intro, in particular the first 3 seconds, has to be incredible!
The opening scene should be fast, eye-catching, colorful, creative and connected to the brand.
The opening scene is extremely important because it is the audience's first impression and determines whether they will continue watching. Still, it's suggested to put your most important info there in case the viewer does not watch until the end.
For maximum effect (and results), make sure to show the product within the first 5 to 7 seconds.
For example, when yellowHEAD's creative studio shoots a gaming promotion, we usually start with exciting footage of gameplay to entice viewers.
4. Location Scouting
yellowHEAD has an in-house studio so we can shoot with a variety of backgrounds. Still, we know how to be resourceful (we've even filmed very successful ads in our office kitchen)!
The options are to either find an existing location, which is the most cost effective, or build a set. If you need to build a set, consider the costs involved and which elements are most important.
Tips for filming in an office or indoor space:
Pick a time to run short tests in various points around the office with your camera and tripod. Bear in mind that light may flood different areas according to the time of day.
Explore different angles and levels to film from by utilizing desks and other places where the tripod can be positioned.
Be aware of reflections or light coming in from windows because this can make the subject look dim and shadowed.
6. Film Equipment and Lenses
The yellowHEAD Creative studio uses 4k or 6k cameras (6144 x 3160 pixels) because it gives a high-quality, sharp picture. This also allows the shot to be cropped into many sizes without reducing the quality and becoming pixelated.
Color
Igor uses the ColorChecker Passport to maintain the white balance. This is especially important with BRAW footage because it needs color grading.
Production (Camera, Sound, Action)
7. Make Up and Dress
Use professional makeup artists and stylists to ensure the actors' looks stay consistent throughout the scenes. Stylists can be an important asset to a team since they pay extra attention to details like whether or not the actor's outfit clashes with the background.
8. Art Direction
With all the details to take into consideration, it is important to take a step back and view the entire composition, checking that each component is visually harmonious. By doing this, creative teams make sure all the elements evoke the right mood, style, and theme.
The viewer's focus should always be on the main actor; therefore, frames should be clean and carefully composed, without anything to distract from the main focus. We take brand colors, set design, and wardrobe choices into consideration so they are congruous with the brand.
Igor and the yellowSTUDIO team also pay special attention that no other brand names are in the frame. If this is unavoidable, they create fake, generic covers for items in the shot.
9. Lighting
One very important technical aspect of video production is the lighting setup.
Three-point lighting is the most common lighting setup used by filmmakers, videographers, photographers, and any other visual creatives.
There's room to get creative as well. For example, to create the right atmosphere for gaming promotions, Igor adds colorful LED lighting to give the impression of a small gaming room.
No matter the style, the person or product being filmed should always be slightly brighter than the background.
To determine how much light is falling on a subject, Igor and the yellowHEAD team use light meters.
Light meters are particularly helpful for creating desired lighting ratios. You can measure the key, fill, and background lights using the built-in focus, and work out how much light to allow into the elements of the scene. This is invaluable for maintaining a consistent look from scene to scene — or even from one shot to the next.
Bring a light meter when scouting locations to check ambient light levels, as well as to know how many lights you'll need to bring on the day of shooting. This device works independently of the camera and allows the team to check levels of light at a location without having to go through the trouble of bringing a camera first — and this can save a ton of time!
The easiest option for lighting is to use the most powerful and cost-effective lighting source in the world: the sun! When shooting outdoors, it's important to pay attention to timing.
The best times of day for shooting are sunrise and sunset. If you are filming at midday, you will need to take a variety of diffusers and reflectors with you.
Post Production
10. Music and SFX (Sound Effects)
Once upon a time, music and sound effects weren't among the important factors when filming an ad, but with the influence of platforms like TikTok, getting the music right is paramount.
Tip: Music or audio that is trending on social media can increase viewer engagement and get better results.
11. Dynamic Editing
Typically, video ads are up to 24 seconds long, so storylines need to unfold fast. One way we do this is with fast cuts and transitions that fit in the entire storyline while simultaneously focusing on the most important elements.
Tip: Focus on actions and the most exciting parts of the video.
12. Motion Graphic Titles
Titles and graphics add to the impact of the opening scene, so make sure they are visually appealing.
Horizontal or Vertical Video?
Vertical videos leverage 100% of the phone's screen real estate, while horizontal videos only utilize 25%.
Viewers are unlikely to rotate their phones to landscape mode just to view an ad.
Tip: Brands that want to get their message across in the most natural way possible should stick to vertical videos for most social media sites. This format also works well on mobile apps since consumers are used to interstitials between articles, songs, game levels, chat conversations, and more.
FAQs
What should you do before shooting a video?
It's recommended to create a clear concept, create a storyboard, make sure you have the right equipment, scout the right locations, and set up the lighting.
How do you shoot great video?
High-quality videos are created by planning ahead properly, using professional equipment and cameras, and working with an experienced team.
What are the best video techniques?
There is no single "best" video technique. Whatever the style, however, make sure to prepare for the shoot beforehand in terms of angles, colors, lighting, and even makeup and dress.
BACK TO BLOG
NEXT ARTICLE