May 18, 2015
ASO & Paid Campaigns
"The Achilles heel of Paid Advertising – Once paid advertising stops, so too will the traffic to the app . Encouraging organic installs is the only method that maintains downloads on an on-going basis…"
Let's start with a few facts.
• Users now spend more time on smartphones than traditional personal computers.1
• Over 60% of app users discover new apps by browsing in app stores.2
SURVIVAL OF THE FITTEST
• A startling percent of iOS apps are invisible – Due to increasing competition for developers, by the end of 2014, 83% of applications in the Apple App Store were considered "zombie apps".
Unless users search for the exact brand name, they will simply not find the app for any search query or in any category.
• There are about 1.5 million apps in each of the two biggest app stores –  there is a clear need for app developers to understand how to optimize their app to rank well in stores.4
The rapidly evolving app ecosystem, which is now slowly weeding out all but the fittest of apps, presents a challenge.
FOLLOW THE MONEY BUT ALSO THE ORGANIC
How does all this have any bearing on what you do for your app? Well, it should have quite a bit of bearing. Due to all of the competition we just detailed, the solution many app publishers seek is to buy users.
They go to Facebook, Google, Ad Networks, Twitter, and any other ad outlet imaginable. They pay huge retainer fees to PR agencies. And this gets them is some extra installs. For every few dollars spent on ads, there are a few more users, but that's it.
THE ACHILLES HEEL OF PAID APP ADVERTISING
While these methods help, there is no permanency. Once paid advertising stops, so too will the traffic to the app. Encouraging organic installs is the only method that maintains downloads on an on-going basis.
Organic traffic is quality traffic and it is the bedrock on which successful apps should grow. ASO is the main technique with which you can improve this channel.
ASO – THE COST EFFECTIVE APPROACH
ASO is a very cost effective approach to getting more downloads for your app. ASO results are fast, and the results are BIF. The work you do to optimize your app directly and immediately increases keyword rankings associated with your app and that, in turn, immediately increases your organic installs.
For the relatively low cost of obtaining ASO data and some research every month, you can potentially drive your app's downloads exponentially.
The basic process is as follows:
ASO – better keyword rankings and more conversions – more installs.


The following is the keyword rankings of a client of ours. For several weeks we researched, analyzed and brewed portions. When everything was set and ready, we implanted our optimized metas. As you can see below, keyword rankings immediately spiked
Installs were soon to follow.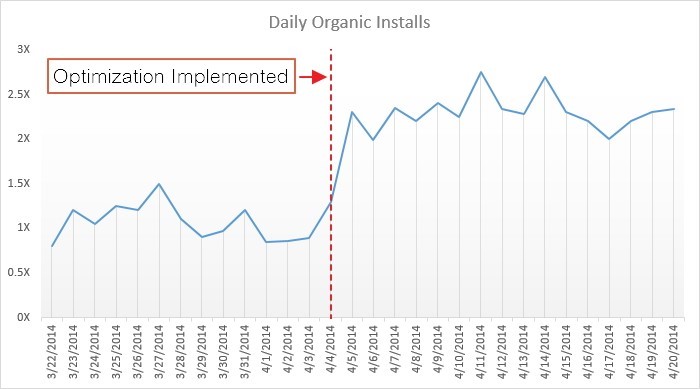 This client saw an increase of %150 in organic installs. Results vary though, we usually see an increase of between 30%-200% in daily organic installs and sometimes even more! Our personal best is %2000 increase, with a client that had few installs to begin with.
ASO: WHAT IT IS NOT
Despite its great potential and proven success, App Store Optimization is not a silver bullet, a magical cure to all your app marketing snags.
There are limitations. ASO should be part of a comprehensive marketing strategy. If your new app has 10 downloads a day, and you apply ASO practices, you cannot expect to gain 10,000 downloads a day after a week of optimization.
The process is more gradual, and will provide an increase in installs over time. But by using the right methods, you will make ASO work for you and reach your goals.
BACK TO BLOG
NEXT ARTICLE