November 13, 2023
Mobile Marketing: Benefits and Importance
Mobile marketing isn't the future; it's already here and only becoming more important. Advertisers have already taken note of this important change and are adapting their strategies to this evolving market. Is your brand following suit?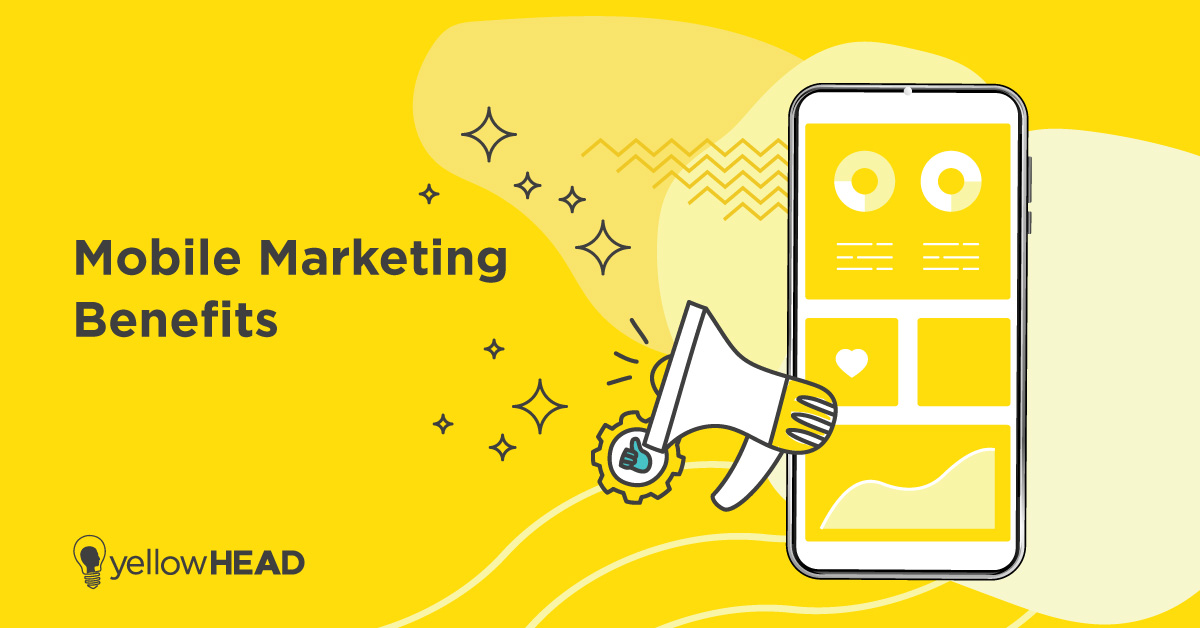 If you'd like to know more about this fast-growing sector, keep reading. We'll go over the basics, including:
What is Mobile Marketing?
Mobile marketing is a type of digital marketing that utilizes multiple channels to reach audiences via smartphones, tablets, and other mobile devices. It can involve mobile search ads, social media advertising, in-app ads, SMS advertising, and more, appealing to people in the way they already interact with their phones.
Mobile marketing is the marketing of businesses geared towards mobile devices. Mobile marketing content is optimized to appeal specifically to mobile (especially smartphone users). This kind of marketing differs from other forms of marketing. All aspects of successful mobile marketing are more effective at appealing to the way people interact with their phones.
Top 6 Mobile Marketing Statistics:
The US spent $164.8 billion on mobile advertising in 2022.
Mobile ad spending in the US is expected to reach $463.55 billion by 2026.
As of 2023, TikTok is used by 42% of mobile marketers.
As of February 2023, 28% of companies used automation in SMS marketing.
In 2022, Instagram videos were used by 79% of mobile marketers.
33% of marketers will leverage short-form mobile videos in 2023.
Source: https://vpnalert.com/resources/mobile-marketing-statistics/
Why is Mobile Marketing Important?
Mobile marketing is important for the simple reason that it is necessary. Your customers are already viewing paid ads and branded content on their devices and if you are not concentrating your marketing efforts in this area, you will be at a loss. Smartphones are effectively an extension of your customer, which means they are involved in more activities and spending more time looking at their screens. So, forgoing mobile marketing is forgoing the potential attention during the 4 hours and 25 minutes the average American spends on their phone.
Like other forms of marketing, mobile marketing requires a strategy for ideal performance. Mobile marketing opens your business up to a world of new marketing potential.
Mobile Marketing Benefits
Large Audience
With the vast majority of Americans – 97% – now own a cellphone of some kind with them practically everywhere, mobile content and advertising have plenty of opportunities to be discovered.
Accessibility to a Broad  Audience
People of all walks of life, with all kinds of jobs and hobbies, spend a lot of time with mobile devices. They know that no matter what they're looking for, they can likely find it faster and easier with their mobile device.
It's important to note that the majority of web traffic is actually from mobile devices. That trend has increased rapidly over the years, stabilizing around 52-54% for the last few years. Since 2011, mobile internet traffic has shot up dramatically from 6.09% to 53.98% in 2021.
What this means for your business is that regardless of which audience you're appealing to, you'll need to reach them on their smartphones or mobile devices. As mobile searches grow, they've provided businesses with a new way to find the exact audiences they're looking for.
Localization
Mobile marketing enables businesses to reach mobile users in specific locations — and adapt their marketing campaigns and messaging accordingly. Geographic targeting is a critical advantage for any business to have since people carry their smartphones with them as they travel and visit different locations. Features like geo-fencing allow the sending of location-specific notifications to mobile users as well.
Personalization
Can you spend over 5 hours per day interacting with your phone and argue that it's NOT a significant part of your life?
The reality is that mobile devices are not just physically close to most users but they're constantly on the user's mind. What's more, these are the same devices they are using to constantly stay in touch with friends and family. Mobile devices, and the communication that takes place on them, have become an integral part of daily life in a very personal manner.
This isn't just a benefit of mobile marketing; it's an important part of mobile marketing strategy. Personalization is an increasingly important trend across digital media. With mobile marketing, you have a different kind of opportunity to communicate more personally with potential customers.
Testing & Improving
The advantage of digital marketing is the ability to optimize campaigns based on audience feedback, and this is no different with mobile marketing. As with most forms of digital marketing, campaigns need to be monitored frequently and improved through A/B and multivariate testing.
Easy Sharing
Compared to other marketing methods, mobile marketing has the most viral potential. People generally use their phones for sharing. They share photos, videos, memes, and everything else with a few quick taps on their screen. With some testing, you are better able to create viral content that appeals to your audiences. When you strike a chord with mobile marketing, users find it far easier and are more inclined to tap the "share" button or tag someone who might be interested.
Better Responses
Mobile ads get better responses in the consideration stage than other ads. While people are more likely to convert and buy on desktop, they aren't going to be seeing your ads as often while they're still passively considering it. Mobile content enables your business to stay in peoples' minds as they go about their days.
Creativity
Mobile ads offer lots of room to get creative and go beyond the boundaries of what a traditional ad might be. For example, a banner ad might work fine on a platform like LinkedIn, while the Instagram campaign might need a sound-off video, the Snapchat campaign could require a special filter, and the TikTok iteration might work best with a UGC-style ad and branded hashtag campaign. There are so many options.
Challenges of Mobile Marketing
While mobile marketing is fruitful, there are challenges and shortcomings that marketers need to keep in mind.
Accessibility
Making content browsable and accessible to all mobile users can be a challenge. Most mobile phones are smartphones, but not all are. In 2021, Pew reported that while 85% of the US population had a smartphone, 11% of people were using a cellphone that wasn't a smartphone. If part of your target audience doesn't have a smartphone, they won't see your advertisements. However, with the right strategy, it's possible to widen the range of devices that your content is accessible on.
Data Limitations
Data is increasingly easy to access. However, for many potential customers, it isn't cheap enough to use without forethought. That means that user data restrictions can limit a user's ability to access your content.
This is one of the challenges of designing mobile ads and marketing content. Image is very important, but it's also important to balance it with the need for easier access. Mobile users are restricted by:
The processing speed of their device and data plan
Their data limits
These issues must be kept in mind during mobile marketing campaigns.
Potential to Go Viral – For the Wrong Reasons
Mobile marketing content is easily shared, which is why it has more viral potential, but it's important to remember that things can sometimes go viral for the wrong reasons. It's important to carefully edit drafted material and preferably have a few different eyes take a look to make sure nothing was overlooked.
What Makes Mobile Advertising Effective?
Marketing is all about capturing and holding attention. It's no surprise then that marketing works even better when presented where their attention is already focused.
The reality is that any form of marketing can be effective if planned carefully. That being said, mobile marketing can give you a head start by making your content discoverable where people are already looking for new things.
Mobile marketing success is partly a question of time and exposure in addition to research and testing. Not all mobile marketing efforts will pay off, but with professionalism and a focus on research, it offers a new dynamic when compared to older and more traditional forms of marketing.
The Future of Mobile Advertising
Mobile advertising will keep becoming more important and mobile ad spending will continue to break new records year by year as it continues to evolve and grow more complex. In particular, native and in-app ads will become more competitive as they create new revenue streams for businesses.
Keeping up with mobile marketing trends is important for maintaining performance since it's so dynamic. As people use mobile devices more and more, marketing platforms will keep updating their infrastructure. Trends will change as certain kinds of ads grow more or less effective and competitive over time. By keeping up with the best practices, you can ensure stronger long-term performance and truly benefit from mobile marketing.
Note: this article was updated by yellowHEAD Marketing on Nov 2023.
BACK TO BLOG
NEXT ARTICLE