January 11, 2023
6 Innovative User Generated Content Examples
User generated content can yield fantastic results, as long as you know how to engage your audience. Brands increasingly need to know how to leverage the power of social media and rally their fans to create content on their behalf.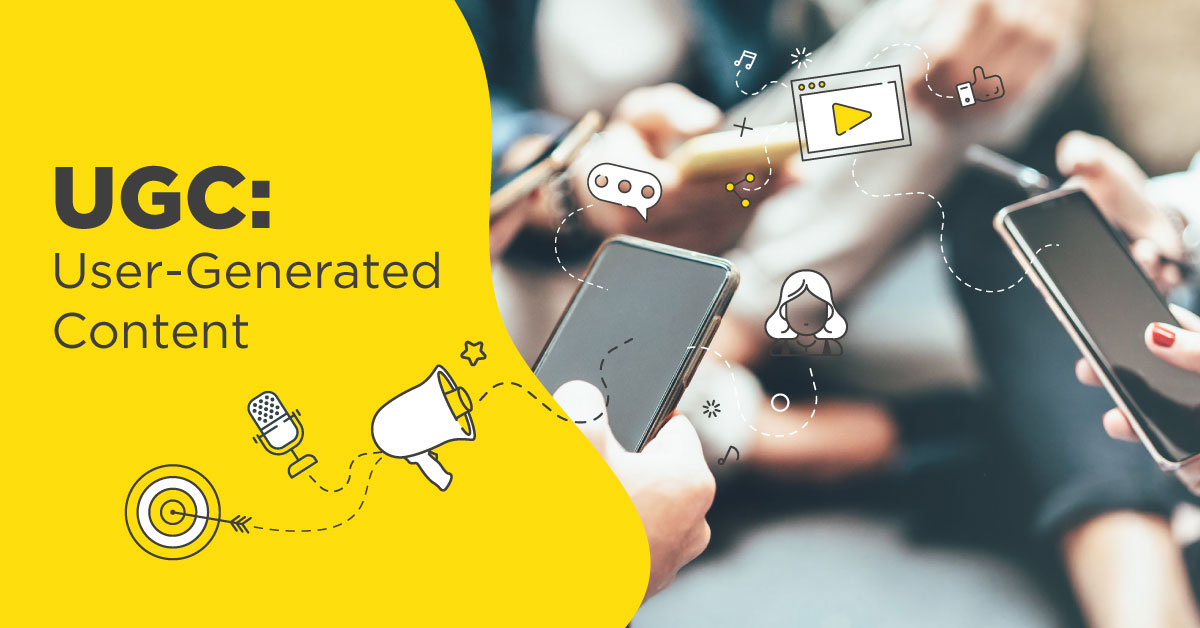 In this age where content creators have lots of platform options, leveraging the power of existing fans is very important since as the old adage goes, "word of mouth is the best form of advertising". Businesses that successfully engage their audiences are able to get lots of positive word of mouth plus save on marketing themselves.
According to independent studies, user generated content holds more sway than targeted email marketing campaigns or organic promotions over people's purchase decisions.
Let's go over the basics of user generated content and explore a few examples that worked wonders for different brands.
What Is User Generated Content (UGC)?
In the world of advertising, user generated content, also referred to UGC is any content related to your brand, product, or service, created by an unpaid contributor. This can mean a lot of things: a social post, a review, a video, a mention in a podcast, or virtually anything else.
Why Do Brands Prefer User Generated Content Marketing?
Marketers value user generated content for a variety of reasons. Here are some of the key benefits:
Content Curation
One of the biggest advantages of user generated content is that you can easily curate content from multiple sources, annotate it, and then share it with your audience. For instance, if you launched a UGC campaign on TikTok, you could easily compile the best videos and leverage that content for other platforms like YouTube, Instagram and Facebook.
Supercharge Social Media Growth
A majority of user generated content appears on social media. By executing a well-planned UGC campaign on social media, you can easily generate lots of impressions, mentions, and engagement on popular platforms.
Benefit from SEO
Positive customer reviews, backlinks, and mentions will all improve your SEO. Google considers UGC backlinks as "hints" for ranking, so not only will it improve word of mouth, but your rankings might increase too. If unpaid contributors publish content on their own websites and give you a backlink, it'll only improve your rankings.
Improve Your Brand's Reputation
User generated content is much more effective in attracting first-time buyers to your brand. It can also play an important role in improving your brand's reputation, especially because it's more authentic, and highlights both the pros and cons of your product or service.
Understand Your Audience Better
UGC  allows brands to better understand their audience and how they interact with the brand. By taking a closer look at what your customers complain about, you can work on improving your offering.
Impressive Examples of User Generated Content Ads
To get a better understanding of what makes user generated content so successful, let's take a look at five of the most popular user generated content examples.
1. Beverly Hills MD
This is a great example of a user generated content ad that yellowHEAD coordinated in cooperation with an influencer.
2. Black Out Bingo
This one is an excellent hybrid of user generated content and a traditional ad. It capitalizes on a popular TikTok trend and at the end presents the brand animation. It worked so well as a TikTok ad.
3. KFC's UGC Campaign Causes a Sizzle on TikTok
Many brands have been tapping TikTok to generate buzz and KFC is just the latest example. The fried chicken behemoth wanted to advertise its new KFC Chicken Sandwich to spur demand. They tapped TikTok's TopView ads.
They worked with "TikTok Granny" Lili Hayes, dressing her up as Colonel Sanders to talk about the ingredients and the features of the sandwich. Then, they ran another TopView ad, this time with DJ Dillon Francis, who remixed Lili's original ad. Next, they launched a hashtag campaign with "#satisfiedcustomer," and it wasn't long before the campaign took off.
How It Helped the Brand
KFC's TikTok UGC campaign went viral. The humorous and engaging videos were viewed more than 221 million times, and garnered 259 million impressions. Lili's TopView ad alone received more than 7,000 comments! The company's engagement rate during the campaign rose to 9.3%!
It also resulted in a 13.8% CTR directly to KFC's USA website, where people were able to order the sandwich. Ad recall for this campaign was at 24.7%, resulting in a noticeable bump in the sandwich's sales across the country.
4. Starbucks #RedCupArt Challenge
A prime example of a well-executed UGC campaign was Starbucks' #RedCupArt challenge.
View this post on Instagram

The company offered a limited selection of plain red cups to customers across the United States and Canada and gave them a chance to express their creative sides by using the cups as canvases. Customers were asked to share their designs on Twitter and Instagram with the branded hashtag. From these, Starbucks chose the best designs and shared them on a special site and on multiple social media platforms.
5. Spotify Helps Users Find Their Feels
Spotify's #FindYourFeels campaign launched in September 2021, focused primarily on finding out how music influences the lives of others. The Find Your Feels campaign was targeted towards Gen Z, solely focused on people between the ages of 16 and 24.
The streaming giant partnered with influential role models, giving them a platform to tell their story about the role music played in their lives. The content, which included audio interviews and video clips, was run across multiple social media platforms, including YouTube, TikTok and Instagram. Louis Bryant directed the content and Acne London was the creative agency behind the campaign.
The campaign was no doubt based on the back of the company's Culture Next annual study, which showed that 47% of Gen Zers believe themselves to be a part of the global music community through podcasts or music. Some of the influential people who told their stories, included:
Jamie Windust (author and Gay Times editor)
Lucy Edwards (blind disability activist and content creator)
Kenny Ethan Jones (trans activist and model)
Callum Hudson-Odoi (celebrated Chelsea FC football star)
Shaquille-Aaron Keith (poet and artist)
The company also posted videos on its official accounts and ran featured displays on partner sites including COMPLEX and PopSugar.
6. The United Nations Foundation Rallies Support for an Equal Future
The #EqualEverywhere campaign was launched by the United Nations Foundation to rally support for a more equal future. The Foundation asked visitors to pledge to do their part for a more equitable future, asking for donations and sharing predesigned templates, with messages written for their families and friends.
This is a prime example of a nonprofit organization leveraging the power of social media to focus on consumer-generated marketing. The UN Foundation reported success with the #EqualEverywhere campaign, bringing on major partners like Tom Ford Beauty, Crocs, Verizon, the H&M Foundation, and many others. Not only that, but the campaign was a rampant success on social media, with millions of Tweets and mentions.
7. Dune London Runs a UGC Campaign on Its Product Pages
Dune London is a famous British high-street fashion brand. The company ships worldwide, and in 2017, they ran one of the most innovative UGC marketing campaigns that helped bring about a significant boost in their sales. Instead of sharing user content on social media, the company curated photos of different products taken by unpaid contributors and posted them on its product pages.
Whereas most companies were touching up and heavily editing product photos, Dune relied on the creative spark from its patrons. The UGC campaign was designed by Curalate and was positively received. Sales from shoppers who engaged with UGC content on their website rose by 82%.
They even ran a follow-up newsletter featuring UGC content, entitled "Your Style." The CTR increased by 55% when compared with previous emails that didn't feature any user-created content.
Needless to say, the campaign was a massive success; Dune London reported an increase of 28% in the conversion rates of buyers that interacted with UGC. They also reported a bump of 17% in average order value in the quarter when the campaign was run.
8. Reddit's "Maybe Together We'll" Rallies the Community
Love it or hate it, Reddit is one of the biggest social media platforms in the world. A year after launching its office in London in 2020, the company managed to triple its ad sales and launched its first consumer ad campaign in its fastest-growing region.
At the heart of the campaign is the hero ad, created by the Interpublic Group Agency R/GA, which was run on a combination of platforms, including YouTube, social media, television and even subway stations.
Entitled "Maybe Together We'll," the ad features Reddit's top communities (dubbed subreddits) and includes a collage of pictures and videos shared by members from around the globe. The ad successfully delivers the positive vibe that Reddit wants, showcasing a close-knit community and underlining just how successful Reddit can be in solving issues when "people come together."
The ad was no doubt influential in changing the platform's image, especially since they have had trouble with user safety on the platform in the past.
How to Use User Generated Content in Marketing
Now that you know about the most popular UGC examples, let's discuss how brands can leverage UGC in their overall marketing strategy.
Create Desire
You don't need to be a big name in the market to successfully run a UGC campaign. Small businesses with a local following are also able to leverage UGC content to drive conversions. A lot of that is because humans are generally driven by desire. Sharing UGC creates feelings of FOMO in viewers.
This is especially true of lifestyle brands, restaurants, and tourism industries. By highlighting and sharing content created by your users, you can create consumer desire amongst the wider audience. Simple things such as including branded hashtags in posts or on your profile can go a long way in generating consumer desire.
Focus on Inspiring Brand Loyalty
Successful UGC campaigns focus on one thing: inspiring and highlighting brand loyalty. New prospects are more likely to buy from you if they see people sharing posts about your brand from time to time.
Users who share content about your product or service are your biggest brand ambassadors. They are usually repeat buyers, so tap into their excitement for your product or service by curating content from them, underlining their experience with your brand, and showing how much you care about their opinion. Inspire brand loyalty by regularly highlighting posts and sharing them with your audience.
Build a Library of User Generated Content
If you aren't curating and building a library of user generated content on your website or social media channels, you're missing out. Instagram has Highlights, Facebook has Albums, and even Twitter lets you pin top Tweets. It's difficult for brands to consistently push out engaging content every other week.
That's where UGC comes in. You can always tap into your library of UGC to share with your audience. If you are tracking posts with specific hashtags on multiple platforms, bring them together in a library, and curate them on your profile.
User Generated Content Can Dramatically Boost Growth, If Done Right
It's hard to underline just how important UGC can be for growing brands, but the user generated content examples above should provide inspiration. If you want to do a UGC campaign right, it's recommended to work with a professional creative advertising agency. That's where yellowHEAD comes in; when our creative muscle and professional insights are paired with a brand, we help launch memorable campaigns that deliver tangible results. Schedule a chat with the yellowHEAD experts  to discuss a personalized plan.
BACK TO BLOG
NEXT ARTICLE