July 20, 2017
Tips for Effective Video App Install Campaigns
Video App Install Campaigns in the Lead
If you're an app developer, you know that building a scalable and monetizable user base is critical in the freemium app ecosystem. You've invested in creating an amazing app, perhaps even spent a substantial amount of money on localization for players outside your local market. And now it's live (yay!) on the app stores, competing for users with millions of other apps.
User acquisition is challenging, but essential for developers seeking to stand out in crowded app stores. Here at yellowHEAD, we believe that paid acquisition should go hand in hand with a solid ASO strategy for maximum return, but this article will focus on UA.
Different advertising platforms offer different benefits and effectiveness of UA campaigns, but one thing is for certain: video ads are the top format, driving the best results with app-install campaigns.
As digital video consumption keeps growing, it's logical that app developers are also turning to video ads.
Video makes up 50% of all marketing campaign spend now, according to data from Ad Colony's App Install Marketing Survey.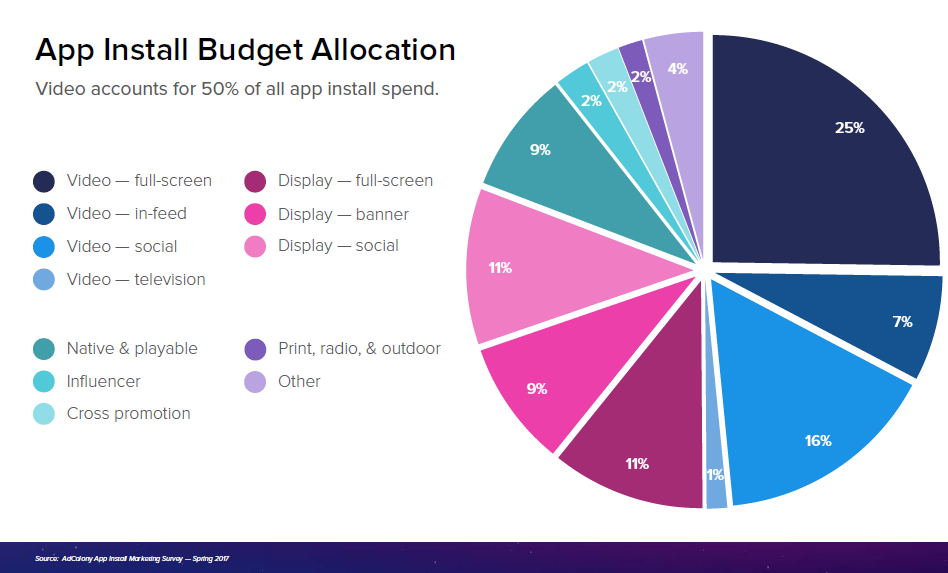 But it's not just about an overall trend. It's the results yielded by this ad format that drives marketers to increase their spend for video app install campaigns. Video ads allow to show your app in action, and it's much more engaging that just still images and copy.
Now let's take a closer look at different advertising platforms to discuss their potential for video campaign performance, as well as share some tips with you from our UA experts on what are the essentials for campaigns' success on each platform.
Facebook:
Obviously, the access to a robust mobile and active audience (we're talking about 2 billion monthly active users), together with targeting capabilities, makes Facebook one of the most effective platforms on which to run your video app install campaigns. Facebook has been pushing hard for video ads' adoption among advertisers as part of its broader effort to take over TV ad spend.
Tip from yellowHEAD:
Not all users consume video ads the same way. With the power to decide what content deserves their attention, people respond differently to a video ad. Some will scroll past it in the News Feed, some will watch part of it, and only some will click on the ad.
It is critical for advertisers to know how the audience they are targeting will react to the video ad. Constant optimization and experiments with creatives will help evaluate the success of video campaigns. Take your optimization to the next level with advanced creative analysis technology.
Remember – on Facebook, you're competing with people's personal feed in which they have most interest, so you have to be quick and shine to make someone stop scrolling and watch your video ad. From our experience, the best practice on Facebook is to cut straight to the chase and grab people's attention in under a second.
Instagram:
First, Instagram is a visual social network. It's no wonder Instagram Stories became highly successful with the users – the audience finds visual story telling engaging. And that's why video ads are quite effective here.
Second, Instagram has always been a mobile-first platform, making it perfect for mobile video app install ads.
Tip from yellowHEAD:
Sharing advertising tools with Facebook, Power Editor Tool or Ads Manager (learn which one is best for you), Instagram offers a great opportunity to try video ads on both platforms, as well as makes it easier to re-use ads that performed well on either platform.
Google:
In the advertising duopoly of Facebook and Google, both want to give advertisers the best tools for effective video campaigns. Google gives app developers the option of full control over campaigns with Mobile App Install campaigns, and offers the alternative as well, in which Google does all the heavy lifting in optimizing the performance.
Tip from yellowHEAD:
YouTube is the second most powerful search engine in the world. It offers very broad, yet precise targeting and enables the advertisers to reach a huge amount of high-quality users.
By creating premium video content, you can engage your users with either In-Stream or In-Display ads, and make them convert.
Another place to be is rewarded video ad placements (where players are offered to watch a video ad within an app in return for some kind of reward, usually a small payout of in-game currency). More and more apps are suggesting rewarded ads that help keep users engaged and improve their value. Video ads are the best ad type in boosting user engagement and driving promoted apps installs.
Design-wise, it is important to remember that what works on Facebook usually fails on Google, and the other way around. Don't create one video for both platforms, and expect them to work the same way and bring you the same results.
What we found is that Google users are more patient, so longer videos actually work better. On Google ad space, users seem to be more willing to watch and enjoy longer videos with a more 'theatrical' opening and closing to it.
Stay prepared for the future
Snapchat:
The platform is growing fast all around the world. It is super popular among the Millennials – and app advertisers want to have direct access to this generation at the places where they are most ready to interact with ads.
Tip from yellowHEAD:
Snapchat app-install ads are quite rare so far. They still has to prove their effectiveness. But this shouldn't prevent advertisers from trying and experimenting with ads, with the goal of tapping into the lucrative audience and being among the first to unleash its potential. 
Pinterest:
While Pinterest is not offering video formats with its Promoted App Pins at the moment, this is definitely something to watch out for. Starting May 2017, Pinterest has opened its advertising to all marketers, after testing it with a limited number of advertisers since July 2016.
The great thing is that the platform offers access to 150 million monthly active users with high intent to purchase. 80% of Pinterest traffic comes from mobile devices, which makes it a great audience for app developers to target.
Tip from yellowHEAD:
As women represent the largest part of Pinterest's demographics, video app install campaigns would work best for apps of the following categories:
Food
Style
Fashion/Beauty
Health/Fitness
Gaming
and Personal Finance
yellowHEAD is committed to helping mobile advertisers understand the competitive landscape of advertising platforms and market trends. Thus, we're constantly monitoring the new opportunities for advertisers to reach the right audiences with effective campaigns that generate the best results.
If you're looking for a proven partner to help you grow your app, get in touch with us to learn about our holistic approach and media strategies that can be tailored to your app's marketing goals.
BACK TO BLOG
NEXT ARTICLE