February 27, 2017
UX and SEO – How Important Is It to Combine the Two?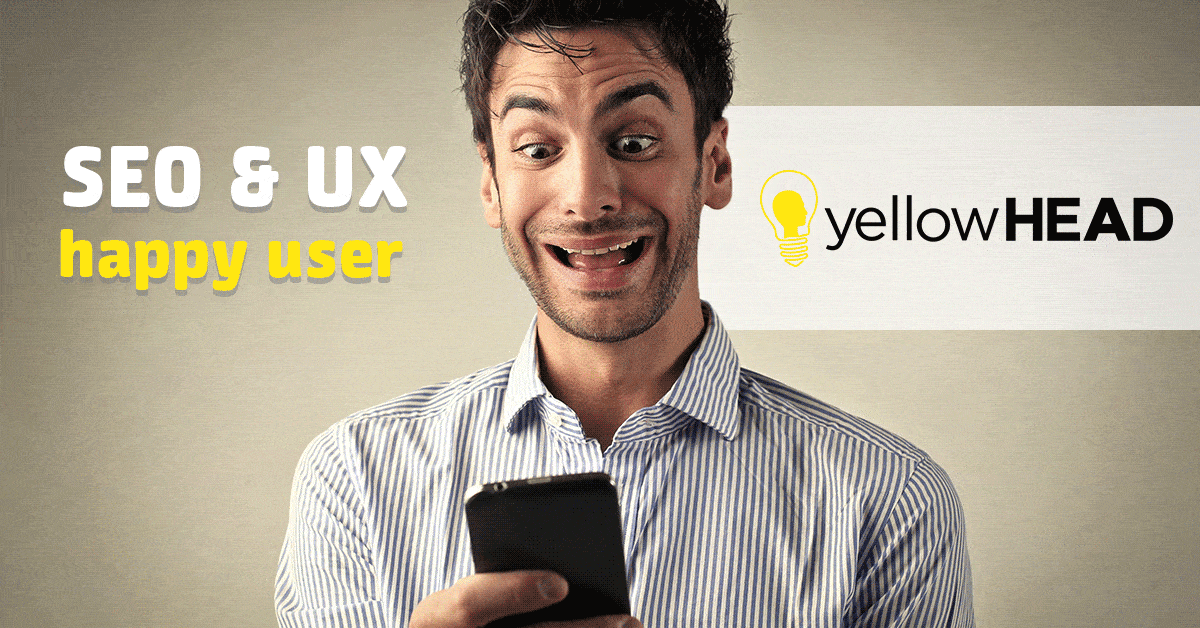 If you're in the Online Marketing industry, you know how quickly trends change, and how best practices adjust accordingly. Trends might seem very flaky, but when it comes to SEO, some of them are really worth paying attention to.
A good example of trends that SEO folks should pay attention to is the direction in which UX is going – it's headed our way, and very fast.
Here are 5 important factors to take into consideration when combining UX and SEO:
1.      GOOD COPY – IT CAN BE PLACED BELOW THE FOLD
Keep your content fresh, rich, unique, fantastic, one-of-a-kind, yadda yadda yadda. Mind you, this is true. It's just such a worn-out thing to say – we've all been hearing this for over a decade. However, one important thing to take into account is that not all of your content needs to fit above the fold. Yes, that might sound quite trivial to some of us, but very often we need to compromise in order to adjust to a client's wishes, design requests and so forth.
In his article, Neil Patel mentions that your content can be, or even should be (at times), pushed below the fold. While for SEO purposes, the placement of the content is fairly flexible, Patel believes that content below the fold is good practice for UX since most users would be willing to scroll down as long as the top of the page is user-friendly and enticing enough. At the end of the day, a user who has entered your site wants to find whatever it was they were looking for on Google (or Bing, Yahoo!, Baidu, Yandex, etc.). For this reason, users who land on pages that contain a clear and interesting top portion (even it is mostly visual), are more willing to continue looking below the fold for the content they were searching for.
2.      PAGE SPEED – HINT: IT'S IMPORTANT FOR BOTH UX AND SEO
Page speed is something that both Google and users value, a lot. Honestly, who wouldn't? It's hard to believe that only a few years ago, it would take considerable time for an image to load on a page – sometimes up to several minutes. These days, if an HD video is difficult to load, keeps buffering and is constantly reduced to 360p, we not only get upset, but we also try other videos and even other websites – this results in the slow website having less time spent on page and frequently losing users altogether. This applies to non-video websites, too. Users get fed up with slow websites of any kind, very quickly.
To top it off, Google has officially stated (already back in 2010!) that page speed is a crucial part of its algorithm in terms of rankings. Simply put:
SHORTER LOADING TIME → BETTER RANKINGS → MORE TRAFFIC → MORE TIME SPENT ON PAGE
3.      MAKE IMAGES AS UNIQUE AS THEIR RELATED CONTENT
The world of online marketing is progressing in gigantic leaps. One of its most important aspects, in direct relation with UX (and SEO, but to a lesser extent), is the use of images. One of this aspect's most debated and problematic side effects is the use – or rather the overuse – of stock images.
Many studies have researched the problems that arise by using images that are obviously fake or are just so bland that, instead of maintaining user engagement on the page, they push users away. In these cases, simple white space might just be the solution.
LESS VISUAL NOISE/MORE UNIQUE & RELEVANT IMAGES → HAPPIER & BETTER CONVERTING USERS
An additional matter to take into consideration when using more unique images is the fact that your website might just rank higher in image search results, too. The reason behind this is less competition. Just don't forget to optimize the images (yes, alt and title tags are important).
4.      CUT ANY EXCESS WEIGHT
This point refers to the layout of your website, not its copy. Excess weight could be translated into visual noise, similar to point #3. Make sure your website is straightforward – reduce the amount of irrelevant, confusing images, forms that need to be filled out and redundant titles, but consider adding microcopy that would enhance your user experience. Cleaning up pages helps both you and your users better understand the intent of your website.
Stay consistent. The funnel should be as simple as possible: from search results, to a landing page to the final steps on your site, you should maintain the same language and communicate the same information in your content, meta tags, titles and forms. If you offer a free product for a certain amount of time, make sure it is mentioned in a similar manner throughout the site (but do keep in mind some on-page essentials/guidelines, e.g. not using the exact same sentence in your meta title and h2).
5.      COHERENT ON-PAGE – NOT ONLY SEO
The last point might be the most obvious one, but it might also be the most important one. Just like the right to liberty, using correct on-page optimization for a webpage is fundamental. This is true for UX as well as SEO.
From a purely SEO perspective, this is fairly obvious, as any webpage should have good on-page if its webmaster wants it to be able to rank for keywords with a high search volume. That is, unless you are Beyoncé, in which case all you need is keyword stuffing.
From a UX perspective, good on-page means better CTR and a longer average time on page by happier users. Continuing directly from point #4 above, when users find your website in search results, there's a higher chance they will click on a to-the-point, informative meta title. This is especially true if the meta description is complimentary to the title with additional relevant information, most often when it comes to websites that need to entice users to enter by providing a lot of information, such as prices, opening hours, services provided, locations, etc. Structured data is another way to help users better understand what it is you provide and to improve rankings.
Once users enter your website, it is key to provide them with coherent information similar to what they have already seen in search results, but with additional information. Don't opt for ranking at any price, using keywords with a high search volume, if they are not 100% relevant to your website. Instead, look for "healthy" alternatives, such as less competitive long-tails and unique keywords with a slightly lower search volume. In the words of a very smart woman, "There is a fine line between being shady, and being a lady". The same applies to UX and SEO – don't misuse either, or there will be a price to pay, eventually. Don't trick your users into entering your website if you can't deliver on what you promised, and make sure you are able to provide whatever it is you offer to give, be it a good frying pan, an affordable holiday abroad or even stylized t-shirts.
Keep these points in mind, and your users' behaviour might just surprise you.
BACK TO BLOG
NEXT ARTICLE