December 16, 2020
5 Creative Optimization Tips for Social Casino UA
Grab the attention of high-value social casino players with these user acquisition strategies.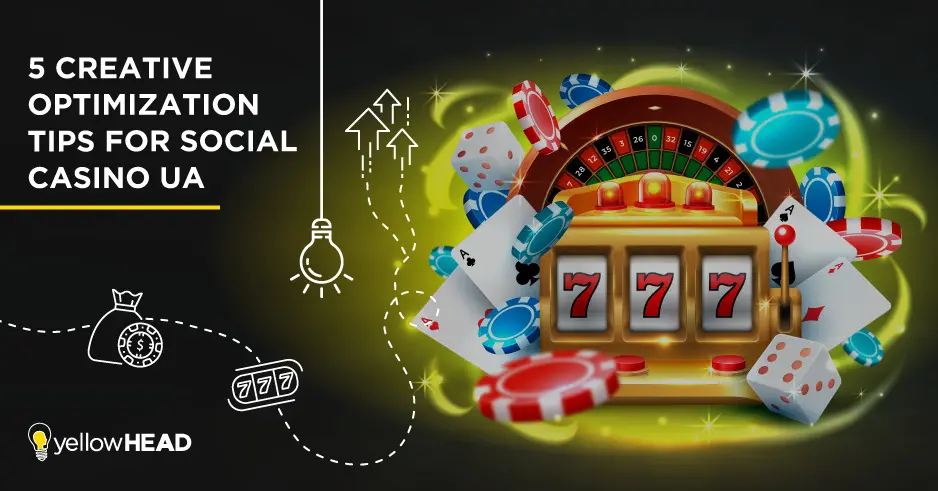 Social casino games are immensely popular, with mobile apps making up the bulk of the billion-dollar category. While that's good news for social casino publishers, it also means that the genre is becoming increasingly crowded. With more and more apps vying for smartphone users' attention, publishers need to get creative to attract those high-value, long-term users known in the industry as "whales".
At yellowHEAD, that's exactly what we do. We use a combination of marketing expertise and machine learning to optimize ad creative to drive ROAS. Want to learn how we can help you achieve your growth goals? Get in touch!
We've looked at our data and several other sources to find ways for social casino advertisers to hook new players and reduce churn. Ready to learn more? Let's get started!
Make Those First Seconds Count
Mobile ads have about three seconds to grab users' attention. That's not a lot of time, so advertisers need to ensure the opening seconds of a video ad have maximum impact. Imagine you're a user with a smartphone in your hand: What would attract your attention in the time it takes to scroll through a feed?
There are a few ways to make the most out of the opening seconds of your ads. As our data showed in our recent Ad Creative Benchmark Report, putting a logo upfront is 40% more effective than waiting until the end of a video ad. Same with calls to action; put that CTA upfront and use psychologically pleasing colors, like purple. Avoid red, as the data indicates that it negatively impacts ROI in calls to action.
Show Real Gameplay
This should be a no-brainer, right? If you want people to play your game, you need to show them what the game looks like — or so you'd think. Unfortunately, an ugly trend in mobile game ads is creating fake gameplay that looks nothing like the actual app experience. Sure, that might initially grab users' attention, but that does nothing to foster long-term player relationships.
If you want to acquire high-LTV users, you need to show them real gameplay. Don't exaggerate or mislead; just show off what your app has to offer. According to our data, spinning reels and dollar animations are particularly effective for social casino games. Of course, what you show will vary by app, but just make sure it's authentic.
Optimize By Platform
There's no one-size-fits-all approach when it comes to user acquisition. A successful UA campaign on Instagram might look very different from one on Facebook or Snapchat. Each channel has its own ad formats, audiences, and trends, and advertisers need to adjust accordingly.
The good news is that optimizing for different platforms offers plenty of opportunities to get creative. For Snapchat, that might mean taking advantage of augmented reality or scannable filters to engage users, while Instagram is well-suited for videos and smart, shareable images. Be sure to utilize the unique features of each platform to increase your odds of connecting with audiences.
Use Lookalike Audiences
Speaking of audiences and platforms, one tool that greatly benefits UA advertisers is Facebook's Lookalike Audiences feature. According to Facebook, Lookalike Audiences helps advertisers "reach new people who are likely to be interested in your business because they're similar to your best existing customers." In other words, Facebook helps you identify demographic and behavioral patterns among your existing audience and then targets users with similar characteristics.
Lookalike Audiences lets you target specific groups with the potential to become high-value users. This kind of targeting gives advertisers more bang for their buck, helping them increase ROAS. While Facebook may have originated the concept, other ad networks and DSPs have developed strong Lookalike targeting based on machine learning. Keep this in mind when planning your own UA campaigns.
Test Different Creative Concepts
Ultimately, the best way to make informed decisions about which creative strategies work best is by looking at data. One way to collect that data is to test out different creative concepts — an approach known as multivariate testing. By experimenting with different ad concepts, you'll get a better understanding of what's working and what's not, allowing for more precise creative optimizations and targeting.
Advertisers are sometimes hesitant to test because of the cost of scaling creative production and the inherent risk of wasting ad spend. However, the right advertising partner will be able to guide you through the testing process in a way that drives ROI. With yellowHEAD's proprietary Alison engine, for example, advertisers can eliminate the guesswork of the traditional testing processes. Our technology uses machine learning to test the efficacy of multiple creative elements in tandem and refines those insights through human-level optimization. By testing, not only will you gain new insights into which elements of your current campaigns are getting the intended results, you'll be able to refer to that data the next time you're running a user acquisition campaign. To learn more about how data is revolutionizing game creatives for user acquisition, check out this VentureBeat webinar we participated in alongside industry experts from Zynga and Snap:
Keeping track of the various creative optimizations at your disposal can be a lot of work, but you don't have to do it alone. A great mobile partner can help you make data-driven decisions that get proven results. To find out more about how yellowHEAD can optimize your campaigns, get in touch!
BACK TO BLOG
NEXT ARTICLE