January 2, 2023
Boost your Browse Traffic with App Store In-App Events
In-app events were introduced by Apple in 2021 as one of their newest features from the iOS 15 update. In-app events are a powerful tool that has been quickly accepted by the App Store Optimization (ASO) community, to help reach new users, engage with existing users, and reconnect with old users. Find out all the inside scoop we have discovered in yellowHEAD since the release.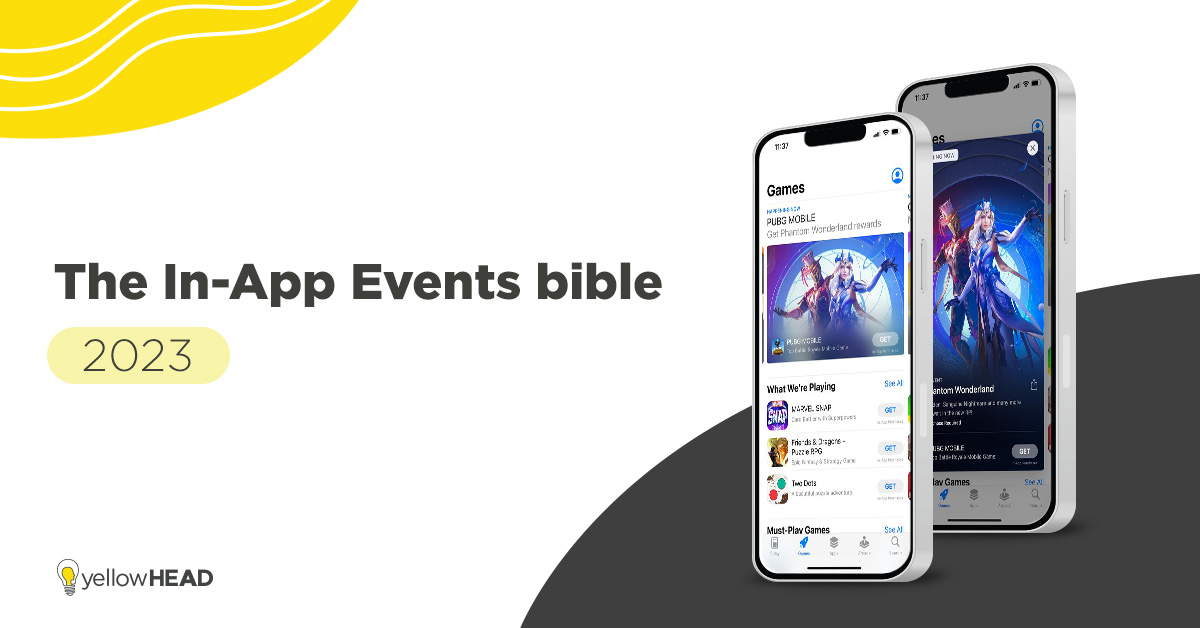 Table of Contents
1. What are in-app events?
In-app events are limited-time events that are not a part of the normal app experience. For example, you can promote live activities in which users can partake in throughout your app or game. It could be a movie premiere or a limited-time quest to earn exclusive rewards in a game.
These events are linked to your app store listing and can also be highlighted throughout several spots on the App Store search and browse results.
     

Widgets on the Home Screen

     

Today tab

     

Search results

     

Under "Events you might like" (personalized recommendations) 

     

Product Page
In short, in-app events offer increased visibility to your app or game and are a great way to show users how active your product is.
2. In-app event categories
Apple allows you to place your app into the following categories, which will come with its own badge placed on the event banner when displayed throughout the App Store:
Challenge: Limited-time activities that encourage users to reach a goal before the event is over.
Competition: Activities in which users compete against one another to achieve the highest ranking or to win rewards.
Live event: Real-time activities that users can experience at the same time
Major update: Announcement of significant new features, content, or experiences.
New season: Announcement of new content, storylines, or libraries to build on established content.
Premiere: Announcement of new content for the first time.
Special event: Limited-time events that are not related to the events mentioned above. These could include events ranging from multiple activities or experiences, but in any case, should provide users with new content, features, characters, levels, or goods.
Apple allows you to run up to five in-app events at a time, which can go live 14 days prior to the event start date and can run for up to a total of 30 days.
It is important to mention that you are not allowed to run a discount or promotional-based events. This goes against Apple's guidelines and will cause your event to be rejected.
3. What are the benefits of using in-app events

?
There are many benefits that come from leveraging in-app events. Here are the main benefits and values we at yellowHEAD have noticed when conducting them for our clients:
One of the main benefits

is attracting new users

. In-app events (IAE) are a way of showing users why your product is unique and worthy of their attention. While this is true, we have noticed that Apple in-app events to be more successful for

engaging existing users and/or reconnecting with old users

. IAE provide existing users with a reason to keep using your app, and at the same time, re-engage users who have not used your app in a while.

IAE can also have a positive impact on your users

retention rate and lifetime value

. If you are constantly running exciting activities within your app or game, it can encourage users to stick with your app and keep them coming back.

It's always important to

set yourself apart from competitors

. For example: there is a large amount of casino apps within the App Store, and users might struggle deciding on which game to download. With IAE, if you are promoting activity for your game, it could set you apart from competitors and push users to convert.

Sometimes, when you search in the app store, the in-app event card may be displayed instead of your app screenshots. However, we have observed that some apps with in-app events do not appear in search results at all. It is possible that the app store is testing different ways to show in-app events on search results pages. It is important to make sure that your creatives (visual assets such as images or videos) are high quality and relevant to your app, as they may be the main creative assets shown to users. The example below shows two apps, "Fishdom" and "Age of Magic," that are both using in-app events, but are displayed differently on the search engine results page.

For users who already have your app installed or have previously installed it, the in-app event will be displayed on the search results page. This emphasizes the importance of ensuring that your creatives (visual assets such as images or videos) are related to the main features of your app.


If

growing in certain markets

is part of your ASO goal, in-app events can help you get there. With IAE, you can target individual countries and languages.

The in-app event card metadata space allows you to promote the activity happening inside your app. It is said that the IAE metadata is indexed (event name and short description) so you will be able to rank for extra keywords. ASO Experts at yellowHEAD, as well as many within the ASO community, are still yet to see conclusive results for this!
4. How will in-app events impact your ASO activity?
As we know, in-app event cards are discoverable in multiple places throughout the App Store, but the question is, how does this impact your ASO strategy? We're here to tell you what we've learned about the impact we've seen and the increase it has on app visibility.
Search Results:
We noticed that when a user searches for a specific branded keyword, the event card will appear in the search results, underneath the organic search results. This means, that your app or game will take up more real estate throughout the store. With the newest update of iOS 15, screenshots do not appear for users who already have the app downloaded. This makes it crucial to run in-app events to ensure that you are taking up as much real estate as possible to prevent competitors from showing up higher in the results page. In addition, the event name and short descriptions are indexed for keywords, which means you have additional places to target or store keywords.
Lifetime Value & Retention Rates:
Another impact we noticed is that when a user does a search, the event card replaces the screenshots for users who already have the app downloaded on their phone. This helps app devs engage with their current users by showing them that new things are happening within the app.
Browse Exposure:
As we all know by now, in-app events increase visibility in the browse results. Up until now, an ASO strategy had a very small impact on increasing browse rates, however, with in-app events you can now be featured in multiple places throughout the app store which can help improve your brand exposure and visibility.
5. yellowHEAD tips for successfully Running in-app events
Setting up an in-app event on the App Store is extremely simple and only takes a few simple steps:
1) Select an event reference name. This is not user-facing and is only visible on the back end of App Store Connect.
2) Select an event name (30 characters max). The event name is said to be indexed and should contain keywords that you want to target.
3) Create your event metadata. This should be specific to your event and let users know exactly what they will be experiencing. The event metadata includes the short description (50 characters max) which is indexed for keywords, in addition to the long description (120 characters) which is not indexed.
5) Your creative assets for the in-app event should be eye-catching and engaging – this will be a huge factor in converting more users. Most importantly the assets should clearly outline what you are offering to your users. The event card media can be either an image or a video (up to 30 secs).
6) Select an event badge category from the event types listed above. From experience, this is an important step, we have noticed that Apple uses this badge information to give personalized recommendations to users in the Apps, Games and Today's tab.
7) Select your regional availability in which markets you want to release the event in. This is important if your event is localized or culturalized for a specific region.
8) Once your event card is complete, your IAE needs to be submitted for review. We have noticed that the review period can take up to 3 days. If after this period the event has not been approved, we suggest canceling the review and resubmitting for a new one.
 IMPORTANT NOTE: This review is different and separate from the review for a new version release. A new version release is NOT necessary when uploading an in-app event.
9) Run In-App Events long enough. In-app events must generate first-time downloads from at least 5 individual Apple IDs before analytics results will provide results.
6.
How to measure the success of your in-app event
?
It is crucial to analyze and measure the success of your in-app event, so you can understand the effectiveness it has on users. You are able to see how successful (or not) your in-app event was through the metrics provided on App Store Connect.
Metrics that we at yellowHEAD like to focus on to give us a deeper understanding of the event performance are:
Event Impressions: The number of times the event appeared on the App Store.
o Impressions are crucial to look at here because it will show you how many people your event was exposed to, and how it has improved your brand awareness.
Event Page Views: The number of times the event page was viewed on the App Store.
o   This is also an important metric, as it will show you how many users clicked into your page from the impression. This can give insights on how engaging your event card media was.
Event Interactions: The number of interactions the event had in terms of re-downloads, app opens, first-time downloads and event reminders.
o   This gives us a deeper understanding if the app was able to convert new users or re-engage old users.
App Opens: The number of times users clicked the "Open" button in an event impression on the App Store.
o This gives us an understanding if the app worked best for re-engaging existing users or old users. We can also see the app opens by territory, which can give us insights for our ASO strategy and if we should adjust our approach if needed.
One of the downsides to monitoring the results of in-app events is that there are no benchmarks per category to compare IAE results against. Simon Thilley, fellow ASO Expert, suggested setting our own baselines and understanding what the relevant metrics should be to measure the success of the in-app events. For instance, are we targeting active users? If so, we will focus on the number of app opens and app updates. If we are focused on bringing back lapsed users, then we will analyze redownloads and app updates, or if we are focused on reaching new users, we will look at the number of new downloads.  
Additionally, we have noticed in the past that a decrease in paid campaigns can have a negative effect on how much you are featured throughout the app store. We believe that it is important to keep your referrals stable during the same time your in-app events are live, so you can get clear and concise results.
7. Conclusions
Over the past year, we have gained a lot of knowledge and insights from using this ASO tool. There is still a lot more to learn about how to effectively optimize app store visibility and increase engagement with users. In-app events can be a useful strategy for increasing brand visibility and growing your presence on the App Store, whether you are seeking to re-engage with existing users or to secure as much real estate as possible through features and promotions.
We will continue to explore and keep you updated on any new findings and information that we discover.
BACK TO BLOG
NEXT ARTICLE