March 1, 2021
3 DTC Brands Changing the Marketing Game in 2021
From personalized quizzes to Insta-friendly cocktail recipes, these three companies are DTC marketing inspiration.
DTC brands are facing new challenges in 2021. Even though business is booming, the direct to consumer retail space is more crowded than ever. From bedding to booze and fashion to footwear, consumers have an increasing number of companies to choose from while skipping the big-box retail experience. To take on established retailers, DTC brands need to prove that they're better positioned to meet consumers' needs. But only a few of them have mastered the unique best practices of DTC marketing.
At yellowHEAD, we're all about helping marketers find creative, engaging ways to connect with their audiences. Thanks to a winning combo of machine learning and marketing expertise, our strategists have a proven track record of creating marketing campaigns with proven results. Want to know more? Get in touch!
In the meantime, we've rounded up some of our favorite DTC brands for marketing inspiration. Ready to find out how these companies are changing the game? Let's get started!
Want to learn more about Direct to Consumer Marketing? Check out DTC Marketing: The Ultimate Guide.
Jump to a section…
Brooklinen: Bedding With a Personal Touch
View this post on Instagram
What Brooklinen does well:
Commits to its core values
Uses relatable influencer campaigns
In 2014, millennial couple Rick and Vicki Fulop founded Brooklinen with a simple goal: making quality bedding at an affordable price. Since then, the company has had a meteoric rise, raking in over $200 million in revenue and expanding its offerings to include bath products and loungewear. And it all started with four core values: high-quality products, a better shopping experience, a personal touch, and an efficient supply chain that gives customers more for their money.
These values are present in all of Brooklinen's marketing efforts, bringing a rich authenticity that draws millennial and Gen Z consumers. A quiz on the Brooklinen website offers personalized recommendations, while its Instagram account does a lovely job of showcasing the products (Look at all the puppies and kittens!). Brooklinen's ads use short, compelling messaging and clever copy to grab attention, and it's hard to resist a brand that knows you need just five more minutes in its cozy sheets. Brooklinen also users influencer marketing thoughtfully, eschewing the "aspirational" pics of fancy mansions and other stereotypical signifiers of luxury in favor of normal people (and pets) lounging away.
ModCloth: Inclusive Fashion with a Vintage Flair
What ModCloth does well:
Executes clever email campaigns
Hires diverse models representing a range of sizes
As an apparel company, ModCloth has had a different journey than many other DTC brands. Originally founded in 2002, ModCloth built its reputation on quirky, high-quality fashion inspired by decades gone by. The company used real people in its marketing campaigns and refused to photoshop its models, establishing itself as a fashion brand for every woman. However, when ModCloth was acquired by a Wal-Mart subsidiary in 2017, a move that drew criticism from its most loyal customers. ModCloth split from Wal-Mart two years later and has been enjoying a rebirth of sorts, with COO Chris Schreiber promising to "[Spend] a bit of time re-engaging and really listening to understand what types of things we needed to bring forward."
This re-engagement strategy includes some of the best email marketing campaigns in the DTC industry. ModCloth's emails are genuinely engaging, using vibrant colors, motion graphics, and even interactive games to drive sales. On top of that, the company's edgy brand voice shines through across every channel, thanks to some seriously clever copywriters. "Now that we're back to being independently owned," the website states, "ModCloth is reinvigorating the independent and innovative mindset that is the foundation of our brand." These efforts help re-establish ModCloth as a go-to DTC fashion brand for millennial and Gen Z women.
Haus: A Modern Take on Happy Hour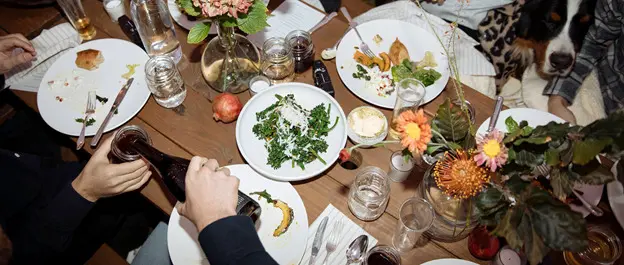 What Haus does well:
Uses social media to create an informed follower base
Practices transparency regarding ingredients and manufacturing
Boasting "a modern spin on the apéritif," DTC liquor brand Haus has become a favorite of millennials, who want more from their cocktails than high alcohol content. Haus celebrates "a different kind of drinking culture" that focuses on social connections rather than getting tipsy and offers a variety of flavored liquors made with natural ingredients. In 2020, just one year after being founded, Haus raised $4.5 million in funding based largely on the strength and popularity of its branding.
Haus isn't the only "farm-to-bottle" liquor brand on the market, but it does a much better job explaining why this matters. The brand's Instagram account is full of fun facts, like this post about what alcohol companies aren't required to tell customers. There are also tips on how to find responsibly sourced booze, recipes, and recommendations straight from founder Woody Hambrecht. These organic social media efforts go hand-in-hand with sponsored ads that highlight Haus' unique flavors and freshness, resulting in an effective campaign that's worth a toast.
Are you ready to embark on your own DTC marketing campaign? You don't have to go it alone. At yellowHEAD, we help our partners meet their marketing goals with a comprehensive creative analysis courtesy of our proprietary Alison platform. After performing multivariate tests that go beyond standard A/B testing, our marketing experts study the data and make proven recommendations. Want to know more? Get in touch!
BACK TO BLOG
NEXT ARTICLE