December 21, 2020
How to Grow Your Mobile Games by Testing Ad Creative the Right Way
Finding out what's working — and what's not — is key to mobile growth.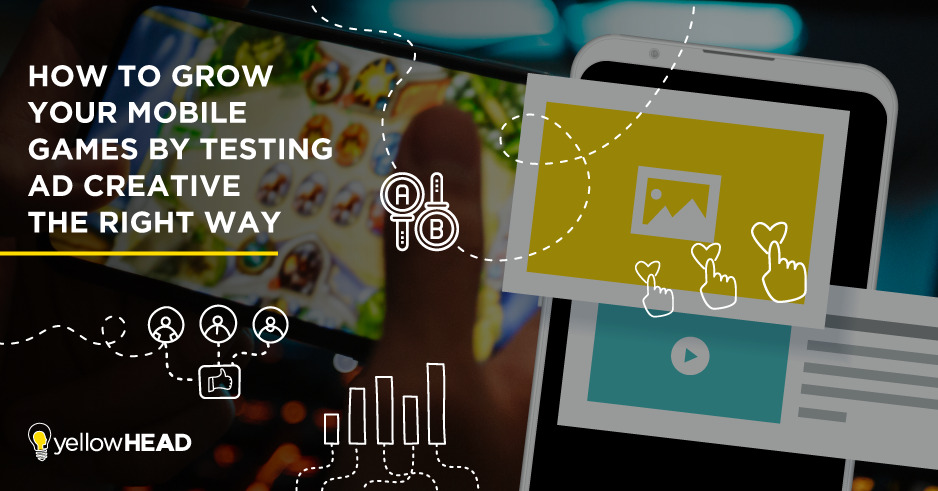 With so many ad formats, platforms, and styles, it's hard to know where to get started in digital advertising. To industry newcomers, mobile app user acquisition may seem particularly intimidating. While it never hurts to be armed with best practices, you'll ultimately need to test different creative asset designs to find out what works best.
At yellowHEAD, creative analysis is at the core of everything we do. Our proprietary AI platform, Alison, allows us to quickly and efficiently test many different creative elements at once. Then we help our partners make data-driven decisions about what works best. (You can learn more about Alison here!)
In this post, we'll walk you through the creative testing process and help you determine the best approach for your next UA campaign. Let's get started!
Collect as Much Data as You Can
To properly evaluate which creative elements in your ads have the intended effect, you'll need to collect data and study the results. It's simple on paper but harder to do in reality. If you have any data from past ad campaigns, start there and see if any trends emerge. Are clickthrough rates higher with specific colors or characters, for example? Does showing gameplay lead to stronger retention? Take our word for it — data is revolutionizing game creative for mobile user acquisition. To dig deeper into the topic, check out this VentureBeat webinar we participated in alongside industry experts from Zynga and Snap.
Even if your initial tests aren't giving you the expected results, that data can still be a valuable piece of the puzzle. Test as many creative elements as you can! Of course, this can be a time-consuming and expensive process on your own, so many mobile advertisers team up with marketing tech platforms to collect that all-important data.
Don't Be Afraid to Challenge Industry Norms
When you're starting to test different concepts and collect data, don't fall into the trap of assuming that standard practices are set in stone. For example, when compiling information for our Ad Creative Benchmark Report, we found that ads performed better with logos and calls to action at the start of video ads, despite the commonly accepted practice of placing them at the end.
In other words, standard practices aren't necessarily best practices. It's okay to challenge advertising norms and see what happens — it might just be the thing that makes your ads stand out in the crowd!
Marry Machine Learning With Human Expertise
We're living in a time where artificial intelligence can do incredible things. Machine learning platforms are revolutionizing many industries, and marketing is no exception. The right ML platform can significantly accelerate the process of collecting and analyzing all that data, giving you even more information to go on when trying to decide what creative works best.
However, while AI can do things that would have been unthinkable a few decades ago, it's not a replacement for human expertise. Marketing experts can help put all of that data into context, providing a more thorough analysis than machine learning can deliver on its own. With a combination of AI and human expertise, you'll be able to discern patterns, gain insights, and use that data more effectively.
Don't Stop at A/B Testing
Once you start looking into the creative testing process, you'll probably find many materials promoting A/B testing. As the name suggests, A/B testing involves running two different campaigns simultaneously and comparing the results. This kind of testing has its merits, which is why it's considered an industry best practice… but didn't we just tell you to question best practices?
With modern technology, there's no need to stop at A/B testing. Platforms like Alison can run multivariate tests by tagging creative elements and recommending new creative variations. Hundreds of variations can run simultaneously, gathering a lot more data in a lot less time. By going beyond standard A/B testing, you'll have access to a wide range of data about everything from color and character placement to which gameplay elements to show off.
At yellowHEAD, our industry-leading technology allows us to run extensive multivariate tests and collect far more data than A/B tests can deliver. We combine Alison's groundbreaking AI with our team's expertise and experience, providing our partners with comprehensive results and game-changing insights. Ready to get started? Contact us!
BACK TO BLOG
NEXT ARTICLE