April 12, 2022
Popular TikTok Trends for Marketing in 2022
Learn how to incorporate TikTok trends into a marketing strategy that's sure to get the audience's attention and reach your brand goals.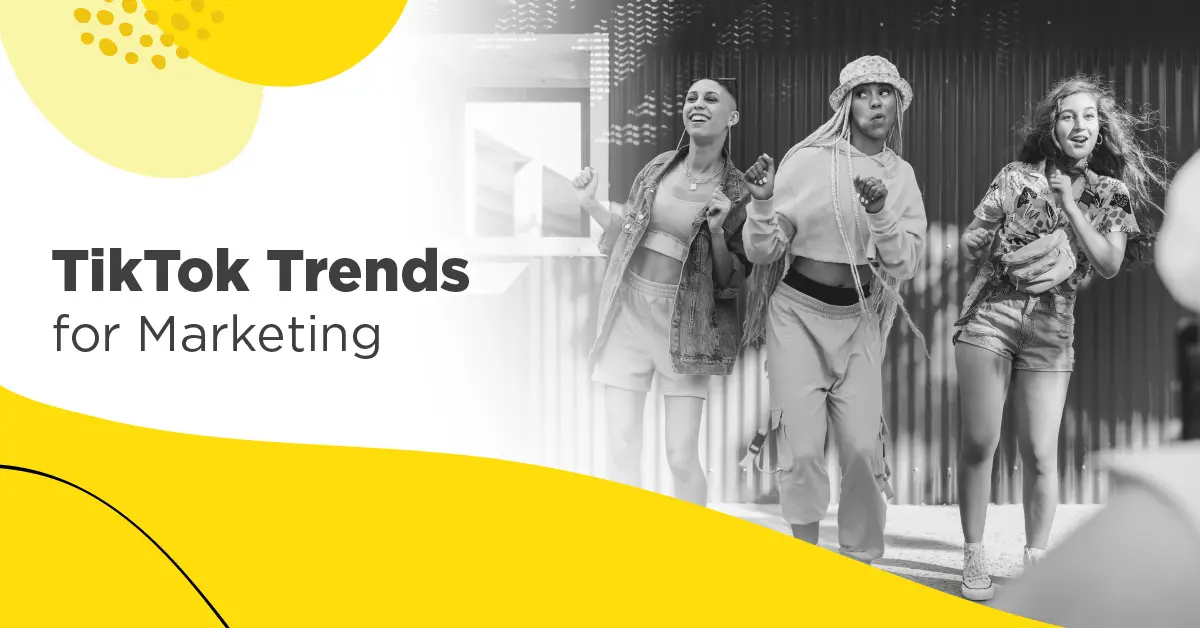 With the 2020 pandemic forcing an entire population to stay at home for extended periods, creating and consuming TikToks made on ordinary smartphones became a primary mode of communication and entertainment.
Thanks to the billions of users with a myriad of interests, TikTok has transformed into a platform where people share ideas and professional insights.
It's also inspired a fresh approach to video production, marketing, and advertising: no need for high-quality cameras, fancy sets, or professional editing.
More and more brands are realizing that TikTok is the next great marketing tool and are increasingly making ads that look like authentic, native TikToks. When done well, the content can help build an engaged community and draw in new partners and clients too.
In this article, learn why brands are creating TikTok-friendly content and ads based on trends, and get inspiration to create your own.
Table of Contents
The TikTok Effect
TikTok rose to fame thanks to its concoction of short videos, trendy music, and that rush of dopamine that comes from social media. The phenomenal success of TikTok led to trends that have given rise to a new kind of social media marketing strategy.
Increasingly, brands are looking for ways to be part of TikTok trends in order to increase exposure and brand awareness, engage with their audience, and, ultimately, find the right converting clients.
What is a TikTok Trend?
Simply put, a TikTok trend is a video that includes a specific action, sound, hashtag, or challenge that gains traction with other users. If the trend initiated is easy to follow and copy, others catch on quickly, creating adaptations designed for their own audiences.
If an element becomes identifiable as a running theme across videos, it's likely that it's trending.
How Does a TikTok Trend Begin?
Oftentimes, an influencer will start a TikTok trend by introducing a new dance move, challenge, or concept. Since the influencer already has an established following, the trend is picked up fast by the audience and goes viral in no time as others recreate the same move or idea. As the trend gains popularity, users recreate their unique spins until social media feeds become flooded with new adaptations.
TikTok Trends for Marketing
By definition, TikTok trends are designed to be followed and modified, a highly advantageous factor for any marketing team. Leveraging trends as a template for your own customization will create an ad with a higher chance of being shown on the For You page.
TikTok influencers and users want their trends to be easy to follow and adapt and will often contain a simple element that makes the trend instantly recognizable. The social media buzz created by these trends is huge. The content is easy to share and since users are so keen to see how others interpret a trend, it's no surprise that trends quickly go viral, generating comments, likes, and sparking an online conversation.
Incorporating TikTok trends into marketing demonstrates that a brand understands what resonates with its audience, allowing them to show their human side and interact with the audience on a peer level. In fact, 61% of TikTok users say they liked brands more if they created or took part in a trend.
What's more, using a trend in ads helps it get seen organically since brands can already see that it's relevant to their audience.
There's a delicate balance between staying attentive to TikTok trends and copycatting. Whilst we do not advocate the latter, it would be a missed opportunity to ignore what's TikTok-trending in a given vertical.
TikTok Trends and Native Advertising
By following the trends of their users, brands can create native content and better engage with their audience. TikTok ads are reported as being more enjoyable than ads on other platforms due to the sense of community they ignite. To add even more weight to the power of trends, two-thirds of TikTok users said they prefer brand videos featuring TikTok-trending songs.
Furthermore, it's a way to get more people to get involved and become part of the brand conversation, even if it's a guy drinking cranberry juice while skateboarding to Dreams by Fleetwood Mac. The video turned into a major media moment for Ocean Spray cranberry juice as influencers and celebrities made their own versions of his video.
5 TikTok Trends for Business
Trends can give advertisers important insights into their audience's lifestyle, what they like or dislike and even their goals and aspirations. Before deciding on a TikTok trend to adopt, it's important to pinpoint which trends will be worth the investment and will perform better with your target demographic. Let's take a look at some of the biggest TikTok trends to look out for and how they can be leveraged for business marketing or ads.
1. Transitions
This TikTok editing trend has been around for a while and it shows no signs of going out of style. In fact, transitions are only getting more sophisticated and unique with time. Viewers love to be left feeling amazed by the juxtaposition of before and after and inspired enough to create their own. There are various types of TikTok transitions to utilize, but the secret is the seamless blending of scenes to give the video that 'wow' factor. The anticipation of how a transition concludes, plays to a user's curiosity and keeps them viewing the video until the end, which is extremely useful if you want to keep your users engaged.
2. Day in the Life
This TikTok trend puts the spotlight on how people spend their time. There are so many professions out there and this is an ideal way to showcase less known, and even quirky and strange occupations. Take gravestone cleaning for example. This TikToker combined the art of storytelling with her daily profession and brought the mundane to life. By giving the audience insights into a daily decision process at work, like in this video, it invites the audience to be an active partner in making a choice and, in turn, become more invested in the product. This is a great trend to adapt for your company and put the limelight on employees to share something interesting they do at work and what they are good at.
3. Office Life
There are many variations of this TikTok trend. From reactions to annoying co-workers to how to dress in the office, TikTokers often take a sarcastic but humorous approach to dealing with workplace dilemmas. Users feel free to express their feelings on TikTok which serves as a great outlet for frustrations such as office politics or honest help with tricky questions like how not to answer an interview. By addressing one of these workplace-related issues, not only do you show you can relate to your audience but you can also offer good advice.
4. Fun Conversation Starters
Thanks to this TikTok trend, it has opened the door for an easy introduction to your brand or product and is easily adaptable to leverage your content.
"Don't be surprised if one day I just…": This is a fun opening that can be used to hint at future plans within your company or to give a preview of a new product.
"I was busy thinking about…": This can lead to just about anything about your business you want to feature or an interesting idea your brand is developing.
"What does your head vs. your heart say…": Gives the opportunity to voice a personal perspective and to make feelings known on a matter, which can be particularly important to break into an issue or conversation that is TikTok trending.
"What I mean when I say I'm from…": This conversation starter can be used to bring humor to your company or draw attention to your brand values.
5. Turning DMs into Quotes
Received great feedback from a client or a testimonial? Raid your DMs and turn them into inspirational quotes. This hot TikTok challenge has seen some humorous messages from users' inboxes, even to the extent of taking unpleasant or unusual messages and elevating them for a whole new purpose. This is a TikTok trend that's not only fun to try, it can also create really effective content.
Do TikTok Trends Impact the TikTok Algorithm?
Participating in trends is a savvy marketing strategy because it leverages organic reach via the TikTok algorithm. The algorithm aims to show relevant videos, unique to each user, which culminates in the For You page. Engaging in TikTok trends is a key factor when aiming to reach the For You page.
FAQ
How do you find trending sounds on TikTok?
Trending sounds are usually connected to a particular TikTok challenge. Tap the play icon at the bottom of the screen and then select sound, scroll until you find the trending TikTok sound you want to use.
What's trending on TikTok right now?
TikTok trends change by the day. The best way to stay up to date is to use the app and pay attention to videos shown on your feed.
How do you find trending hashtags on TikTok?
The TikTok discover page makes it easy to find trending hashtags by showing video previews with trending hashtags that can give a boost to your content. Look through accounts that are performing well and see which hashtags are being used.
Conclusion
Following TikTok trends is a great way to showcase a brand or products, as well as an excellent way to leverage content.
Engaging with what's trending on TikTok shows the brand has a grasp on how to relate to its audience and also gives people a chance to know their brand better. Trends can boost marketing performance organically, as trending content is highly relevant to users and improves the chances of the content being shown on the For You page.
If you still need more inspiration, see some of our favorite TikTok ads.
BACK TO BLOG
NEXT ARTICLE