December 16, 2021
Updating An App's What's New and Promotional Text Sections: Dos and Don'ts
What's New. Release notes. App Updates. Whatever it is you call this unique part of app product pages, learn how to make the most of it.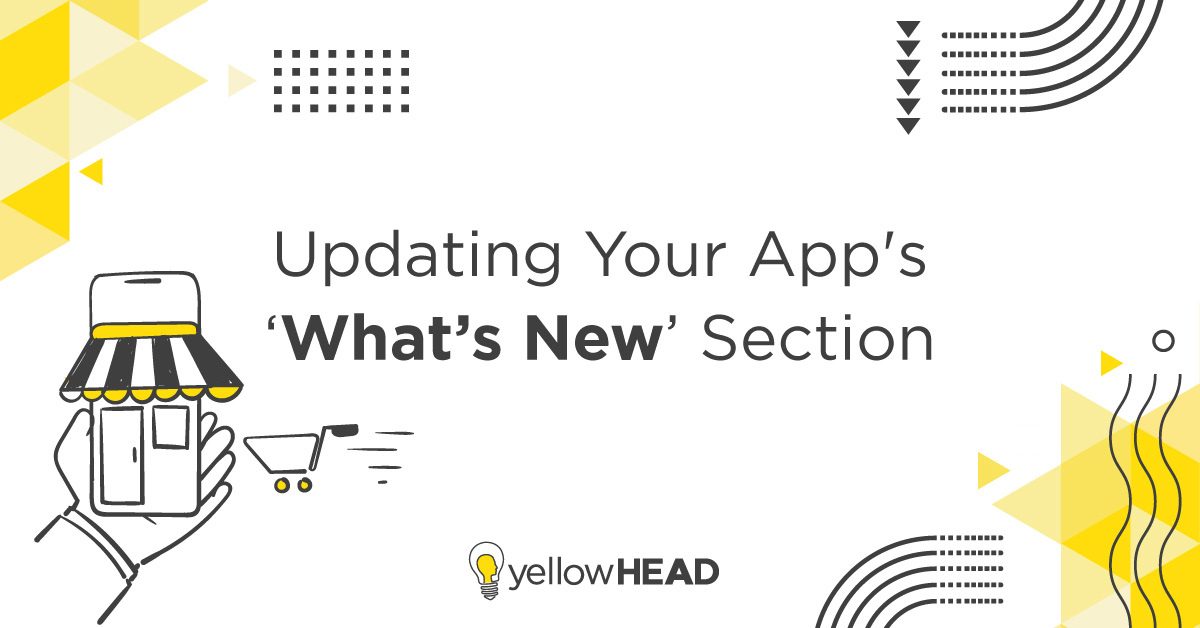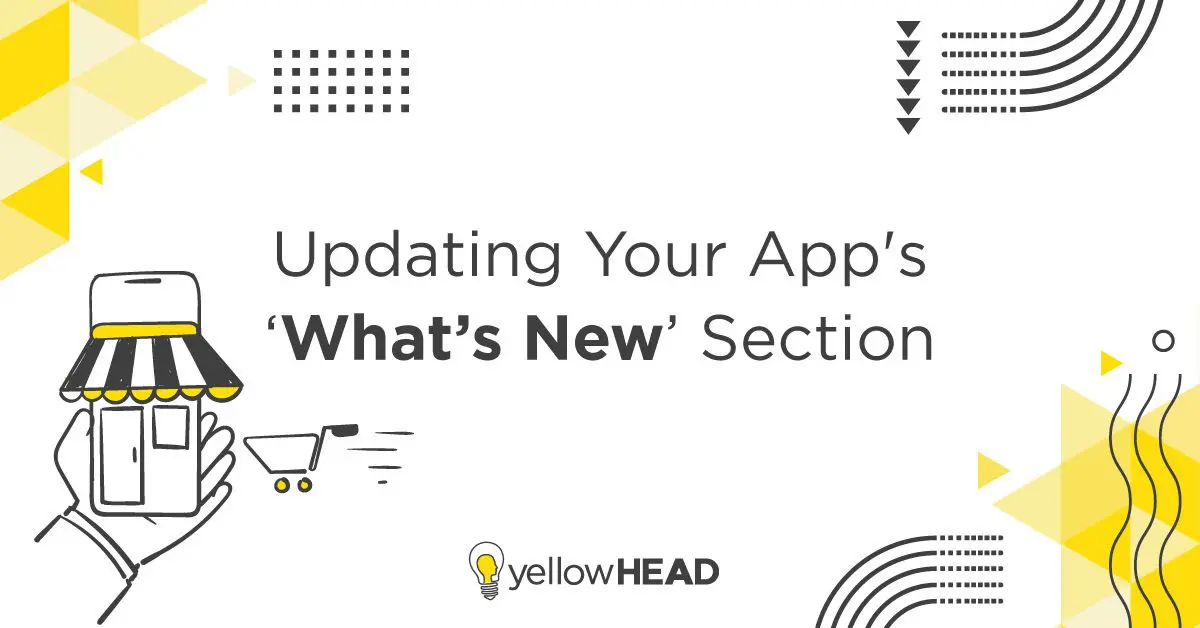 Whether you've added a new feature or fixed a few bugs in your app, the "What's New" section plays an important role for users.
In this article, learn how to turn release notes into valuable information that potential and existing users will want to read.
Table of Contents
What is the What's New section?
When new versions of your app are released, Google Play Console and App Store Connect communicate product changes, such as new features and bug fixes, to users via a block of text on your product page and in the Updates section.
A well-written What's New section shows that an app is constantly improving. It also helps build rapport with users, who see that the app listens to its users and makes changes accordingly.
The Basics
Console Location
The App Store's What's New section is labeled "What's New in your app". It becomes open for editing when an app status is at 'Prepare for Submission' in App Store Connect.
The Google Play Store for Android's What's New section is located under Release → Production → Releases.
Character Limit
Not to be confused with App Store Promotional Text, the App Store's What's New section allows for 4,000 characters worth of text.
In Google Play, there is currently no character limit for this section, but as Google undergoes changes, it might not stay that way.
App Location
In the App Store, users who have already installed your app will see the What's New section in a prominent position above your listing screenset and video. Users who have not installed your app will only see this section at the bottom of your store listing.
Similarly, What's New in Google Play appears at the top of the listing for installed users and at the bottom for uninstalled users.
This is how users see the What's New section on Google Play depending on whether they have already installed the app or not.
Examples of What to Do (and What to Avoid)
Before getting ready to post your update, think about how to best use this text to convey your message. Are you looking to keep a professional tone, or trying to be friendly and funny?
The What's New examples below are great because they are engaging while also being useful and straightforward about the changes that will affect users the most.
This example from Slack, for example, highlights their updates in a simple, clean format.
Snapchat's What's New section is both interesting and easy to read.
Creative What's New Sections
Users appreciate compelling-yet-informative stories about apps' new features. Getting creative in this area can make apps stand out. However, the sad truth is most users won't end up reading them.
Pocket Casts' updates are very entertaining while keeping things organized with dashes.
This example from Dice was also very creative: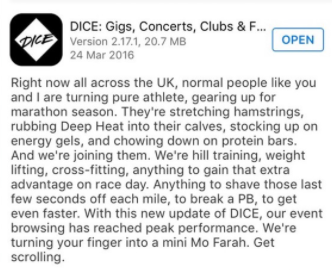 And here is an example from slack that went viral a few months ago. It might not be the right thing for every app, but it certainly stood out and created quite a buzz:
This update for the NBA 2K app is also a fun read:
This example from Citymapper is an oldie but a goodie. Nice way to recover from a bug!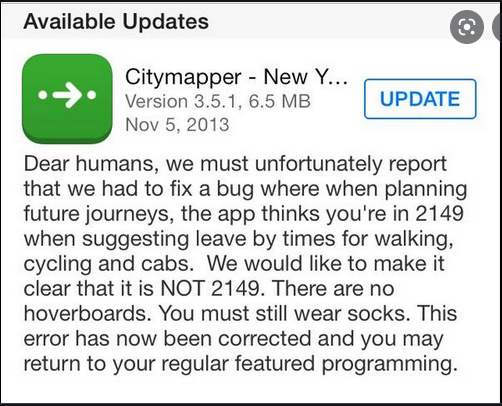 What Not to Do
One common mistake is to be vague in release notes. The example below is so vague, it could describe just about any app:
Another common mistake is to repeat the same text over and over for each update. Google Play even allows users to "Copy from a previous release". This may be convenient, but your app product page could end up looking like this: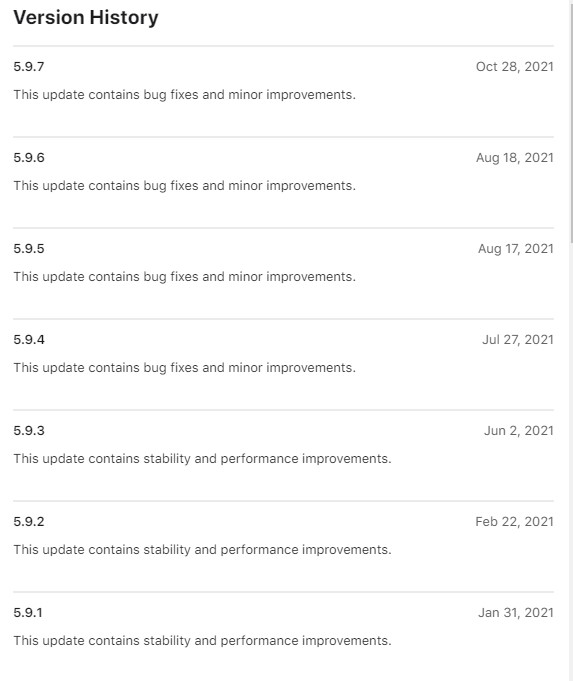 How to Make an Amazing What's New Section
View this post on Instagram
1. Be informative.
List new features, content or functionality in order of importance, and add messaging that engages users.
2. Be concise.
Wordy text is often scrolled past. For some users, What's New is located in a prominent and eye-catching position on your store listing, so take advantage of it and stick to the point.
3. Think engagement, not ranking.
What's New section content is not indexed in the store's metadata calculations, therefore mentioning highly-searched keywords won't add to your app's keyword rankings. Instead, focus on being informative and getting users to engage with your app.
4. Remain relevant.
The What's New section lets users know you're regularly updating the app, adding new content and functionality, and, most importantly, listening to users' reviews and acting on them. This creates an open channel between users and the product. If done correctly, the details will encourage users to return and actively await your next release.
5. Localize your updates.
If your app is localized to different markets with different languages, don't forget to translate your release updates as well. Your international users will appreciate it. Moreover, if you've just localized your app to a new market, the What's New section is a great place to mention it.
6. Give Details
Let users know what was added and what was fixed. Make sure to begin with the most prominent product changes in each release.
7. Don't be repetitive.
Even if you've been working on the same bug for the last couple of releases, convey the progress to users and make them part of the process too.
8. Don't be promotional.
What's New content shouldn't be used for promotional purposes or to solicit actions from your users. A violation of this guideline could result in your release being flagged by the stores.
9. Beware of mentioning UI changes.
If your app is currently running UI experiments and A/B tests, as many do, it means a percentage of users will see elements or features that others don't. Take heed of your current testing and make sure to avoid mentioning those areas.
10. Stick to your format.
Every company has its own style and these elements can still come across in release notes. Create your own way of storytelling and highlight your identity.
11. Decide on a What's New owner.
As a company grows bigger, a common issue is not knowing who should "own" the What's New section content; Writers? Developers? QA? Marketing? Decide who will coordinate these release updates between departments in order to convey well-organized and concise messaging to users.
Utilizing iOS App Store Connect Promotional Text
'Promotional Text' is a unique space in App Store Connect used mainly to promote new events coming soon to the app. Unlike the other metadata sections in the store listing, this one doesn't require a version update in order to be published — once saved and reviewed, it will go live.
This section can be edited an unlimited amount of times, at any time, but is limited to only 170 characters (so use them wisely).
If filled out, the Promotional Text will appear at the top of your store listing's long description and will serve as sort of an extension of it. Needless to say, this section is not indexed by the Apple algorithm, and therefore there is no need to mention high-volume keywords.
Apple has opened this section as a bridge between developer and user – When urgent communication is needed, or if a new promotion is closing but you haven't updated anything in your app just yet, the 'Promotional Text' is a perfect solution.
Final Thoughts
The best What's New sections are interesting to read while still highlighting the updates that matter most to your users. There's a fine balance between being informative and fun, but when done right, the What's New section can be a serious asset to your brand. 
Wondering how yellowHEAD ASO services can help your business maximize its potential? Get started by contacting us!
BACK TO BLOG
NEXT ARTICLE