January 29, 2023
What are the real app stores ranking factors?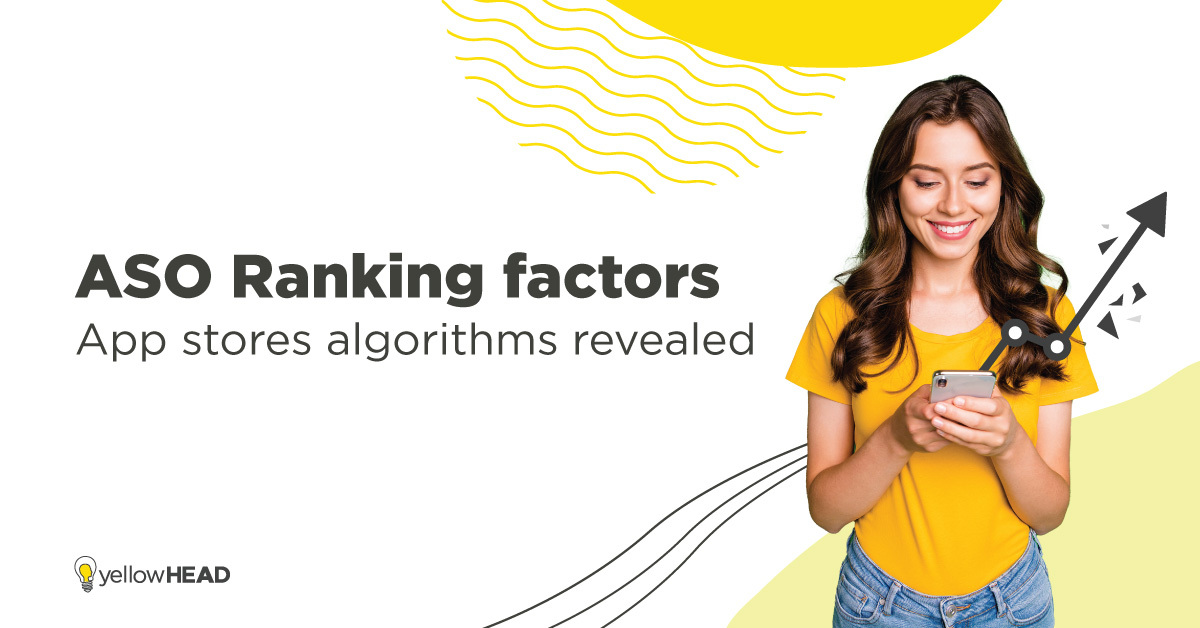 Intro
Since the launch of the App store in 2008 with the first iPhone and the release of the Google Play store in 2012, experts in app store optimization (ASO) have been trying to understand how the stores' algorithms work and what factors influence rankings. This is a crucial question, as these algorithms determine the visibility and success of apps in the stores. By using ASO techniques, you can increase the chances of your app being discovered and downloaded by users. In this overview, we will examine the ranking algorithms and ASO factors of the two major app stores, Apple and Google, and explain how to utilize them to your advantage.
Table of Contents
So first, what is App store optimization
With the explosion of app stores since the first App Store launch in the 2000s, the competition among apps has become much more fierce. In 2022, there were 3.5 million apps on Google Play and over 1.8 million on the App Store, compared to just 500 apps at launch. This is where App Store Optimization (ASO) comes in – it's the process of improving the visibility, conversion rates, and organic downloads of an app in app stores. Essentially, it's the equivalent of Search Engine Optimization (SEO) for app stores.
ASO involves making changes to an app's metadata and creative assets to increase its visibility and downloads, rather than launching user acquisition campaigns. However, it's important to note that ASO and SEO have different key performance indicators and ranking factors. For example, paid traffic can affect app ranking for ASO, but it cannot affect website ranking for SEO. Additionally, relying only on organic ASO tactics may not be enough to compete with main competitors, and paid campaigns may be necessary to achieve a high ranking.
Ultimately, it's crucial for digital marketers to understand the specific ranking factors of each app store, as they can vary. This is why it's so important to have a solid ASO strategy in place.
What are the ranking factors and why every app developer needs to know them
Google Play is the official app store for Android devices and has become a crucial part of the mobile ecosystem over the past decade. With over 3.5 million apps available on the platform, it can be difficult for developers to get their apps noticed. This is where Google Play's ranking factors come into play. These are the factors that the store's algorithm takes into account when ranking apps for different keywords and categories.
On the other hand, the App store, which was launched four years earlier, has its own set of ranking factors. Although there are fewer apps available on the App store, the competition is still fierce, and achieving high rankings requires significant time and effort.
To optimize your app and increase its visibility and conversion rate, it's essential for app developers and marketers to understand the factors that the store's algorithm takes into consideration when ranking apps. This knowledge will help them create and execute an effective app marketing strategy.
What are Google Play and App store ranking factors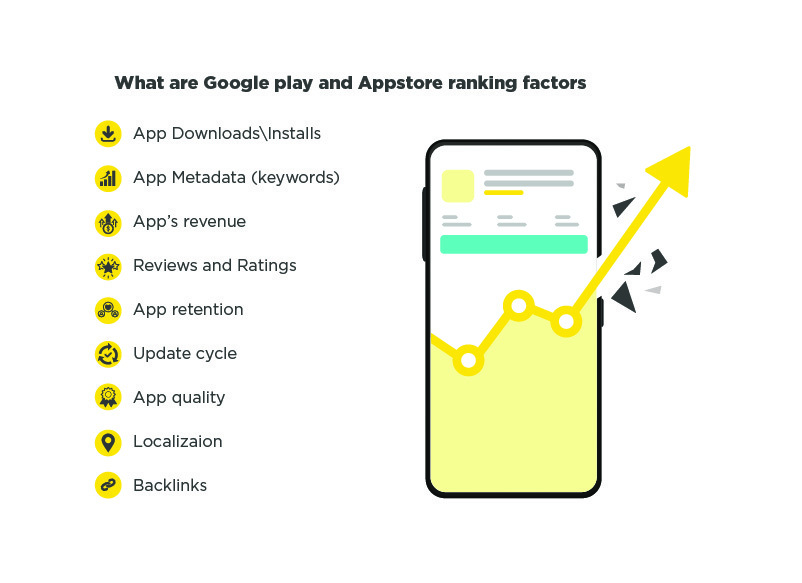 Let's delve into and examine all the shared ASO ranking factors for both app stores:
App Downloads\Installs
App Metadata (keywords)
App's revenue
Reviews and Ratings
App retention
Update cycle
App quality
Localization
Backlinks
App Downloads\Installs
The number of downloads is crucial for app ranking on both stores. The more downloads and user engagement your app has, the higher it will rank. This is why it is important to develop a growth strategy that includes both organic and paid user acquisition efforts.
Remember that even if you optimize all other factors, a lack of downloads may prevent your app from ranking as high as you expect for certain keywords. Keep in mind that the number of downloads plays a vital role in determining your app's ranking within its niche, no matter from which source the downloads came from.
App Metadata
Keywords play a vital role in optimizing your app listing on both stores, despite differences in Metadata fields. When it comes to keywords and their density, it is important to use them frequently and effectively in the app's title and description according to the store's guidelines.
Therefore, it is crucial to conduct thorough keyword research before making any changes to your app and ensure you are using the right keywords and pushing them in the right place. it is essential to use relevant high-search volume keywords that can attract the right audience to your app.
There are also some notable differences between iOS and Google Play in how they handle metadata while ranking apps in the store. For example, iOS allows developers to include keywords in the app title, subtitle, and keyword list, while Google Play requires keywords to be included in the app title, short description, and long description.
Additionally, iOS treats keywords in the metadata as a combination of the title, subtitle, and keyword list, so keywords do not need to be repeated more than once. However, Google Play focuses on the number of repetitions of keywords to find semantic key phrases.
App's revenue
The revenue generated by an app is an essential factor in its ranking on both the App Store and Google Play, as the stores benefit by taking a cut of the app's income. Therefore, developers who generate a stable and high income are highly valued by the stores. As a result, they offer higher ranks to apps that generate high revenue, creating a mutually beneficial situation for both the store and the app owner.
Revenue for an app can come from either the initial download cost or in-app purchases. Additionally, a free app with paid features can rank higher than a paid app in app stores since all revenue is taken into account. Additionally, a consistently high financial performance is a sign of user satisfaction and will be rewarded by the store's algorithm with a higher ranking.
Reviews and Ratings
App ratings and reviews are crucial for app ranking as they serve as indicators of popularity and user satisfaction to app store algorithms. This can boost the app's visibility and lead to more downloads, resulting in a higher ranking.
Furthermore, ratings and reviews can affect the purchasing decisions of other users by giving them insight into the app's quality and functionality.
In addition, developers can benefit from reviews and ratings as they provide valuable feedback for app improvement.
In summary, app ratings and reviews are a vital factor in an app's success and can greatly impact its ranking in the app store.
App retention
Retention rate is a crucial ranking factor that many app developers overlook. The number of uninstalls an app receives can negatively impact its ranking in the app stores and decrease its chances of being featured in category charts.
To maintain a high rank, it's essential to keep users from uninstalling the app quickly. Some strategies to prevent churn include offering free features to new users, providing special discounts on first purchases, and offering other incentives that encourage users to stay engaged with the app.
Although offering special experiences and incentives is a strategy that works well for mobile games, other types of apps can also find ways to offer free content and consistently provide value to keep users engaged and increase retention rate.
Update cycle
Frequency of updates is typically taken into account by both app stores when ranking apps. By consistently updating and committing to the product, the app's ranking position will improve.
Furthermore, apps that are frequently updated tend to have better reviews, as users understand that the developers are actively working to improve the app and taking feedback and reviews into consideration.
App quality
Many crashes and ANRs (App Not Responding) can negatively impact an app's ranking. A poorly designed or buggy app may receive a lower ranking or be ranked lower in search results. This is because apps with a high percentage of crashes or ANRs tend to have lower ratings and negative reviews, which affect the rankings and discourage potential users from downloading the app.
App stores may also penalize apps that crash or have other technical issues, further impacting their ranking. Ultimately, app quality is a crucial factor in app store rankings and can greatly affect an app's success.
Localization
Translating your app's metadata and creative elements into various languages and adapting them to different cultures and regions is known as localization. This not only expands your app's reach to foreign markets but also improves its visibility and download numbers.
Furthermore, localization can enhance your app's ranking in app store search results for specific languages and countries. Factors to consider when localizing your app include researching local keywords, adapting metadata and keywords, and localizing captions for creatives. By implementing these strategies, you can gain a competitive edge in the local market.
Backlinks
Backlinks, also known as inbound links, are links from external websites that point to a specific app's listing in the App Store or Google Play Store. These links can have an impact on an app's ranking within the app store's search results, with a higher quantity and quality of backlinks potentially leading to higher visibility and ranking.
However, it's important to note that backlinks only affect ranking on Google Play, and that the relevance and credibility of the linking website and content are key factors in determining the impact of backlinks on App Store Optimization (ASO). Additionally, not all backlinks have equal weight, with high-quality and relevant links from reputable websites having a greater impact than a larger quantity of low-quality or irrelevant links.
Summary
The algorithms used to rank apps in the App Stores are constantly evolving and updating. While there may be some variations between the different stores' algorithms, the similarities between them tend to outweigh the differences.
As a result, it is essential for app developers to stay informed about the latest trends and best practices in order to optimize their apps for maximum visibility and success.
In the future, with the advent of alternative app stores such as Microsoft Store, Amazon Store, and others, it will become increasingly important for developers to have a deep understanding of various app store algorithms, not just those used by Google Play and the App Store.
In today's highly competitive app market, optimization according to store guidelines, ranking factors, and best practices is essential for an app to stand out and succeed.
Sounds like a lot? Don't worry, contact us now and get an ASO PRO on your side!
BACK TO BLOG
NEXT ARTICLE