January 21, 2021
5 Winning Mobile Game Ads (Including 2 of Ours!) & What Makes Them Great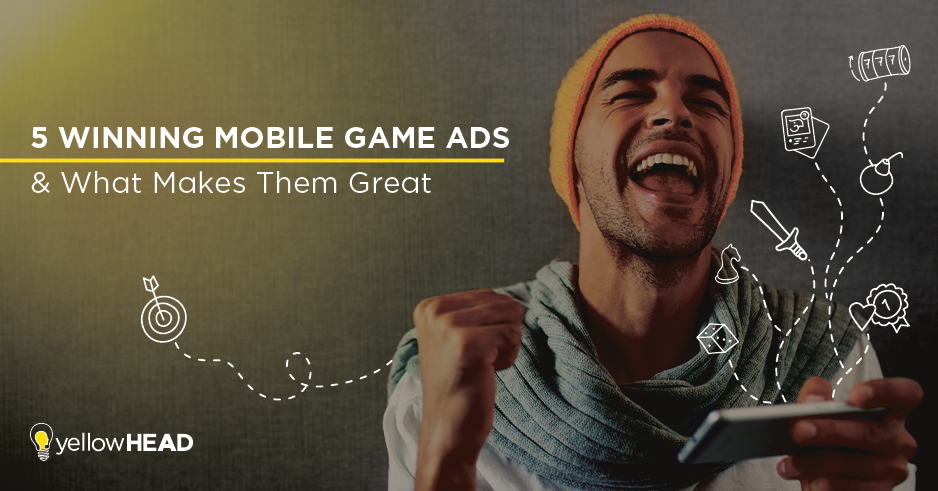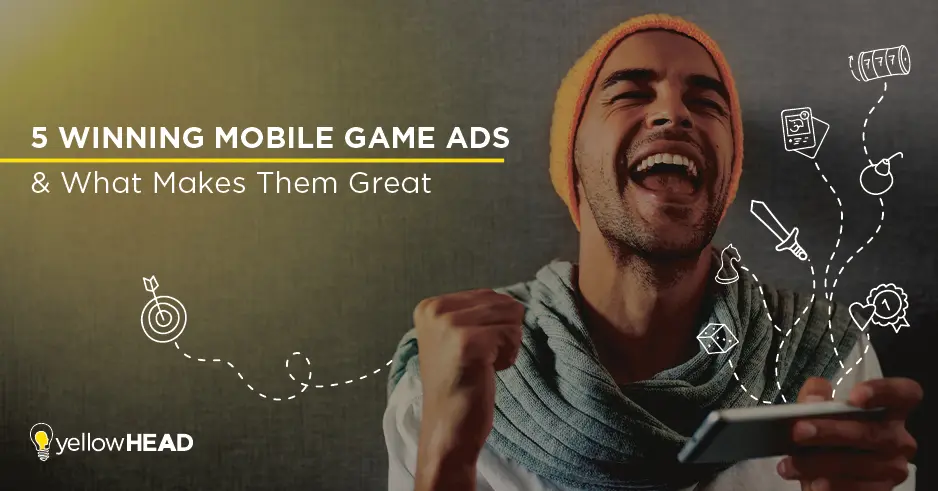 With hundreds of thousands of mobile games available on the App Store and Google Play today, it's hard for mobile game publishers to make their marks. How can you cut through the noise with a mobile game ad that gets results? Celebrity endorsements, big-name filmmakers, and emerging ad formats certainly help, but ultimately, it's stellar ad creative that hooks new players.
At yellowHEAD, finding the ideal creative strategy for mobile ads is what we do. We use a combination of marketing expertise and machine learning to optimize ad creative, helping our partners acquire new users and increase ROAS. Get in touch to learn more!
Ready to find out what makes these ads so great? Let's get started with a few of our favorites from the extended mobile world!
Pokèmon Go
By Rian Johnson & Nintendo
What it does right: 
Promotes an event
Shows that anyone can play
Welcomes new players
Remember the summer of 2016? It was a simpler time when people came together to achieve a shared goal: catching them all. The July 2016 release of Pokèmon Go upended the mobile game scene, with people of all ages and walks of life glued to their phones playing Niantic's augmented reality hit. Who could forget catching Squirtles in their office cubicles and taking long walks in hopes of challenging the local Pokèmon gym and wrestling control from the kid down the street?
Years later, Niantic's AR hit is still going strong. In 2020, Niantic did what few mobile developers have done: hired an A-list director to make a new ad. Rian Johnson (of Star Wars: The Last Jedi and Knives Out fame) hit the nail on the head with this cheerful ad, which shows people of all ages and genders searching for Pokèmon in their real-world environments.
Of course, it doesn't take a feature film director to emulate the success of this ad. What makes it so great is that it gets right to the core of what Pokémon Go does: bring people together to catch Pokémon. As the ad shows, anyone can do it — kids, adults, even grandma. While building hype for a specific event to entice long-time or lapsed players, the ad also welcomes new players, and the message is neatly wrapped up in a simple tagline, "look closer".
Armed Heist
By yellowHEAD & Sozap
What it does right: 
Incorporates a mobile-first design
Shows action-packed gameplay
Uses a bold, impossible-to-miss CTA
When Swedish mobile publisher Sozap wanted to boost installs of its flagship title, mobile game Armed Heist, it teamed up with the experts at yellowHEAD for the Instagram Stories ad seen above. Not only does the ad perfectly fit the mobile screen, the bold "swipe up" call to action is perfectly suited for touchscreen interfaces. It's a great example of creating an ad experience specifically for mobile platforms, rather than trying to adapt ads from more traditional mediums.
Then there's the gameplay. The top half of the motion ad shows, appropriately enough, armed heists, showcasing high-quality graphics and intense third-person shooter gameplay. Using real gameplay in mobile game ads is always a good strategy, and Sozap uses it well here.
As it turned out, viewers agreed; the ad campaign resulted in an 82% ROAS increase, while the cost per app install dropped by 45%. This also proved to be a more cost-effective method of user acquisition, with first-purchase UA cost being reduced by 53%. As Sozap Founder and CEO Rade Prokopovic put it, "The results have been amazing!"
Gold Fish Casino Slots
By yellowHEAD & SciPlay Corp.
What it does right: 
Another yellowHEAD collab, this Gold Fish Casino Slots ad campaign utilized data from our proprietary Alison platform to find a winning creative strategy. The ad type, room theme, and spinning reels were all implemented based on Alison's recommendations, with yellowHEAD's creative team then bringing these elements to life.
According to SciPlay Corp. Global CMO Noga Halperin Sher, "Not only did the [Alison] platform provide excellent recommendations, but the creative studio put together fantastic creatives and the UA team executed great campaigns." Overall, the ad campaigns yellowHEAD created for SciPlay resulted in 101% greater D7 ROI and FTD D7, as well as a 106% increase in ARPPU.
Coinmaster
By Moon Active
What it does right:
Uses relevant celebrity endorsement
Shows gameplay
Has subtitles
It's no secret that celebrity endorsements are a great way to bring attention to your product. This ad for the casual game Coinmaster by Moon Active could have easily gone into cheese territory. Still, Jennifer Lopez is actually charming and believable as she plays on her smartphone during a grocery-shopping excursion. It's a relatable action — who among us hasn't taken time to scroll or play while waiting for cold cuts or standing in the checkout line?
The takeaway from this ad isn't to drop a ton of cash to get a big celebrity involved. It's that people tend to trust recommendations from those they know (or at least think they know). Rather than celebs and socialites, mobile game publishers can use more approachable influencers in their marketing efforts for great effect.
Of course, it helps that the ad both describes and shows Coinmaster's gameplay. On top of that, this ad gets bonus points for using subtitles. The overwhelming majority of smartphone users scroll through their feeds with the sound off, and subtitles enable Moon Active to get its message across even if the ad is muted — as well as increasing accessibility for hard of hearing users.
Empires & Puzzles
By Small Giant Games
What it does right: 
Gives players a taste of the gameplay
Uses dramatic visuals and music
Has a consistent call to action
 Empires & Puzzles is a match-3 RPG with PVP battles from publisher Small Giant Games. That concept sounds more complicated than it actually is, so Small Giant made this playable ad to show off its simple-but-addictive gameplay rather than muddle the message. With just a few flicks of the screen, players can match three symbols to attack the enemy, combining puzzle and turn-based elements in an easily understandable way.
Meanwhile, the call to action — "Play Free" — remains on the screen the entire time, pulsing to attract more attention. As we explained in our Ad Creative Benchmark Report, calls to action are more effective when used early in the ad, despite the commonly accepted best practice of only displaying the CTA at the end.
And let's not underestimate the other creative elements; the visuals tell a story of epic fantasy, while the dramatic music ups the stakes. It's easy for players to get lost in this ad, and when they're done, they know how to download the game, thanks to that bold CTA placement.
So Many Mobile Games, So Little Time
While these ads are very different, they do have one thing in common: their strategic use of technology and top-tier creative helps them stand out in an increasingly crowded mobile game market. Using mobile-first designs, data analysis, emerging ad formats, and creative best practices, these ads eschew cheap gimmicks in favor of richer, more thoughtful experiences.
If you're not sure what creative strategy is right for your own mobile game ads, we can help! At yellowHEAD, our proprietary Alison platform analyzes dozens of creative elements in ads to find out what's working and what's not. Our own experts then study the results and recommend creative optimizations that get results. To find out more about how yellowHEAD can take your campaigns to the next level, get in touch!
BACK TO BLOG
NEXT ARTICLE