November 23, 2022
Seasonal Marketing for ASO
It's no surprise that your app's traffic surges during different times of the year. Similar to other marketplaces, an app's demand changes based on holidays, seasons and events. Keep reading to find out the benefits of seasonal marketing and how to use it throughout your ASO strategy!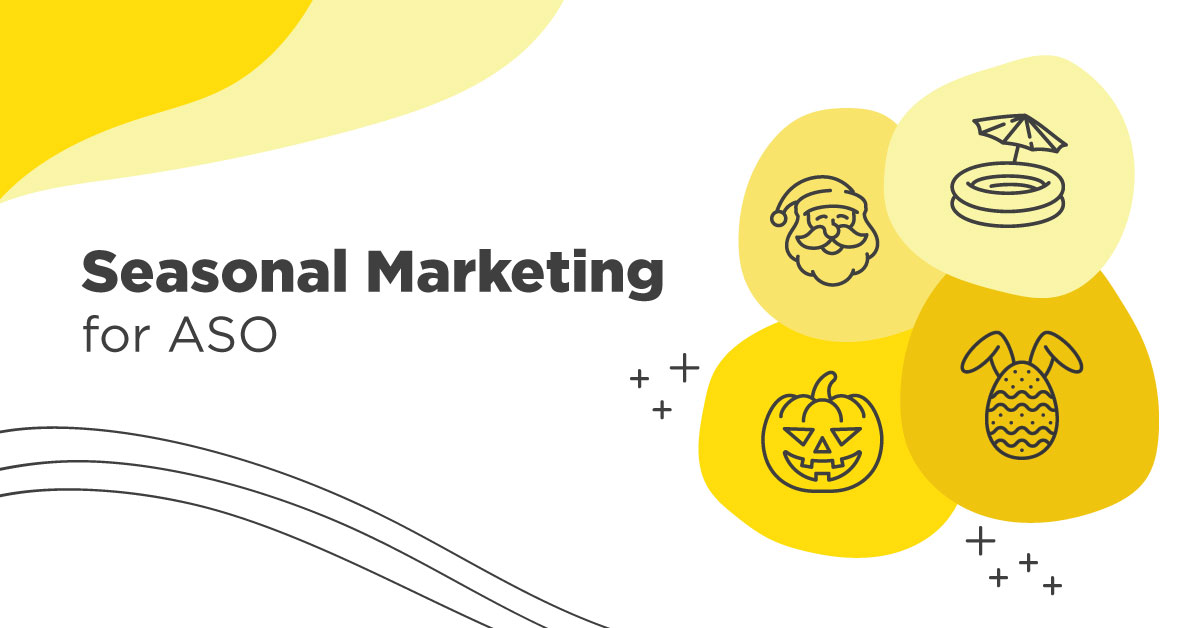 Did you test your store's first impression for Halloween? Are you planning on testing for Thanksgiving or Black Friday? If not, you are missing out on a unique opportunity to improve your CVR and connect with your users on an emotional level! Keep reading to understand the best strategy behind preparing your store for the Holiday season.
Table of Contents
What is Seasonal Marketing?
If you have been doing ASO for a while, you already know how important seasonality is. Your app's traffic surges during different times of the year and strategizing in advance can not just increase the CVR, but also both bring in loyal users and increase retention rates.
Seasonal Marketing consists of any promotional or unique content that is centered around certain holidays, seasons, or events that occur throughout the year.
Businesses use this marketing strategy to take advantage of the increasing traffic trends that come from such holidays or events. While some initiatives are directed to specific seasons and holidays, such as Winter or Easter, others are more focused on niche events for certain audiences — Cyber Monday for e-commerce or NBA Season for basketball apps.
Seasonal marketing provides you with an effortless opportunity to attract new and existing users. Both new and existing users can re-engage with an app or game because of special deals, bonuses or exclusive features that are being offered.
What Are the Benefits?
There are many benefits that can come with adding seasonal marketing initiatives to your ASO strategy:
Get Featured: Leveraging seasonal marketing throughout your ASO strategy can help improve the discoverability of your app by getting you featured on the explore/browse pages on both stores!
Boost Conversion Rate: Incorporating seasonal marketing with your App Store Optimization strategy can help boost your store listing conversion rate.
Re-engagement: As mentioned previously,  seasonal marketing can help with re-engagement of existing users. Since seasonal marketing is for a  limited time, it gives the user a sense of urgency to take advantage of what is being promoted.
Up-to-date: By combining seasonal marketing and ASO, you are showing both the existing and new users that your app is constantly being updated!
Creating a Seasonal Campaign
Here are 11 steps and tips to follow when creating your ASO seasonal marketing campaign:
1. Create a seasonal calendar
By creating a calendar of the different holidays, seasons and events that occur throughout the year, you'll be able to plan your content strategically. Here are a few seasons that are most popular in the app world: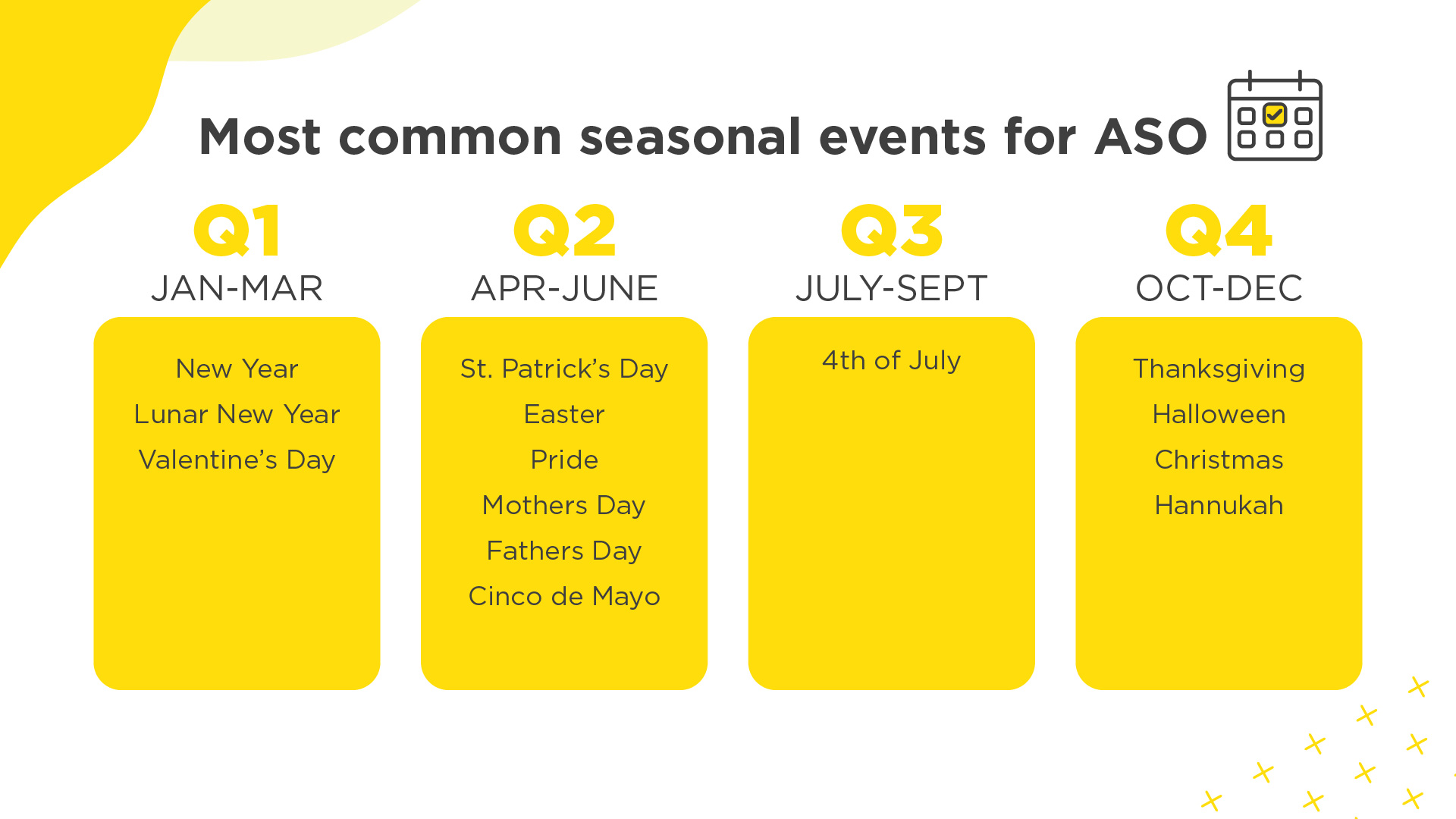 2. Optimize your listings: Get the right audience:
We always recommend targeting keywords related to your app, not just to be found, but also to get installs and increase your CVR. It is important for your install audience to be the right users to help improve retention. When installs, CVR, and retention rate are steady, the algorithms on both platforms will mark your app or game as high quality. This will allow you to rank even higher for the keywords targeted, creating what we like to call "The Circle of Optimization".
But now is the time to get creative! There are many keywords that increase their search volumes during the holiday season that you can easily target throughout your listings and rank for them. For this, you need to start targeting these keywords in advance, so the algorithms have time to index your app for them.
3. New audience – Different type of users:
Understanding your target audience (user, age, location, etc.) can help you create more focused campaigns, which can conclude in more accurate results. Depending on where your app is localized, you will be able to choose the seasons and events that are most popular within those markets.
Your audience changes during the holiday season. During this time, you will find a variety of new users searching for your app, and it can be interesting to understand what triggers them.
Irregular users will begin to look for apps that are offering holiday bonuses or special offers. Overall, they will look for apps or games that are a good fit for them or their relatives' needs.
Similar to last-minute shoppers, there are also last-minute users. If your strategy doesn't work right away, be patient and wait for the last-minute users to find you easily. Including the keywords "last minute gift" throughout your metadata and graphics can help improve conversion for this strategy.
4. Special Keyword Opportunities
The challenge is to find which search terms increase their search popularity scores during the holiday seasons. Some of these terms may not be related to your app during most of the year but during the season they may become a good fit.
When we began looking for keyword opportunities, the first obstacle was finding the right tool that gave us generic keywords that have proven to improve during the holiday season in previous years. Something similar to Google trends, but for ASO.
We did find a few ways to look for seasonal opportunities in our partners' tools but not generic terms (PSA: new challenge for the ASO 3rd party tools for next year).
According to Google trends, the most searched topics last year were of course, Christmas and New year's, but also playoffs, snow, Black Friday, 2022, gift, holiday & exam. However, searches on the web are very different to those on the stores, so the trends may differ.
Keywords such as: Shop, xmas, christmas, 2023, new, wish, holidays, gifts & presents, don't say much alone but combined with the right keywords, may appear as the best long tails opportunities for this season. For example: xmas bonus (if you are a gaming app), new VPN 2023 (vpn), Christmas movies 2023 (streaming) or holiday gifts (e-commerce), etc.
Each app needs to find the right strategy. For one of our gaming clients, we targeted the new year number (2020) and it was a huge success! The client continues to implement this strategy every year, as it provides them with easy and relevant traffic. A good lesson to learn from this, is if the strategy works one year, it's not necessary to find a new one for the following year. Just test it again!
Keep in mind, most of the long tails will have low score volume.
We know what you're asking – so why target them? Because most of your competitors are not taking the time to read this blog post and optimize for seasonality. Therefore, you will have the opportunity to rank high and fast for those.
5. Update your creative assets & metadata
Now that you know what season or event you are marketing and who you are marketing it to, it's time to bring your ideas to life! Seasonal marketing can be done through the app's creative assets such as the icon, screenshots & feature graphic.
It can also be done through the app's metadata such as the short description, what's new section, or promotional text. Incorporating seasonal marketing throughout the metadata can also help you rank better for specific keywords.
6. Customize for the holiday season by market
Celebrating the holiday season is not relevant for all users (we are not talking about the Grinch). There are 195 countries in the world and not all of them believe in Santa or are planning a huge party for New Year. Doing your homework and understanding which markets have the potential, will have a positive impact on this strategy (we have also experienced a negative impact for markets that are less relevant).
7. Sparkles, snow and lights: Make your assets shine!
Now that you have a strong keyword strategy, it is time to get creative! Be sure to make your creative assets fun and festive!
Even if you are not promoting any special offer, adding festive ornaments to your screenshots, use the emotional component that allows users to relate to your app.
Of course, test it first, but don't be afraid to test it too early. Everyone knows that once November 1st hits, Christmas lights are up, and holiday music is playing on the radio!
It's important to stand out from the large pool of competition! Yes, adding snow and Santa Clause can be beneficial, but do it in a way that you don't look like another app customizing for the holidays. Be a part of the festivities, whilst still staying loyal to your brand. Remember that users are still looking for your main USPs so that should remain the focus.
8. Do research on performance from the last holiday season:
A good exercise before starting should be analyzing old paid campaigns from past years to see which messaging performed well and which creatives were impactful. Also, look at your proven keywords on the Google Play Developer Console for trends on your long tails and competitors keywords.
9. Align your channels and apply a multi-channel strategy
Don't plan your funnel just for the organic side, you should align your UA campaigns and SEO efforts. It is important to choose the same goals and keep them consistent throughout all strategies. Think about new users but don't forget about re-engaging existing users and users that have removed your app. Take advantage of all the console features such as In-App Events, LiveOps, and especially CPPs for ASA and Facebook campaigns.
10. Rating and Reviews
Check the reviews from the holiday season from past years. Don't forget that the users are your best copywriters and you may find some related reviews.
If you haven't replied to reviews for a while, now is the time to respond to your users' concerns or to be thankful for good reviews (Tip: reply to 5 stars and good reviews to help re-engage users).
11. Test your hypothesis & Analyze your results
Once your data is ready to test, you can begin an experiment using the A/B testing tools on Google Play and Apple's App Store. It's important to test a hypothesis so you can understand user behavior by seeing what converts better. Typically, tests begin a week or two before the event takes place since users are already in the holiday spirit!
By using the testing tools on both stores, you can analyze your results by looking at the following KPIs:
Impressions/Visitors
Downloads/Acquisitions
Conversion Rate
Seasonal Holiday Examples
Example 1: CyberGhost
For the experiment below, CyberGhost tested different app icons for Halloween. This test started one week prior to the event. From the results, we can see that the Halloween icon won with statistical significance. The icon was applied to 100% of the users until 1 week after the season!
Example 2: Club Vegas
For the experiment below, Club Vegas tested different first impression elements for Halloween, such as the app icon, feature graphic and short description. It is important to ensure that all of the assets relate to one another. From the results, we can see that the Halloween assets won against the control with strong statistical differences.
Additional seasonal creatives were tested for Club Vegas for the Fourth of July. This time 2 variants were tested against the control, with one being more focused on the game and showcasing more coins, while the other focused more on the season, featuring the American flag. From the results, we can see that the variant with the stronger focus on the seasonal event won against both the control and second variant.
From both tests, we learned what to continue with for future events (both seasonal and generic), and what not to test again. Every test is a learning opportunity and the insights should be carried over into the next experiment.
Overall, combining seasonal marketing initiatives with your ASO strategy can be one of the strongest methods to help boost store listing conversion rates. Remember: to stay exciting and relevant, it is important to take part in the festivities!
All this is just the beginning! The art of taking advantage of the holiday season is not a simple strategy that you build in a day. Product and Marketing channels should crack the code together and make the magic happen this season.
BACK TO BLOG
NEXT ARTICLE