June 14, 2022
Seasonal Marketing for ASO
It's no surprise that your app's traffic surges during different times of the year. Similar to other marketplaces, an app's demand changes based on holidays, seasons and events. Keep reading to find out the benefits of seasonal marketing and how to use it throughout your ASO strategy!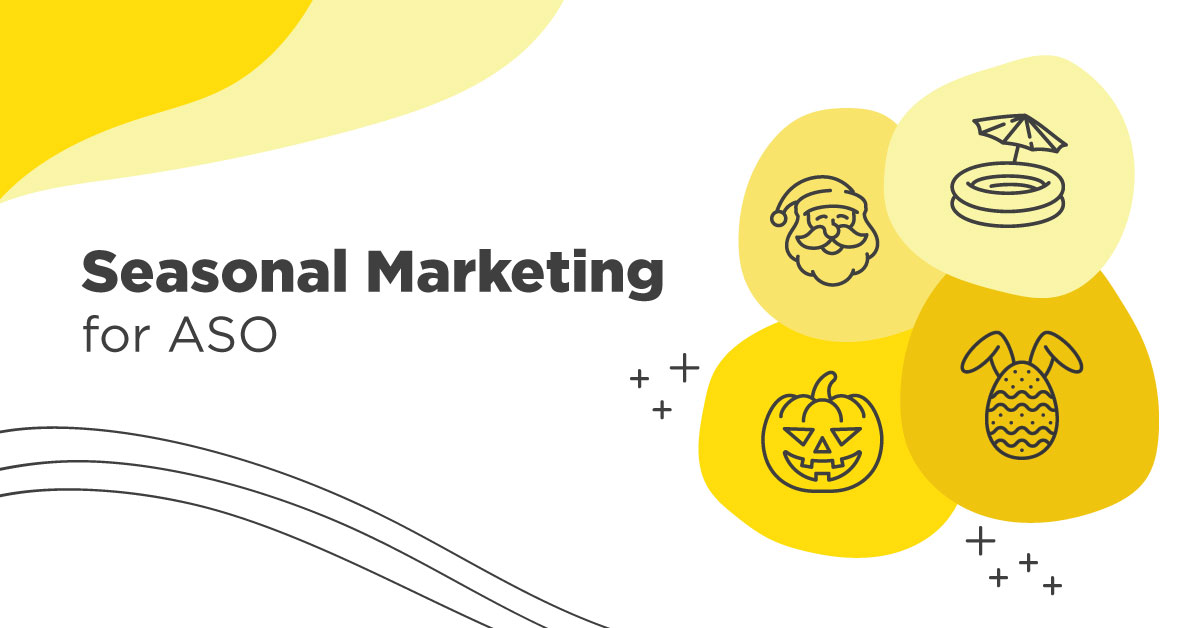 What is Seasonal Marketing?
Seasonal Marketing consists of any promotional or unique content that is centered around certain holidays, seasons or events that occur throughout the year.
Businesses use this marketing strategy to take advantage of the increasing traffic trends that come from such holidays or events. While some initiatives are directed to specific seasons and holidays, such as Winter or Easter, others are more focused on niche events for certain audiences — Cyber Monday for e-commerce or NBA Season for basketball apps.
Seasonal marketing provides you with an effortless opportunity to attract new and existing users. Both new and existing users can re-engage with an app or game because of special deals, bonuses or exclusive features that are being offered.
What Are the Benefits?
There are many benefits that can come with adding seasonal marketing initiatives to your ASO strategy:
Get Featured: Leveraging seasonal marketing throughout your ASO strategy can help improve the discoverability of your app by getting you featured on the explore/browse pages on both stores!
Boost Conversion Rate: Incorporating seasonal marketing with your App Store Optimization strategy can help boost your store listing conversion rate.
Re-engagement: As mentioned previously,  seasonal marketing can help with re-engagement of existing users. Since seasonal marketing is for a  limited time, it gives the user a sense of urgency to take advantage of what is being promoted.
Up-to-date: By combining seasonal marketing and ASO, you are showing both the existing and new users that your app is constantly being updated!
Creating a Seasonal Campaign
Here are five steps to follow when creating your ASO seasonal marketing campaign.
1. Create a seasonal calendar
By creating a calendar of the different holidays, seasons and events that occur throughout the year, you'll be able to plan your content strategically. Here are a few seasons that are most popular in the app world: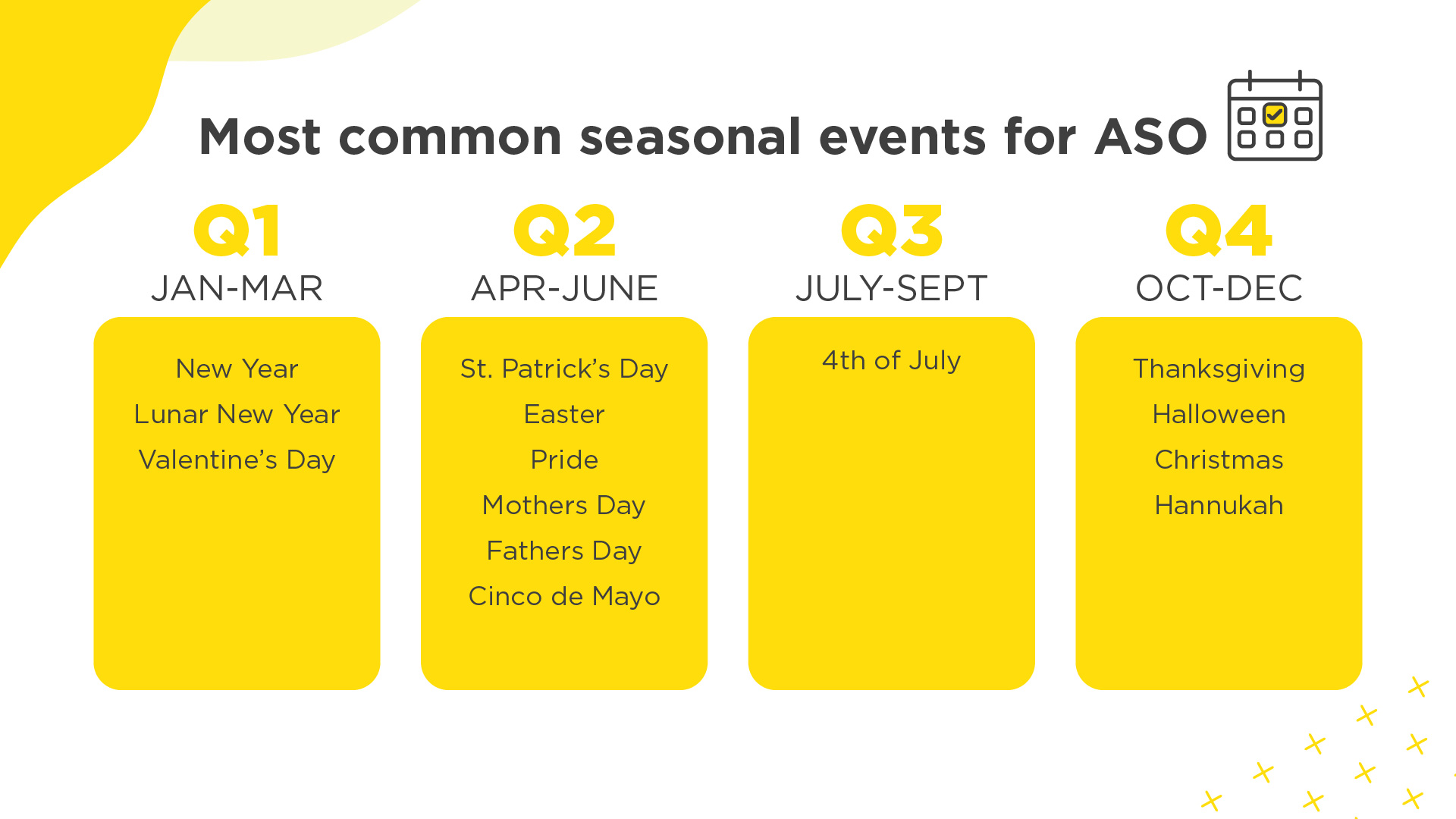 2. Do your research
Understanding your target audience (user, age, location, etc.) can help you create more focused campaigns, which can conclude in more accurate results. Depending on where your app is localized, you will be able to choose the seasons and events that are most popular within those markets.
3. Update your creative assets & metadata
Now that you know what season or event you are marketing and who you are marketing it to, it's time to bring your ideas to life! Seasonal marketing can be done through the app's creative assets such as the icon, screenshots & feature graphic.
It can also be done through the app's metadata such as the short description, what's new section, or promotional text. Incorporating seasonal marketing throughout the metadata can also help you rank better for specific keywords.
4. Test your hypothesis
Once your data is ready to test, you can begin an experiment using the A/B testing tools on Google Play and Apple's App Store. It's important to test a hypothesis so you can understand user behavior by seeing what converts better. Typically, tests begin a week or two before the event takes place since users are already in the holiday spirit!
Example 1: Cyberhost
For the experiment below, CyberGhost tested different app icons for Halloween. This test started one week prior to the event. From the results, we can see that the Halloween icon won with statistical significance. The icon was applied to 100% of the users until 1 week after the season!
Example 2: Club Vegas
For the experiment below, Club Vegas tested different first impression elements for Halloween, such as the app icon, feature graphic and short description. It is important to ensure that all of the assets relate to one another. From the results, we can see that the Halloween assets won against the control with strong statistical differences.
Additional seasonal creatives were tested for Club Vegas for the Fourth of July. This time 2 variants were tested against the control, with one being more focused on the game and showcasing more coins, while the other focused more on the season, featuring the American flag. From the results, we can see that the variant with the stronger focus on the seasonal event won against both the control and second variant.
From both tests, we learned what to continue with for future events (both seasonal and generic), and what not to test again. Every test is a learning opportunity and the insights should be carried over into the next experiment.
5. Analyze your results
By using the testing tools on both stores, you can analyze your results by looking at the following KPIs:
Impressions/Visitors
Downloads/Acquisitions
Conversion Rate
Overall, combining seasonal marketing initiatives with your ASO strategy can be one of the strongest methods to help boost store listing conversion rates. Remember: to stay exciting and relevant, it is important to take part in the festivities!
BACK TO BLOG
NEXT ARTICLE